The terms softscape, hardscape, and landscape are often used in the home improvement business—but do you know the difference? Landscaping is the process of making a piece of home or piece of land more attractive by altering the existing design, adding ornamental features, and planting trees and shrubs. The two main components of residential landscaping are known as hardscape and softscape. By definition, they are complete opposites. But they are equally as important in the coordination and cohesiveness of a beautiful yard. Outdoor and exterior renovations are important in maintaining attractive home appearance and value. If you are considering a landscaping project, it's worth taking a few minutes to understand the difference between hardscape and softscape. Below you will find some useful definitions, examples (with pictures), and return on investment value.
Solid & Inanimate
What is Hardscape?
As the name describes, hardscape elements are the hard parts of a yard: concrete around the pool, retaining walls holding up a garden/soil, the stone veneer around your actual home. Hardscape can be natural like wood or manmade like certain stones. Typically, these aspects are heavy and challenging to move around. Driveways, gazebos, walkways, pools and most hardscape elements all play an important role in the overall design of a property (that is oftentimes overlooked).

Alive & Changing
What is Softscape
Softscape is everything living and alive in your home: trees, shrubs, plants, flowers, etc. Unlike, hardscape these elements are alive and need maintenance! They are all soft to the touch and constantly change and evolve over time. A seasonal balance should be considered. It's important to keep in mind where you live. Do you experience four seasons? If so, vibrant spring flowers are beautiful to look at in the springtime – not so much when the seasons change. Coordinate your landscape with a variety of natural plants, shrubs, and trees. Blooming flowers for spring, annuals for summer, trimmed shrubs for fall, and hardy evergreens for winter. 

Cohessiveness, Balanace
Landscape & Hardscape Together
It takes a well-designed balance between landscape and softscape elements to have a truly spectacular front or backyard. Too much of each, and you can actually harm the overall appearance of your home. An excessive amount of plants makes the yard hard to maintain and you can quickly find that your home resembles more of a miniature jungle. While on the other hand, too much stone, brick, and pavement make your home look like a hotel or some castle. Be smart about your landscaping choices. If you live in an arid environment, it might be smart to use more hardscape (drought tolerant) as it will reduce your water usage and bills. Of course, each homeowner may prefer a bit more of one element than another, but just be sure to have some coordination between each. It is especially to have a proper balance between softscape and hardscape in the front yard, as the front of your home has the highest impact on curb appeal and subsequently property value. Curb appeal is a term that describes the way your home looks from the street.


Appearance
Hardscape Examples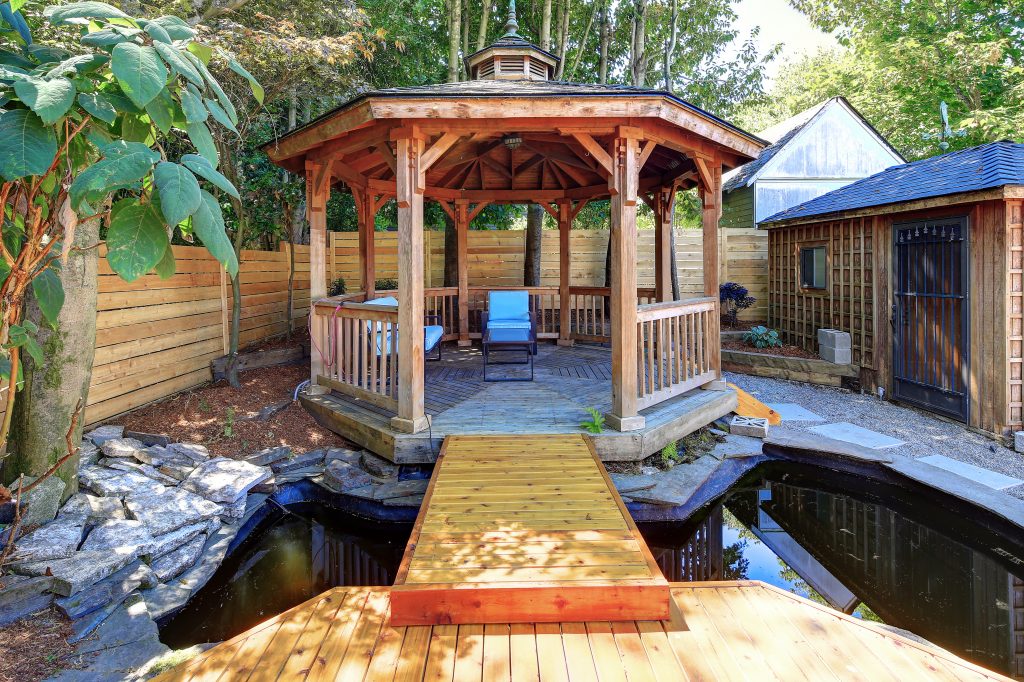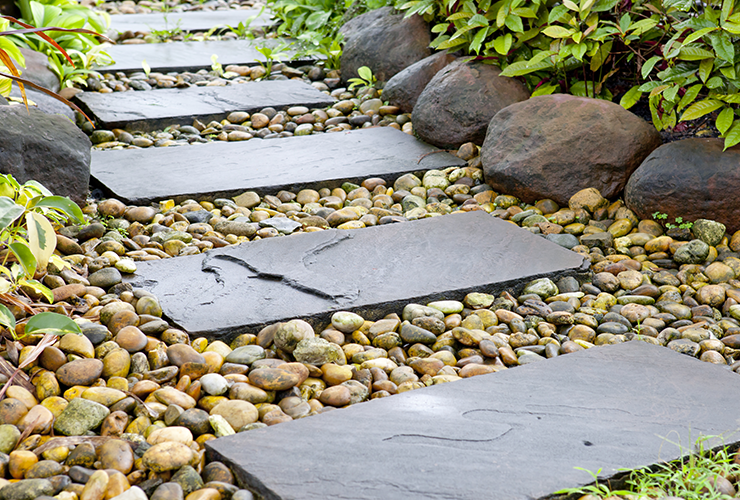 icon

Gazebos, Decks, & Retaining Walls

icon

Pathways, Stone, & Gravel

icon

Outdoor Kitchen & Water/Fire Features (i.e. Pools/Firepits)
Exterior Home Remodels $$$$
The Importance of Landscaping & Curb Appeal
According to a 2020 Cost vs. Value Report by Hanley Wood, 8 out of the top 10 home improvement projects with the highest return on investment (ROI) were exterior remodels that boosted curb appeal. Improving the curb appeal of your home is one of the easiest and quickest ways to increase your property value.  Real estate studies suggest that a home with high curb appeal can increase the value of a home by 5-15%. Check out our article, 7 Landscape Tips to Increase Your Home's Value. Landscaping is less costly and a much smaller commitment than interior remodeling. Even if you aren't in the market, updating your softscape is an affordable way to add personality to your home and provide day-to-day benefits. For example, trees cool provide shade and even fruit in addition to sucking up carbon dioxide and purifying local air. Trees and extra greenery lead to psychological well-being; inspiring a feeling of longevity, creating a more wholesome home, and (some research indicates) can even promote a healthier mind.
CREATE A MORE BEAUTIFUL HOME TODAY
CONNECTING YOU WITH LOCAL SERVICE PROFESSIONALS YOU CAN TRUST!
PoweredByPros is a leading digital home services marketplace. We match homeowners from across the nation with screened remodel and repair professionals they can trust to successfully complete any type of home improvement or renovation project. For over a decade, homeowners have trusted us with providing them professional and quality services for their property. In order for us to connect you with a home expert in your area, our highly skilled customer service team will contact you to gather all your project information and pay special attention to your design and amenity requests. We make planning, budgeting, and hiring a local contractor easy and free! Save time and money, get started today!