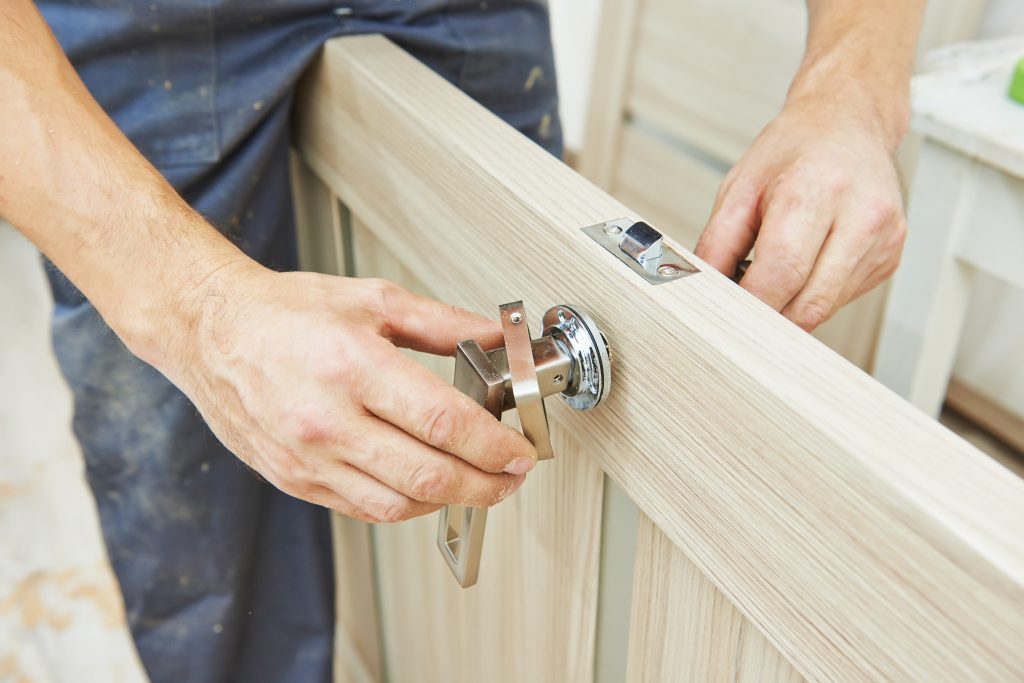 When you own a home, you will often find yourself tackling jobs both large and small. It could be anything from installing shelves, repairing a loose handrail, fixing a hole in the wall, properly adjusting a door that doesn't shut anymore, to a minor kitchen remodel. Hiring a specialized pro to complete minor home repairs in your home can get very expensive. Knowing when to consider contacting a handyman instead can be a huge time-saver for you. In general, Handymen specialize in minor home fixes such as electrical, plumbing, carpentry, etc. The great thing about hiring a Handyman is that you can accomplish multiple tasks in one visit. This can potentially help you eliminate tiresome little problems that have been driving you crazy for a while.

icon

Broken garbage disposal

icon

Adding locks to doors
icon

Repairing HVAC thermostat

icon

Fixing cracks in stucco exteriors

icon

Installing exterior walkway
icon

Replacing tile or carpet
Handyman vs. Do-It-Yourself
We get it – there's nothing like the satisfaction of kicking back after completing a DIY project, knowing you did it all yourself. But have you ever had lingering doubts? Remember the leak repair or the mold you scrubbed down? Sure, sometimes it's fine to do it yourself. However, we have learned from many years of experience that many times (more often than not) when homeowners would be much better off in mind, body,
and wallet by letting a professional handyman do the work for you.

Will the project affect my safety?
According to a survey completed by the Chronicle Herald in California, about 1 in 4 DIYers will end up in the hospital each year due to home improvement-related injuries. Often, homeowners try to take on projects that require unfamiliar tools, which increases the risk of injury. This also adds the possibility of damaging your home as well or worsening the problem you are attempting to solve. It is the primary role of a handyman to ensure excellent results while adhering to strict safety protocols that protect not only themselves but your home and family.
Does the job require a permit?
A building permit is a simple document that ensures any construction activities are done correctly. The resulting building or renovation will be up to code. If your project requires a permit, it is a clear indicator that the project is not DIY. You want and need to obtain a permit first before moving forward with the project. Do not put yourself at risk for later fines or difficulties when selling your house.
What is the size of the job(s)?
Writing down the scope of the tasks required to complete a project before you begin will help you to visualize the process from start to finish. Especially if you need a lot of small jobs done quickly, it may be better to find local handyman to take care of them. A handyman can often take care of many small unrelated tasks in a single visit. Rather than having to contract three different specialists, a handyman can take care of three small jobs right away. This can help to save money too.
Are you prepared to commit the time?
Home repair and update projects that once inspired us can quickly fall by the wayside, lingering on for years past the expected completion date. Even carefully planned home improvements can often take far longer than you originally expected. Many unknown factors begin to appear as you progress through your project, often requiring you to take time to buy new tools or materials. This just extends the project time. Hiring a local handyman gives you an assured time frame for the completion of your job and the peace of mind that comes with it. A handyman will usually focus on smaller jobs, including many of the ones a general contractor would not take on.
How to HIRe A HANDYMAN
Every homeowner has several small home repairs he/she would love to take care of but can never seem to find the time to complete them. Remember that many small home repairs are likely to turn into big service bills if you leave them unchecked. The Internet is an excellent source for conducting your research to find and hire a handyman. You do need to invest a considerable amount of time and effort. If you don't feel like researching on Google and Yelp, asking friends, family, or neighbors for recommendations, and having to call and drive around, there is a solution!

A digital home services marketplace and free service like PoweredByPros is a great way to get the job done without cutting into any of your free time. PoweredByPros matches homeowners with screened service professionals they can trust to successfully complete any type of home improvement, maintenance, and repair project. PoweredByPro's mission is to connect our homeowner customers with service professionals they can trust and provide them with the best home improvement experience. And believe it or not – it's free!