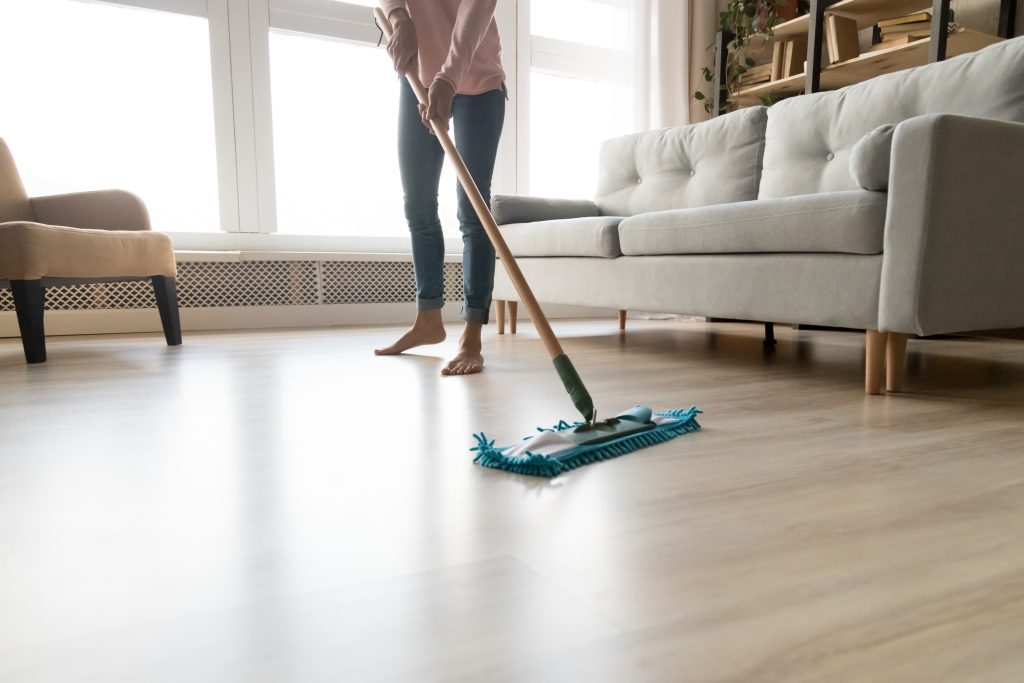 Laminate is a cost-effective and attractive flooring option with incredibly realistic finishes and textures. Laminate flooring can mimic the look of any type of wood imaginable because it has 3-D grooves and highly realistic wood or stone imprints on its surface. This material is strong, difficult to scratch, and doesn't expand or contract as hardwood does. Laminate is more susceptible to moisture damage than real wood. Ideally, you don't want to use it in your bathroom or laundry room, where water might leak. In any other area of your home, cleaning laminate floors will be super easy. Our article will teach you how to keep your floors looking shiny and new for years to come!

Cleaning routines
1. Sweep the floor regularly every week with a soft broom to prevent the accumulation of pet hair, dust, and dirt that can scratch or dull the floor's finish.

2. Vacuum at least once a week using the hard floor setting on the vacuum cleaner and/or use a soft brush attachment to avoid scratching the flooring.

3. Periodically clean the floor with cleaning products made specifically for laminate floor care every two to three weeks.
icon

In general, you never ever want to allow for liquids to stand on your laminate floor. As soon as something happens, you want to use a damp cloth to immediately blot up the spills.

icon

The key phrase for recommended biweekly cleaning sessions of your laminate floors is "light damp mopping." Do not wash or wet mop the floor with soap, water, oil-soap detergent, or any other liquid cleaning product. You don't want your laminate floor to start swelling, warping, delaminating, separating, or have other damage that may not be covered by your warranty. Vacuum first before you mop, as it is much more effective at picking up particles than sweeping. To avoid streaks caused by using a dirty mop head, simply use two water buckets (one for clean and one for dirty water).

icon

You can treat tough oily spots or color stains like markers, paint, lipstick, or ink with acetone and nail polish remover. Drizzle it on a clean white cloth, then wipe the area with a damp cloth to remove any remaining residue.

icon

To remove blood stains, simply use window cleaner. For spots like grease, wax or gum, freeze the spot and then carefully scrape it up with a plastic scraper or plastic knife. You always want to wipe treated areas with a lightly dampened microfiber cloth to pick up any residue, and then wipe with a damp cloth again.
How to Protect your laminate floor
icon

Placing entry mats outside doorways will help you keep dirt, sand, grit, and other substances such as oil or asphalt from being tracked onto your floor.

icon

To minimize the chance of indentations and scratches from heavy objects, simply don't ever try to slide them across the laminate floor. Use protective mats under all heavy furniture or anything with castors. To prevent area rugs from slipping, you can use vinyl rug underlayment.

icon

Many homeowners like to use humidifiers during the dry season and dehumidifiers during the wet season. Maintain your indoor humidity level between 35% and 65% throughout the year to minimize the wood's natural expansion and contraction.

icon

By keeping your pet's nails trimmed, you can prevent them from scratching your floor. You also want to avoid walking across the laminate floor in heels or cleats.
All flooring types
FIND A FLOORING PRO FOR FREE
With so many flooring professionals to choose from, it might seem overwhelming having to do all of the time-consuming research and then deciding which one to hire to accomplish your goal. Finding the perfect contractor for your need usually involves several steps and will take up a tremendous amount of your time. Quality research outcomes are dependent on how much time you actually have. A great way to get the job done without cutting into any of your free time, is a digital home services marketplace and free service like PoweredByPros is