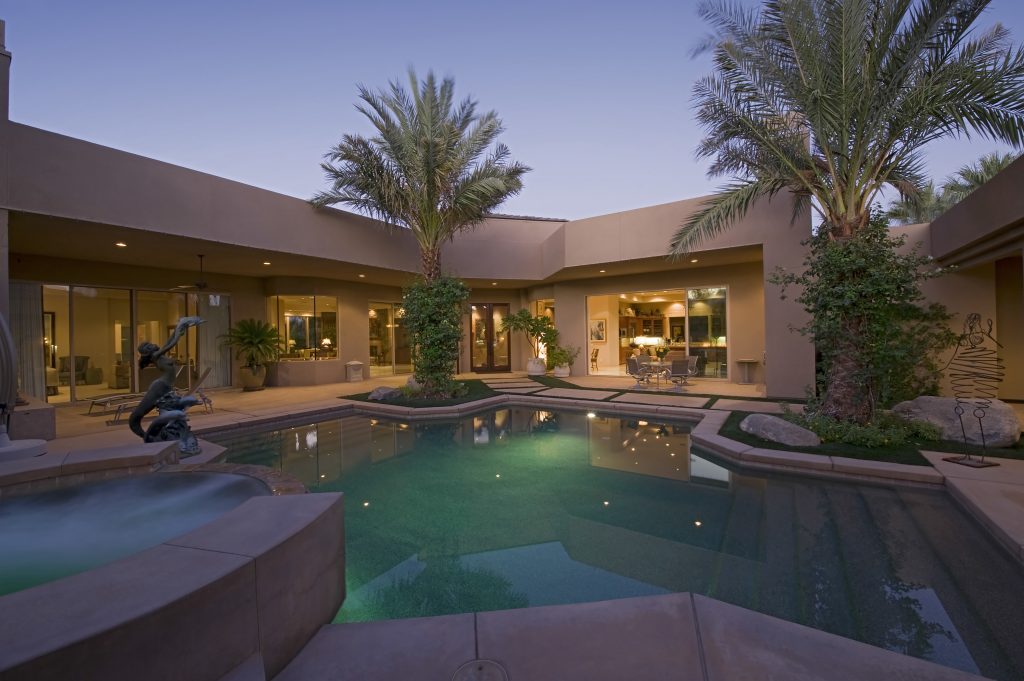 Is there anything more relaxing than a day at the pool? If you are reading this, you might be considering investing in creative landscaping ideas for your backyard pool. This article will show you five affordable and simple swimming pool landscaping ideas to give your backyard pool a fresh, more modern, or vibrant and futuristic look.

Pools, spas, and jacuzzis are personal aquatic oases that complete the look of any home. They offer a way to cool down during the summer and exercise in a relaxing, low-impact environment. In addition to the physical and psychological health benefits, pools are a great financial investment. These water features are usually major selling points for potential homeowners. Pools boost your home's curb appeal, which greatly affects the total price of your property. According to the National Association of Realtors, the average pool will boost your home's value by about 5%. Well-designed and constructed pools can even push this figure to around 10% to 15%. Therefore, investing in pool landscaping ideas to give your backyard pool a new look is always a good idea.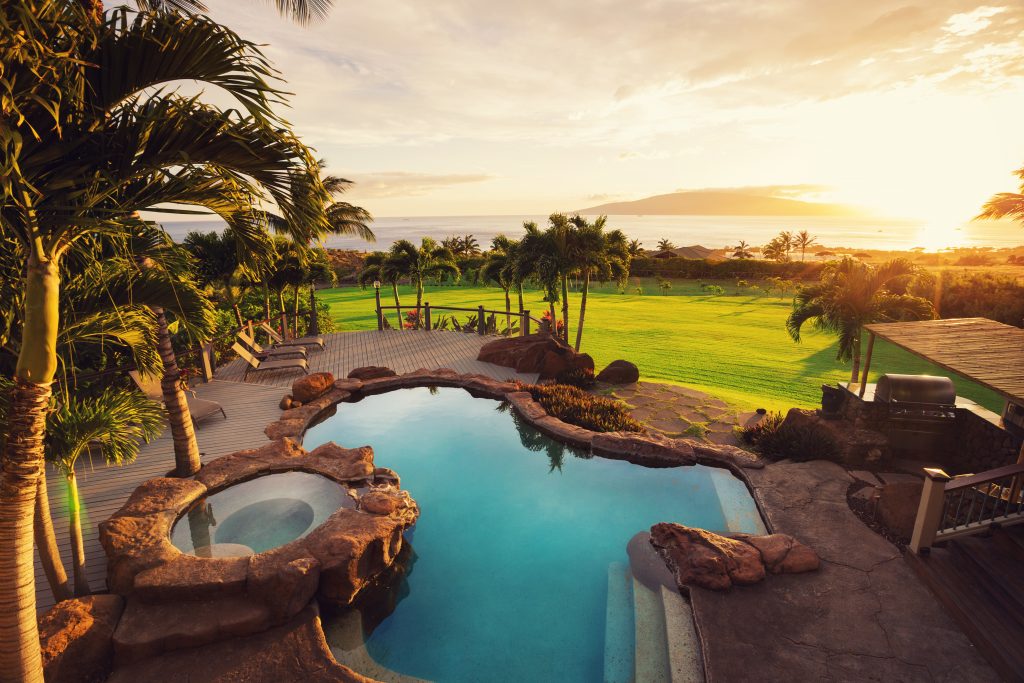 Landscaping idea #1
Tropical Poolside Paradise Plants
A pool surrounded by tropical landscaping is many homeowners' ideal for a private backyard retreat. If the climate permits, a pool area can appear more tropical with the addition of tropical plants like palms, bird of paradise, ginger, or other exotics. 
Exotic-looking plants for pool-scaping include: Bird of paradise, Hibiscus, Canna, Palms, and Papyrus.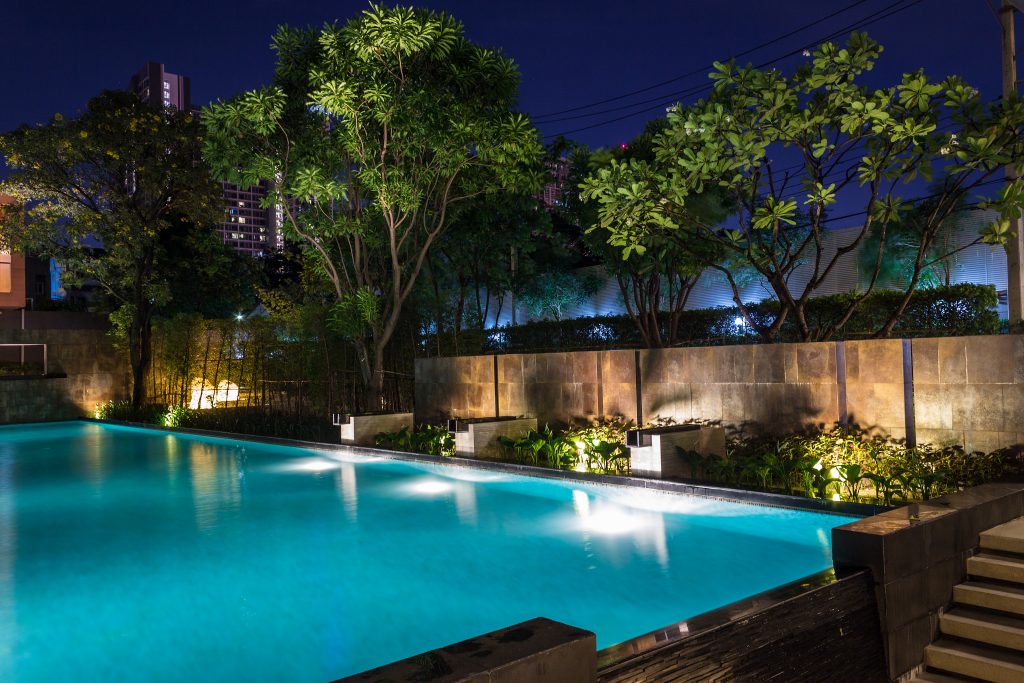 Landscaping idea #2
Around the pool lighting
Accent lights can be placed in or near trees, along walls, and around water features (like fountains and waterfalls) to highlight these areas and increase the beauty of the space. Embedded Lights in concrete steps, stairs, and walkways can make your backyard more functional. Beyond aesthetics, lighting these areas is a necessary safety precaution to prevent people from tripping and falling.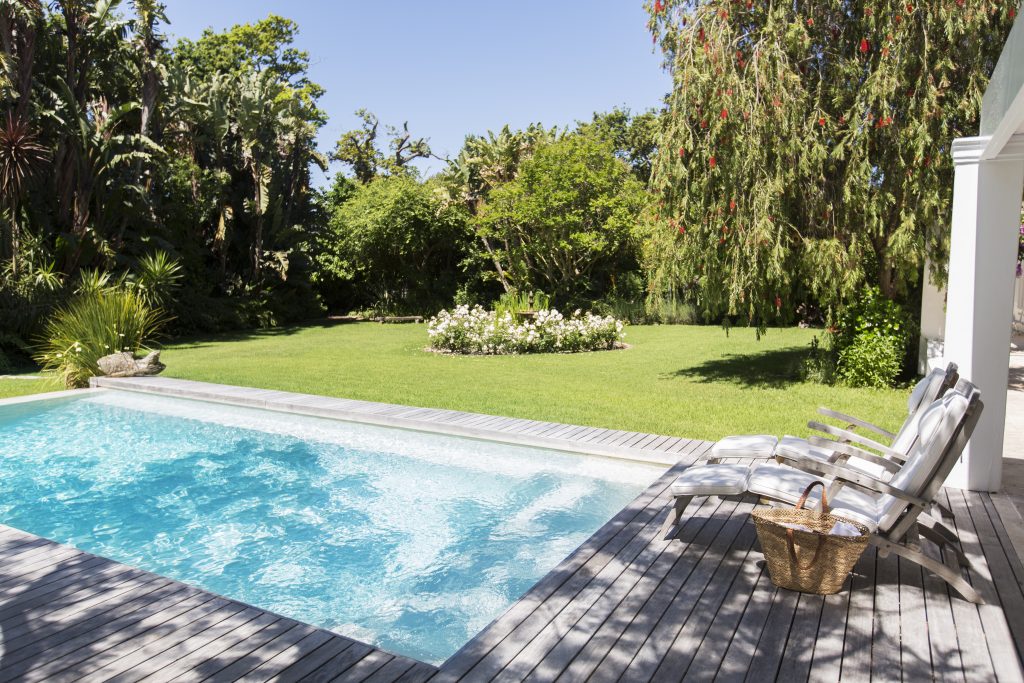 Landscaping idea #3
The lawn
A swath of green extending around your pool can provide a distinct backyard setting along with practical benefits for your lifestyle. This pool landscape is all about clean lines and a flawless lawn. If you spend time on the quality of your lawn and the simplicity of your hardscape, you won't need an elaborate landscape design to make your pool area feel luxurious.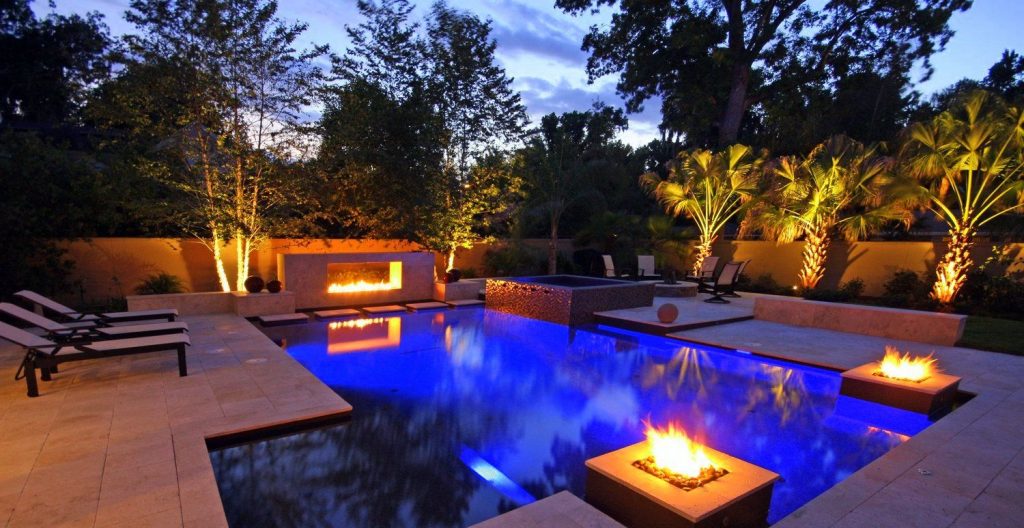 Landscaping idea #4
Fireplace
Outdoor fireplaces and fire pits continue to be popular design features in outdoor rooms, and for good reason: they provide a warm and inviting ambiance for outdoor gatherings, add a stunning focal point to the patio or pool area, offer additional lighting at night, and allow you to enjoy the pleasures of outdoor living well before summer arrives and long after it departs.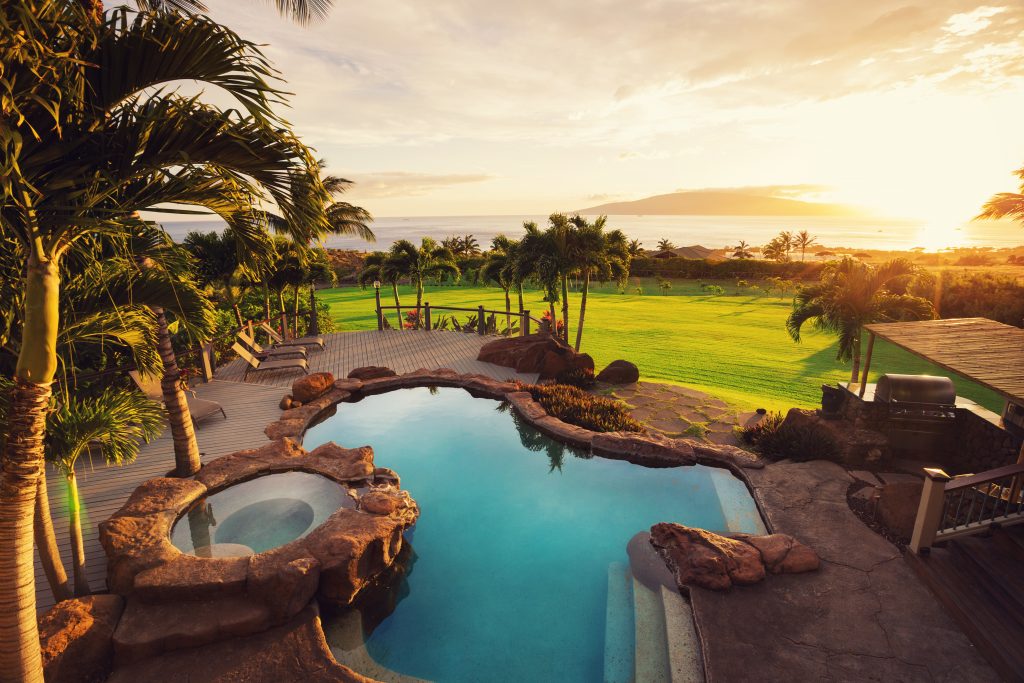 Landscaping idea #5
Walkway
Hardscape design refers to the surfaces in the backyard, particularly walkways, steps, and structures. If you want a better way to get to your pool other than walking over grass you can complete the look of your outdoor living space by having a walkway installed. Paving stones, natural stones, and patio pavers create durable and beautiful walkways.

We get it – there's nothing like the satisfaction of kicking back after completing a DIY project, knowing you did it all yourself. For the pool, it can be easy to clean the surface or to let the vacuum run. But, dealing with chemicals, replacing filters, fixing heaters, and installing pool hardscape is challenging and time-consuming work. Instead of spending extra time and money on supplies for a difficult project, one of our pool contractors will help you achieve a magazine-worthy finish no matter the size of your project and budget! Below are four reasons why hiring a professional pool man will make your life easier.

HEALTHY, FRESH, & CLEAN WATER GUARANTEED

REDUCE TIME, EXPENSES, & STRESS

OPTIMAL WATER BALANCE, PROPER FILTRATION, AND WELL FUNCTIONING EQUIPMENT

MAGAZINE WORTHY FINISHES
ABOUT US
CONNECTING YOU WITH PROS YOU CAN TRUST!
Powered By Pros is a leading digital home services marketplace. For over a decade, homeowners have trusted us with providing them professional, quality, and affordable services for their property. We match our valued customers with screened remodel professionals they can trust to successfully complete any type of home improvement project. Everyday, property owners call in asking for our help. Our service professionals cover everything from the larger metro areas to small towns throughout the United States. The service pros within our network are skilled in over 300 home improvement related services, from house cleaning to major renovations to plumbing installation and repair. In addition, we also service commercial and industrial properties in a wide variety of tasks. In order for us to connect you with the best pro, our highly skilled customer support team will contact you to gather all your project information and pay special attention to your design and amenity requests.