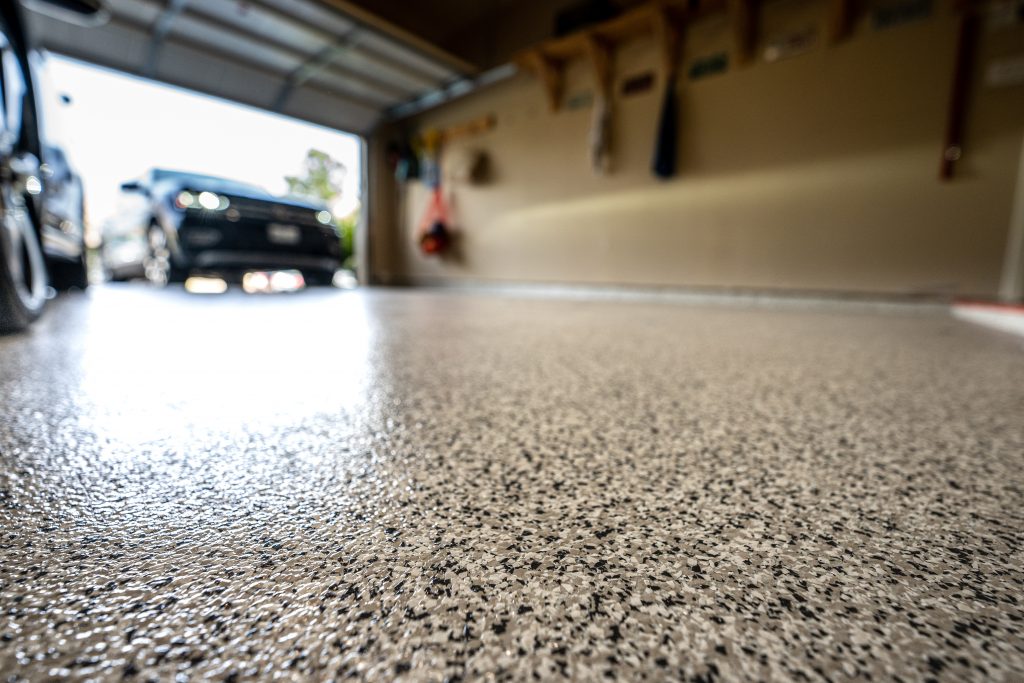 For most homeowners, your garage is more than just a place where you park the car. Deciding to use epoxy coating for your garage floor will not only protect it but will also transform your standard cement garage floor to look more beautiful and professional at the same time. Check out this quick read and learn about the advantages of epoxy floor coating. After reading our article, you will be able to determine if this is an option or maybe even THE option for your next garage project.

Epoxy floors are industrial-grade flooring options that have beyond industrial applicability. Today, epoxy coating is one of the most rigid and most durable finishes that you can apply to your garage floor. Because of their strength and easy-to-maintain characteristics, epoxy floors are not only used in garages but everywhere, from kitchens to outdoor areas to hospitals to aircraft hangars.

Epoxy flooring, from mixing to drying, is an intricate process. Improperly applied epoxy floors will quickly deteriorate, and imperfections will allow moisture to seep in. Therefore, proper installation is a major determining factor in how long your epoxy floors will last. Doing it yourself is highly advised against. You can select from various simple solid colors and hues to custom colors and blends of color flakes that match your style or even your favorite sports team. Epoxy flooring will make your garage shine and give it that showroom feel.

5 Reasons to use Epoxy for your garage floor
1 – Increase of Property Value
Who doesn't love having a safe, shiny, and high-friction garage floor. Safe work environments can boost your property's value and work productivity. Potential buyers might be willing to pay a higher price for a property with quality epoxy flooring, because they are resistant to slippage, temperature fluctuations, extreme impact and even fire. That means your family, products, and garage stuff remain safe.
2 – Cost Effectiveness
Deciding on Epoxy coating for your garage floor project is a much more affordable option than the amount of time and money you would spend on an alternative garage flooring project (removal, material purchase, installation costs, etc.). With Epoxy, your current flooring material doesn't even need to be removed, sparing you a time-consuming and pricey experience. A flawless epoxy adhesion requires the correct preparation and expertise. Improper epoxy installation will deteriorate quickly and require new coating within months. Professional installation will be a worthwhile investment because the length of time that the flooring stays intact makes this an efficient choice.
3 – Appearance and Function
Epoxy is utilized to apply over new, old, or damaged concrete floors. It creates a smooth and leveled surface on the floor. When the epoxy mixing hardens, your new floor becomes highly tolerant to weight, traffic, and moisture. Epoxy flooring is impact and slip-resistant even when wet, making it a good choice for your garage. It is fire and chemical resistant blocking harmful elements that are sure to encroach on high-traffic spaces. You can add personal flair by taking advantage of different color schemes, accents, or logos. Whether or not your garage needed sprucing up, an epoxy coating will produce an elegant look. This makes it highly flexible in application type and usability. From residential garages to outdoor areas, epoxy floors are prized for strength and durability.

4 – Reduced Maintenance
Epoxy flooring is a smart investment if you want to save on money, time, and effort. It is an easy-to-clean surface, reducing the costs of cleaning and improving your garage's efficiency. Covering the old concrete with Epoxy Floor Coating will reduce dust and cement particles released onto other surfaces in your garage or connected rooms in your home. You can quickly sweep and maintain the shiny and resilient surface of Epoxy and easily remove the build-up of other particles your car may leave behind too. Salt from winter roads does not affect Epoxy because it is an effective and sanitary coating. Bacteria, germs, grime, and other contaminants do not adhere. Whether you choose to use a mop, broom, or vacuum, cleaning epoxy floor coating is a simple process, and it is also scratch-resistant.
5 – Longevity
Epoxy is the practical option to prepare your garage for long-term satisfaction. The longevity reinforces the cost-effective advantage of this coating application. Like most products and materials, if you properly maintain your Epoxy garage floor, you can extend its life. Weekly cleaning routines will increase the longevity of your epoxy flooring system. Proper installation is also a major determining factor in how long your epoxy floor will last.
FIND AN EPOXY PRO FOR FREE
With so many epoxy professionals to choose from, it might seem overwhelming having to do all of the time-consuming research and then deciding which one to hire to accomplish your goal. Finding the perfect Epoxy contractor for your need usually involves several steps and will take up a tremendous amount of your time. Quality research outcomes are dependent on how much time you actually have. A digital home services marketplace and free service like PoweredByPros is a great way to get the job done without cutting into any of your free time.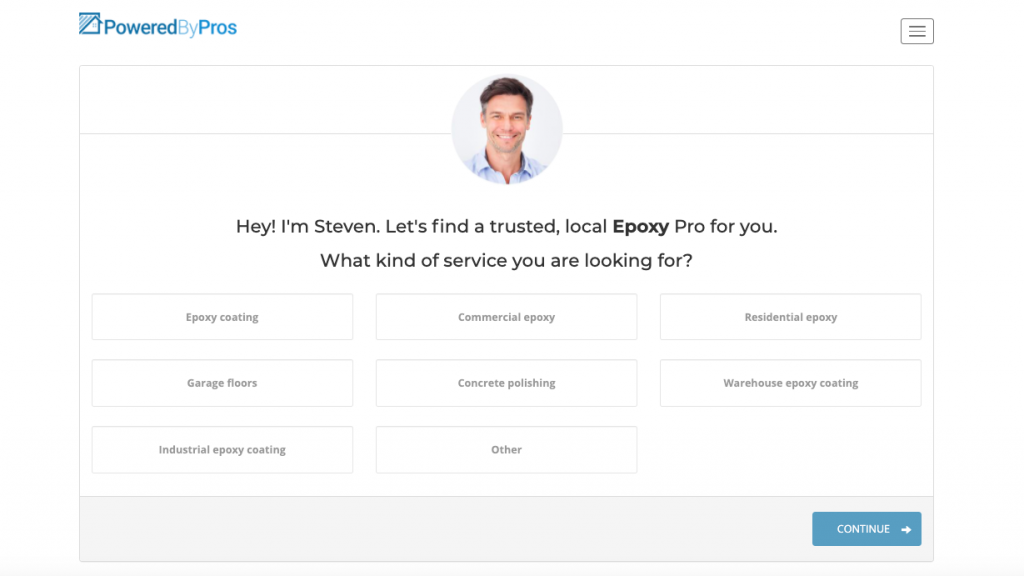 PoweredByPros matches homeowners with screened service professionals they can trust to successfully complete any type of home improvement, maintenance, and repair project. PoweredByPro's mission is to connect our homeowner customers with service professionals they can trust and provide them with the best home improvement experience. And believe it or not – it's free to get a quote!