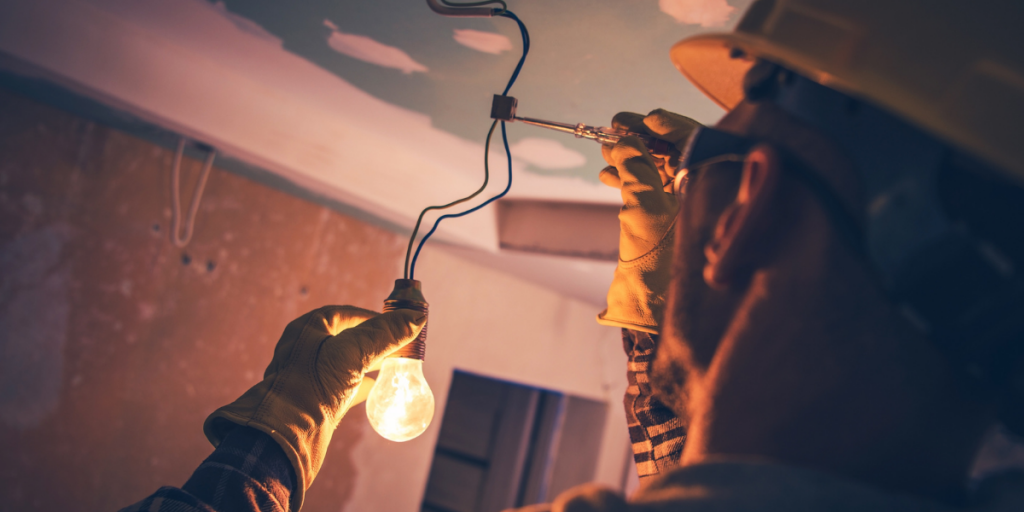 The electrical wiring in your house is continuously sending electricity to all parts of your home to keep you content with the pleasures of modern life. Sometimes, identifying electrical hazards is relatively straightforward. In other cases, it takes an experienced eye to notice concerns. Electrical work is a tricky business that requires in-depth education and years of knowledge to become proficient in. Taking on any electrical project type, even as little as trying to install or repair something, can be a dangerous undertaking without proper expertise.

Severe electrical shock, burns, and lethal electrocution can be the dire consequences of ill-advised homeowner pride. Especially when it comes to improper wiring installations, it can also lead to more significant problems such as appliance failures or circuit shorts. In some cases, electrical fires can spark and destroy your beautiful home. That is why you should always hire an electrician who is trusted and certified when a problem seems to be anything greater than replacing an extension cord. It's not worth putting yourself at risk, causing damage to your home, or making the problem worse!
4 TELL-TALE SIGNS YOUR HOME NEEDS Attention
Although wiring can last many years, there will come a point where you will need an upgrade or else you are potentially putting the safety of your personal belongings and family at risk. Take a look below to find out what are four common signs that your home may need rewiring or an upgrade.

Are you experiencing frequently dimming lights in your home. This may mean that certain wires are not receiving enough electricity or are losing it in the transmission process. Either way, these are clear indications that wiring must be replaced.

icon

Outlets Hot to the Touch

Your outlets shouldn't be feeling hot when you're using them. Hot outlets are a sign of faulty wiring and if you don't do anything about them soon, you'll be putting your home at risk for an electrical fire.

It can be hard to know if you have aluminum wiring, so be sure to check your homes records and construction date. Aluminum wiring was popular during the '60s and '70s, however aluminum wiring is now considered unsafe and outdated. This type of wiring is prone to contracting and expanding during seasonal temperature changes, leading to looser connections and a higher chance of a fire. Call a trusted electrician to inspect your wiring to let you know if you have aluminum, and if need be, immediately switch it to copper.

This is perhaps the most obvious sign, if you smell something giving off a burning smell, give your wiring a check immediately. It may just indicate a fire is well on its way to spreading. Conduct a full inspection around your home to determine where the smell is coming from before calling for electrical rewiring service.
The electrical ecosystem in a home is usually ignored by most people – until something goes wrong, at least. It pays off to hire electrician services to make some electrical upgrades to your home sooner rather than later. When an electrical contractor modernizes your home's electrical system, it creates real, life changing advantages that will improve your daily life immediately. From raising property value to making your residence safe, investing in modern electrical wiring and/or maintaining your existing system brings you many advantages including a safer home environment, updated accurate legal codes, matching power needs of new appliances, and convenience.
TYPICAL TASKS FOR AN ELECTRICAL PRO
icon

Electrical Panel Upgrade

icon

Indoor and Outdoor Lighting

icon

Switches, Outlets, Fixtures
icon

Electrical Wiring and Rewiring

icon

New Development & Construction
POWEREDBYPROS
FIND AN ELECTRICIAN FOR FREE
With so many electrical professionals to choose from, it might seem overwhelming having to do all of the time-consuming research and then deciding which one to hire to accomplish your goal. Finding the perfect Electrician for your need usually involves several steps and will take up a tremendous amount of your time. Quality research outcomes are dependent on how much time you actually have. A digital home services marketplace and free service like PoweredByPros is a great way to get the job done without cutting into any of your free time. PoweredByPros matches homeowners with screened service professionals they can trust to successfully complete any type of home improvement, maintenance, and repair project. PoweredByPro's mission is to connect our homeowner customers with service professionals they can trust and provide them with the best home improvement experience. And believe it or not – it's free to get a quote!