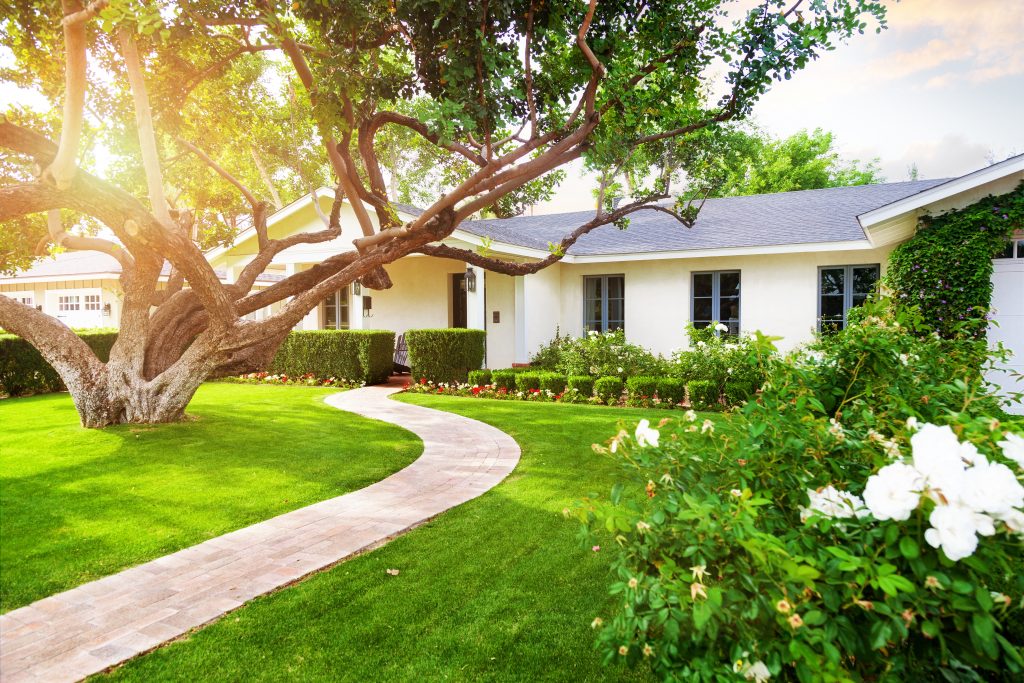 First impressions are everything. People are attracted to pretty homes with healthy trees, manicured lawns, and fresh paint. This is especially true if you are planning to rent or sell your home. In fact, studies suggest that a home with high curb appeal can increase the value of a home by 5-15%.
Ask yourself: How does my home look from the street? Is it inviting to guests or potential buyers?
Curb Appeal
WHY IS IT IMPORTANT?
Improving the curb appeal of your home is one of the easiest and quickest ways to increase your property value. Landscaping is less costly and a much smaller commitment than interior remodeling. Even if you aren't in the market, updating your landscape is an affordable way to add personality to your home.
Apply these 7 proven landscape updates to boost your home's curb appeal and value.
icon

Match Landscape to Your Home's Style

Say you have a ranch-style home, and you install modern-style koi fish ponds—the two don't match. Investing money on extravagant additions to your lawn that don't match your home's architecture could mean a low return on investment. Instead, spend money on additions that compliment your ranch-style home; an oak tree and a porch swing would look much better. Your landscape should align with your home's look and be similar to the neighborhood. A house that 'stands out' too much, is not always desired.

It's important to keep in mind where you live. Do you experience four seasons? If so, vibrant spring flowers are beautiful to look at in the springtime – not so much when the seasons change. Coordinate your landscape with a variety of natural plants, shrubs, and trees. Blooming flowers for spring, annuals for summer, trimmed shrubs for fall, and hardy evergreens for winter. Although flowers might be the most appealing, buyers will keep in mind the variety of plants and trees around your house that keep it looking great all year long.

A fresh coat of paint is the quickest and cheapest way to dramatically update the look of your home. Go bold with a color like navy blue and distinguish yourself from other cookie-cutter homes. But, be careful! You don't want to go overboard. If you are unsure about a color, choose a more neutral tone like grey or beige, or maybe just update your current paint color. If you are hesitant to paint the whole home, applying new finishes to wooden trims and painting doors are cheap ways to increase curb appeal.

icon

Keep it Low Maintenance

The popular New-England style grass lawn is a staple for both front and back yards. However, it's costly to maintain. Without constant gardening and a supply of water and nutrients, grass lawns degrade quickly into an unappealing field of weeds and dirt. It's now very popular to have water-smart lawns, especially in dry, western states. Intricate landscape rocks and drought-resistant shrubbery lowers your water bill and reduces maintenance costs. This will also attract eco-conscious buyers, as they want to save money and conserve water.

Your walkway or driveway always lead you home. What does it say to potential buyers when your pathways are cracked or bumpy? It could suggest that the rest of the house might be too. There are plenty of simple, inexpensive methods to create a more welcoming home. For example, create a winding pebble or stone walkway lined with lights and plants. This creates anticipation, exciting guests to see the rest of your home. Or pave over your driveway, it encourages buyers and lets them know you have taken care of your home.

Whether you are living in a city or in a more rural area, who doesn't love a nice tree. Beyond looking pretty, they offer several key benefits that are almost guaranteed to increase the value of your home. Trees save you money by providing your home with cool shade, and even fruit! They create social benefits by sucking up carbon dioxide and purifying local air. Trees lead to psychological well-being: they inspire a feeling of longevity, create a more wholesome home, and some studies show that trees can even promote a healthier mind.

There's just a final touch to ensure your hard work will be seen: lighting. Your lights should highlight the best features of your updated yard. Purchase solar lights to line walkways or illuminate flowers. Plug in a more powerful light to show off the new paint. Regardless of use, lighting is a cheap and effective way to finish off any landscape update.
home improvement- or repair project
Make a smarter decision when it comes to hiring a local pro
PoweredByPros helps homeowners save time and money. Whether you want to hire an experienced and qualified contractor for a remodeling project, brighten up your home with a cleaning service, or simply require a reliable handyman, PoweredByPros can help you find what you need and make updating your home simple. Our prescreened, local service professionals are highly specialized in over 300 categories for repairs and jobs around the house.