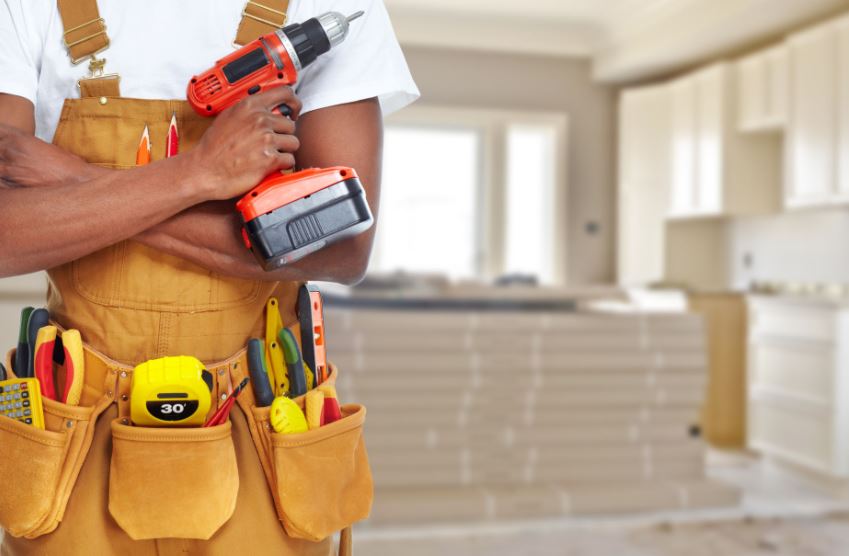 When you own a home, you will often find yourself tackling jobs both large and small. It could be anything from installing shelves, repairing a loose handrail, fixing a hole in the wall, properly adjusting a door that doesn't shut anymore, to a minor kitchen remodel. Hiring a specialized pro to complete minor home repairs in your home can get very expensive. Knowing when to consider contacting a handyman instead can be a huge time-saver for you. In general, Handymen specialize in minor home fixes such as electrical, plumbing, carpentry, etc. The great thing about hiring a Handyman is that you can accomplish multiple tasks in one visit. This can potentially help you eliminate tiresome little problems that have been driving you crazy for a while.

With so many handymen to choose from, it might seem overwhelming having to do all of the time-consuming research and then deciding which one to hire to accomplish your goals. Here are several steps to find the perfect handyman and two ways to go about it, depending on how much time you actually have.

To Do's
Get organized and create your list
An excellent way for you to save money and make fair use of a handyman is by organizing your tasks into a list. Usually, handymen charge either by the job or by the hour. You want to avoid having to pay several "show-up" and, or "estimate" fees. Why don't you take advantage of making a good deal and bundling many tasks into one day?

The easiest way to start compiling a list of everything that needs attention is by walking through the entire house, room by room. After that, go outside and walk around the house, looking at both the house and the grounds. In the final step, prioritize your tasks. To avoid costly repairs in the future, make sure to arrange your repair list by priority and tackle important fixes first. You can also group your list into sections that might include wall repairs, door repairs, windows, etc. Most importantly, it will also help the handyman to create a better estimate.

It doesn't hurt to ask a good friend or your neighbor for help by looking at your fixes and the list because he/she can definitely offer another perspective.

OPTION 1
hiring a handyman
Every homeowner has several small home repairs he/she would love to take care of but can never seem to find the time to complete them. Remember that many small home repairs are likely to turn into big service bills if you leave them unchecked. The Internet is an excellent source for conducting your research to find and hire a handyman. You do need to invest a considerable amount of time and effort. If you don't feel like researching on Google and Yelp, asking friends, family, or neighbors for recommendations, and having to call and drive around, there is a solution! A digital home services marketplace and free service like PoweredByPros is a great way to get the job done without cutting into any of your free time.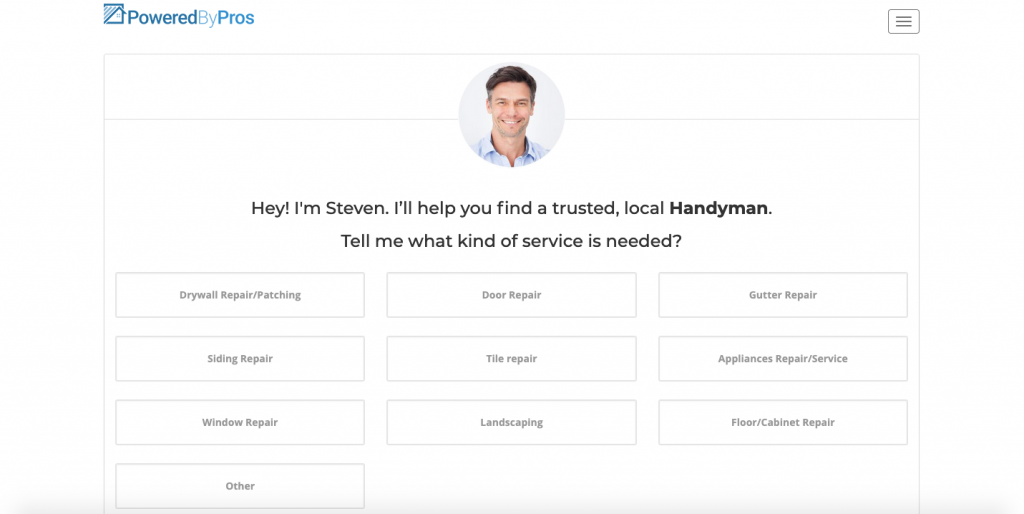 PoweredByPros matches homeowners with screened service professionals they can trust to successfully complete any type of home improvement, maintenance, and repair project. PoweredByPro's mission is to connect our homeowner customers with service professionals they can trust and provide them with the best home improvement experience. And believe it or not – it's free!

OPTION 2
hiring a handyman
Again, the Internet is an excellent source for conducting your research to find and hire a handyman. You can find a Handyman on Google because Google searches are all about local. Search by the type of handyman and your city. When reading reviews, ask yourself if the reviews sound like a friend of the individual who posted that review or if it's an actual client. Three more options to find the Handyman you want for you project:
icon

Find a Handyman on Powered By Pros

Powered By Pros offers reviews for a wide variety of products and services. You can easily find contractors, maintenance companies, and handymen all listed with detailed contact information, photos of their work, and plenty of customer reviews to help you decide how the person's work really is.

Your Realtor works with a lot of handymen. He/she can give you a referral if you ask. The Realtor wants to be your agent for life, has an interest in making sure you are happy and taken care of, and vets his/her referrals very closely. Your Realtor's reputation is at stake.

icon

Visit Your Home Improvement Store

It is very unlikely that someone at your local hardware store is looking for just a small project. But most hardware stores have a bulletin board on which local handymen post their business cards, web addresses, or phone numbers to advertise their work.

Once you have found and selected a handyman, hire them on the contingency that they stick to their plan, timeline, and estimate and don't make any changes without your authorization. Also, keep your second and third handyman choices in mind. You never know when your first choice will screw up, and you'll need to call your second choice and ask them to come and finish up. Don't pay your handyman in advance, and be wary of those who demand large upfront fees. Suppose you don't already have the material/s or product/s at hand. In that case, you should only have to pay a small deposit, enough to cover the material cost and the balance when the job is completed.

Additional examples for typical handyman tasks
icon

Install or repair faucet or disposal

icon

Repair clogged or running toilet

icon

Bathroom furniture assembly
icon

Replace light switches

icon

Light fixture installation

icon

Installing a ceiling fan in place of an existing fixture

icon

Installing motion detectors and other security equipment
icon

Install trim crown molding

icon

Fresh application of caulk to gaps between windows, doors, etc.

icon

Simple repairs valued under a specific $ amount (varies by state)
icon

Clean or repair gutters

icon

Weatherstrip windows and doors

icon

Loose piece of siding or a missing shingle

icon

Fix broken boards, apply a finish/ sealant, improve deck or porch