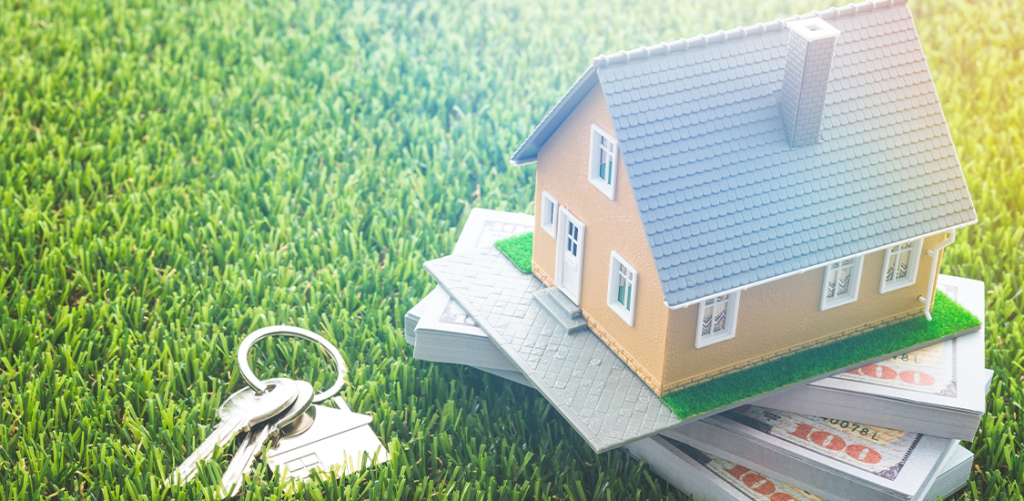 Landscape, exterior remodels, and home improvement projects that focus on curb appeal (the way your home looks from the street) are among the most desired and lucrative investments you can do to your home. In 2020, the top home renovations with the highest return on investment were almost entirely exterior remodels. At the same time, upgrades that improve your home's curb appeal tend to be less time-consuming, stressful, and inexpensive when compared to traditional interior renovations (i.e. major kitchen or bathroom remodels). We are all spending more time at home, so don't you want to be proud of how your residence looks? Below you will find the top exterior remodel to increase your home's value.
The Numbers
Landscaping: A worhty investment
The way the exterior of your home looks can have a dramatic effect on the selling potential. The perceived value of a beautiful landscape and home exterior has been on the rise for years. In fact, according to Remodeling Magazine, 9 out of the top 10 remodel projects with the best return on investment focus on improving curb appeal (the way your home looks from the street). Along with the National Association of Realtors impact report, standard lawn care services, overall landscape upgrade, hardscape upgrade, and landscape management services were ranked the top four projects by REALTORS® that would add value for potential buyers as well as add value to a property at resale.


#1
Landcape Care & maintenance
This is perhaps the easiest and least costly of the provided suggestions in this article. A well-maintained lawn with healthy grass and other lively greenery is what makes a home beautiful. Most realtors suggest sellers to manicure their lawns before they put their house on the market, averaging 267% percent of value recovered from standard lawn care. 75% of homeowners that recently completed landscape maintenance said they had a greater desire to be home since completing their project. Tree care is an important aspect of landscape management; be sure to trim, apply tree fertilizer, prune, and remove hazardous trees.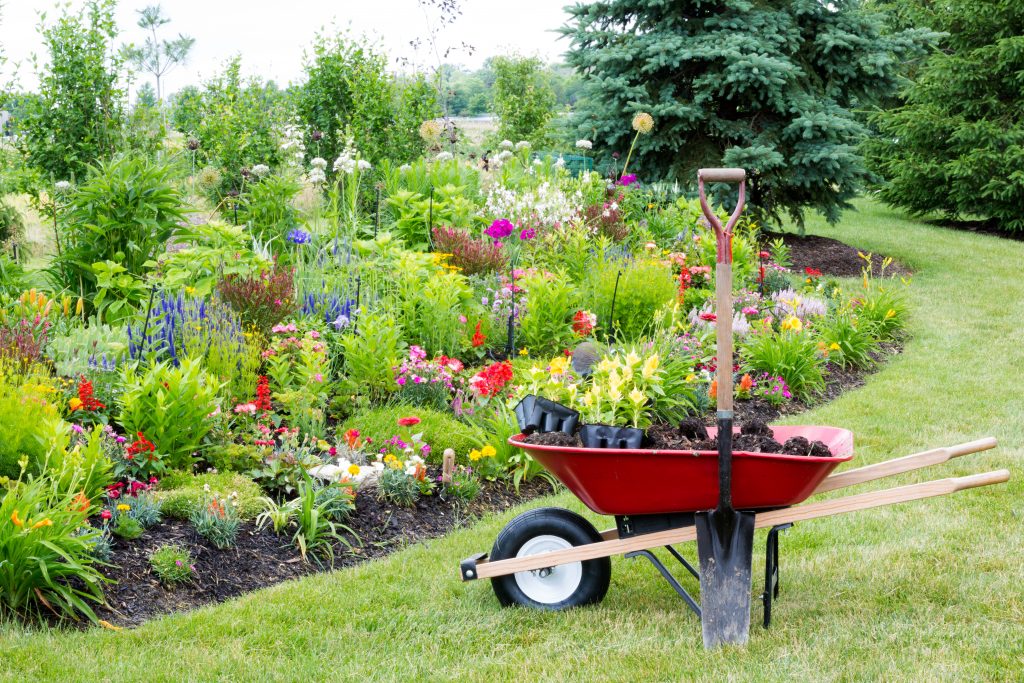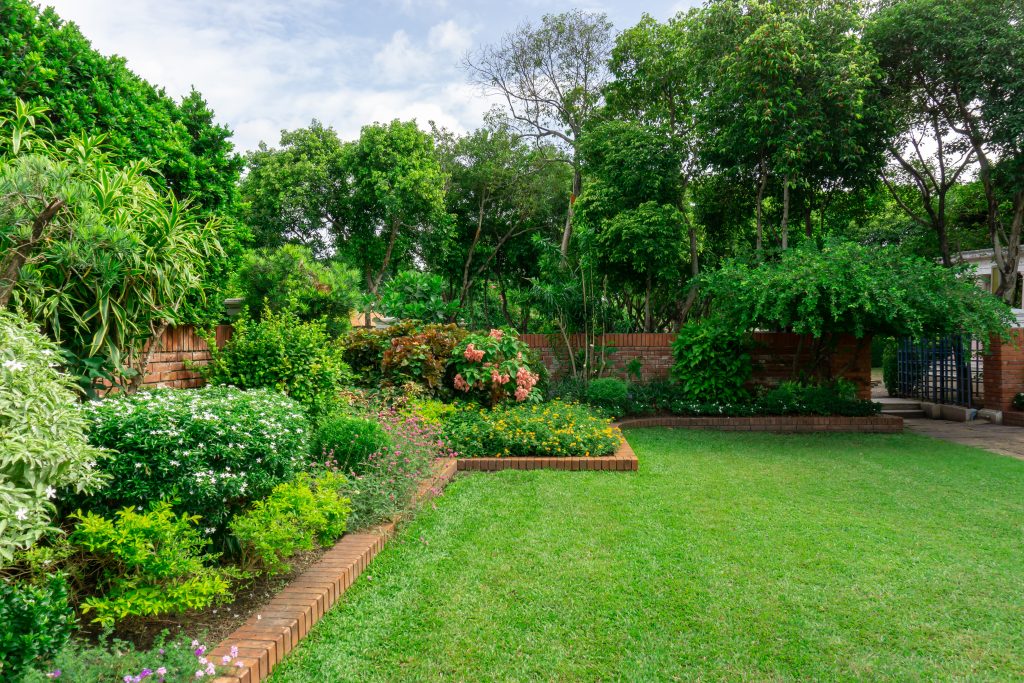 #2
Invest in Trees
In this case, the old saying "money doesn't grow on trees" is wrong! Trees save you money by providing your home with cool shade(lowering utility costs)—and even fruit! Mature trees can increase property value by 10 to 20 percent, according to the U.S. Forest Service. New trees can be appraised anywhere from $1,000 -$10,00 each! Trees not only improve your home's appearance, but they also create a more livable community. They provide you and your neighbors with cleaner air by sucking up carbon dioxide. Finally, trees lead to psychological well-being: they inspire a feeling of longevity and create a more wholesome home.
#3
New Deck
This year, for 2020, both wood and composite deck additions are among the top ten remodeling projects with the highest ROI. Throughout the United States, solid wood deck addition projects averaged $14,360, with an 80% resale value. A deck adds usable space to your home, and with all of us spending more time inside, many homeowners are now considering building a deck to add usable outdoor space. Decks create a comfortable and inviting area to enjoy fresh air, barbeque, roast marshmallows, etc.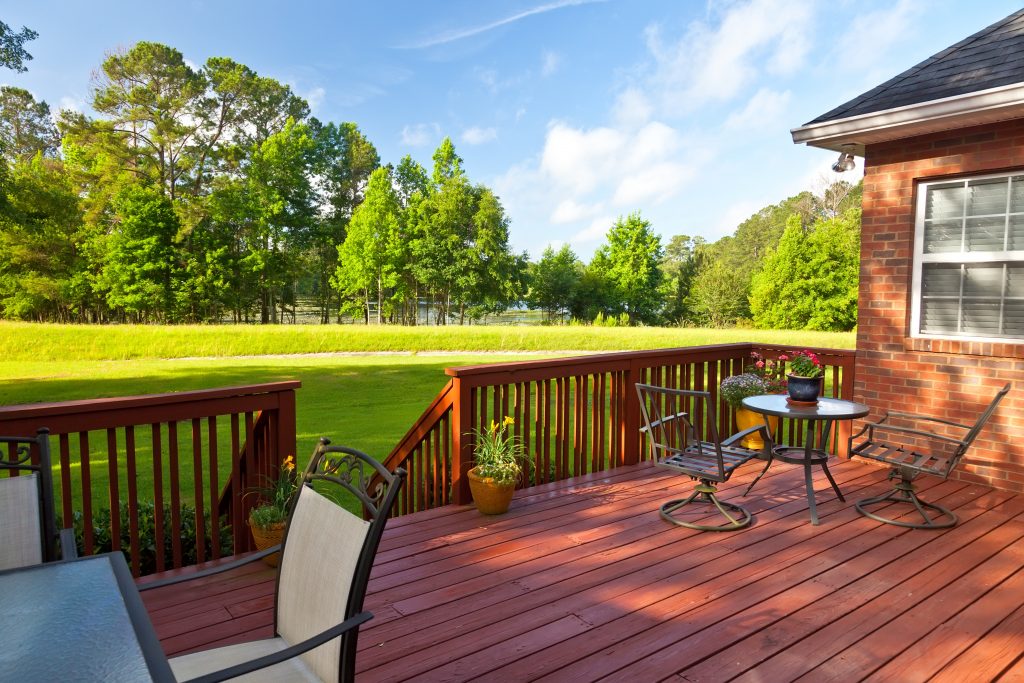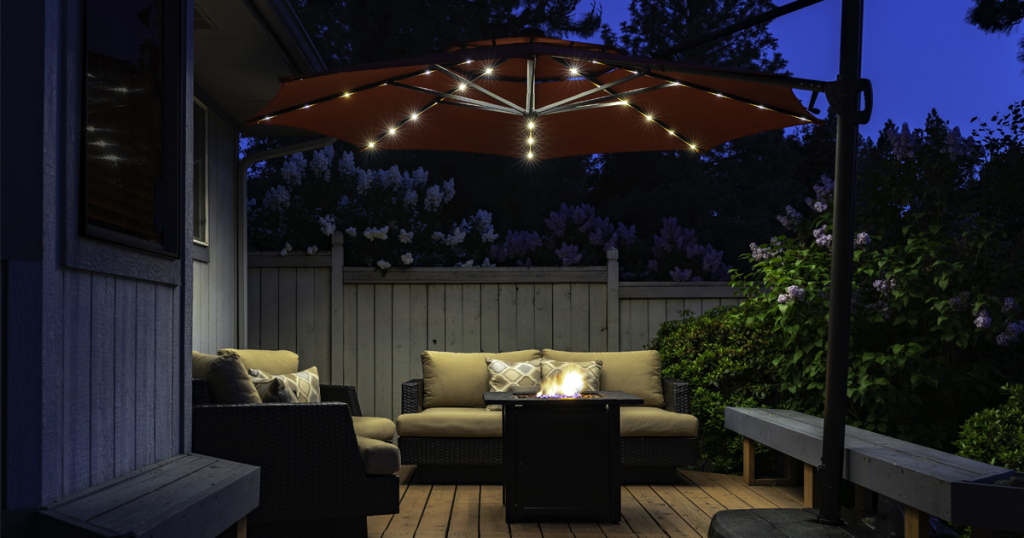 #4
New Patio
Similar to the deck, a patio adds usable space, which is almost a sure-fire way to boost property value. The main purpose of a patio is to create an enjoyable and functional outdoor space: an important viewpoint that will never change. 83% of homeowners that recently built a patio have an increased sense of enjoyment when they are at home. The relaxing feeling of enjoying one's backyard will keep you happy in the moment and entice potential buyers in the future. You can expect to make back around 70% percent of the money you invest in your patio.
#5
Light Features
Light is the first element of design, without it, color, form, and texture diminish. Lighting is essential for any outdoor area, especially when it comes to patios/decks, illuminating walkways, highlighting architecture, or exposing dark corners for safety reasons. Lighting enables you to use your yard regardless of the time of day. Stringed lights are the new fad, which promotes a warming atmosphere that creates a sensational view for you and those accompanying you to sit under. Solar lights are a great idea for brightening up walkways and fences, especially since it won't drive up your bills. You can expect to make back most of your money, if and when you decide to sell.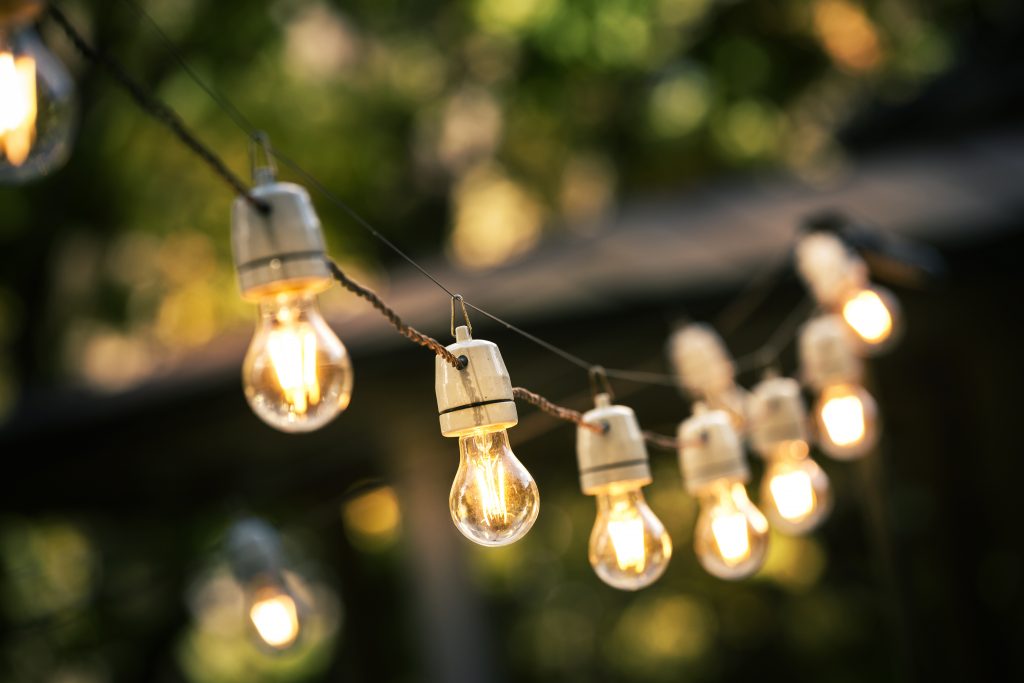 #6
Fire Pits
Ahh fire. Fire pits are the center of attention on decks and patios, regardless of the size. According to the Society of Landscape Architects, a stone fire pit and seating area is the most popular hardscape element in landscape design. They not only provide an additional source of light and heat—fire pits will create a unique ambiance that promotes conversation and congregation. One of the best things about fire pits is their cost-potential and flexibility in use, DIY one for cheap or go all out with a professional grade job that will be sure to boost your property's value.
#7
Outdoor Kitchen
Besides constructing a guest house, pool/spa, or ADU, an outdoor kitchen may be one of the more costly landscape ventures you can pursue. However, it does dramatically change the functionality of your backyard and home. Cooking outside keeps your interior cleaner, cooler, and potentially safer (fewer fumes and susceptibility to fire). This feature is almost guaranteed to increase property value, as it serves as a great talking point to potential future buyers. You can expect to recoup 70% or more of what you invest in an outdoor kitchen with a stove/bbq, sink, and fridge.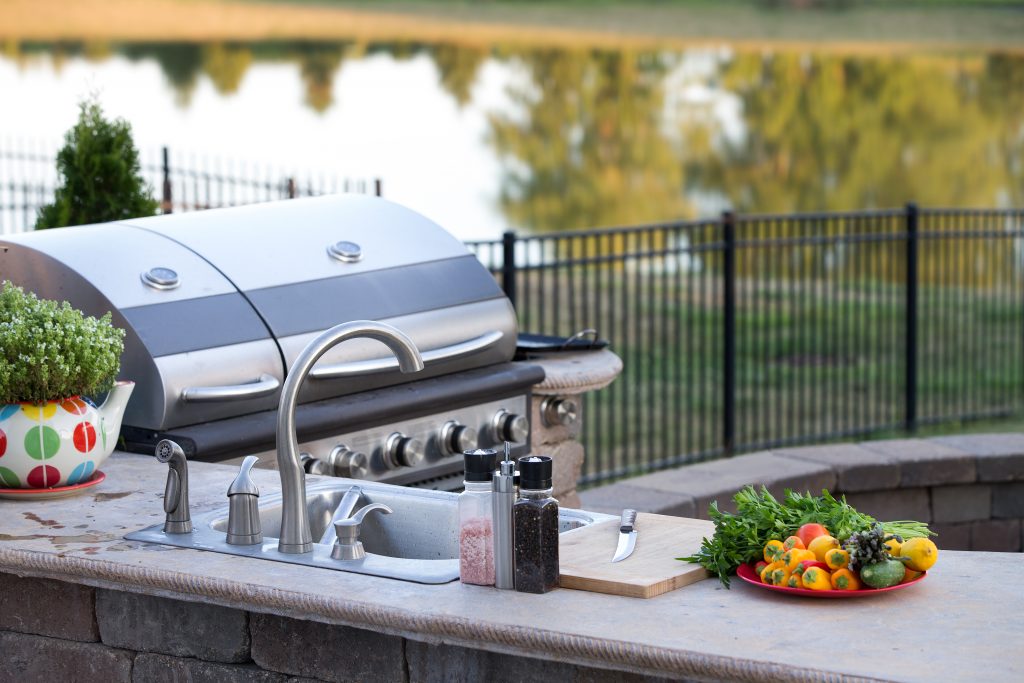 #8
Consider an ADU
Not exactly a landscape update, but constructing an ADU in your backyard is something worth considering if you are really looking to make money out of your yard. ADUs allow you to earn extra monthly income via rent. Detached ADU's as pictured to the left, are private and extremely functional stand-alone structures. Detached ADUs are attractive to tenants because they are essentially tiny homes, They are innovative, affordable, and effective housing options. They are especially in demand in states where housing is expensive and limited, like California. On top of this, ADUs are flexible, able to be used as a guest house, safe-multi generational housing, or as a rental unit. Check out our most recent ADU article if you are a CA resident.
Upgrade Your Bathroom Today
CONNECTING YOU WITH LOCAL SERVICE PROFESSIONALS YOU CAN TRUST!
PoweredByPros is a leading digital home services marketplace. We match homeowners from across the nation with screened remodel and repair professionals they can trust to successfully complete any type of home improvement or renovation project. For over a decade, homeowners have trusted us with providing them professional and quality services for their property. In order for us to connect you with a home expert in your area, our highly skilled customer service team will contact you to gather all your project information and pay special attention to your design and amenity requests. We make planning, budgeting, and hiring a local contractor easy and free! Save time and money, get started today!