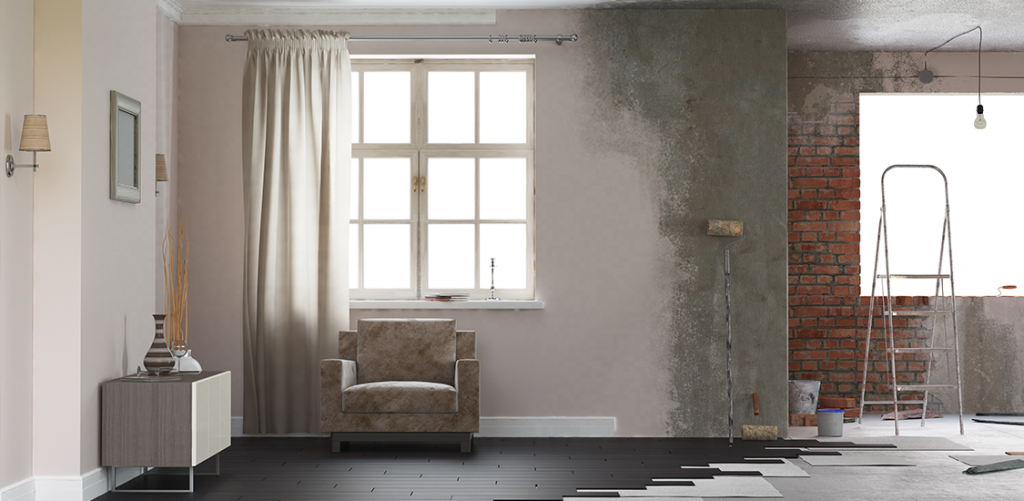 Styles change, paint chips, faucets leak, and floors buckle. If you have been living in the same residence for many years, or if you are just looking for a change of scenery, it makes sense to want to update your home! Most major interior remodeling and renovation projects will easily exceed $10,000. However, you don't need to break the bank or take out a loan to give your home a new look and improve its functionality. In some cases, it might even be a smarter decision to pursue small-scale remodels. According to a 2019 Cost vs. Value Report by Hanley Wood, minor renovations tend to result in a higher amount of money earned back when homeowners sold! So what can you do to save money on interior remodeling? This guide will supply you with ideas and strategies to revitalize the interior of your residence—without the costs or challenges of a full-scale project.

Getting Started
Before Anything, Clean Up
The first step before any remodel is cleaning up. No matter the project size, it's important to tidy up your living spaces prior to any renovation. Besides looking neater, you will be able to clearly see how things in your home are arranged and what areas need attention. Keep in mind where your furniture, electrical outlets, and appliances are. Write down what you like and what you think could use some improvment. Sometimes, a simple clean up can save you money; you might realize all you need to do is rearrange the furniture, store your items differently, and add some new personal touches.
Planning
Prioritize Your Remodeling Needs
You need to determine what areas of your house need fixing first. Walk around your home, take note of what needs attention. What area of your home needs some 'love'? Make sure to look at the fine details: grout, lights, pipes, blinds, hinges, etc. Doing a thorough check of your home will help you come up with an accurate and finalized budget.
Budgeting
How much should I spend?
It's a tough question to ask. Typically, even for large-scale remodels, you rarely want to spend more than 10-15% of your home's value on a single room (i.e. $10,000 per $100,000). A home's property value generally accumulates value over time. So, if you are planning to live in your home for over 8-10 years, it is probably worth investing a little more into your remodel. You will likely be able to make some of the money back when you sell in the future. Nevertheless, even minor facelifts can raise your property value. Spending around $5,000 for the kitchen you can reface cabinets, add upgrade countertops, swap out lights, and possibly redo the flooring. Bathrooms are slightly cheaper. You can get a lot done with $3,500 like new paint, an upgraded toilet or sink, tile backsplash, and marble countertops. Of course, if you are on a really tight budget, there are plenty of small changes that can improve the interior of your home for only a few hundred dollars or less.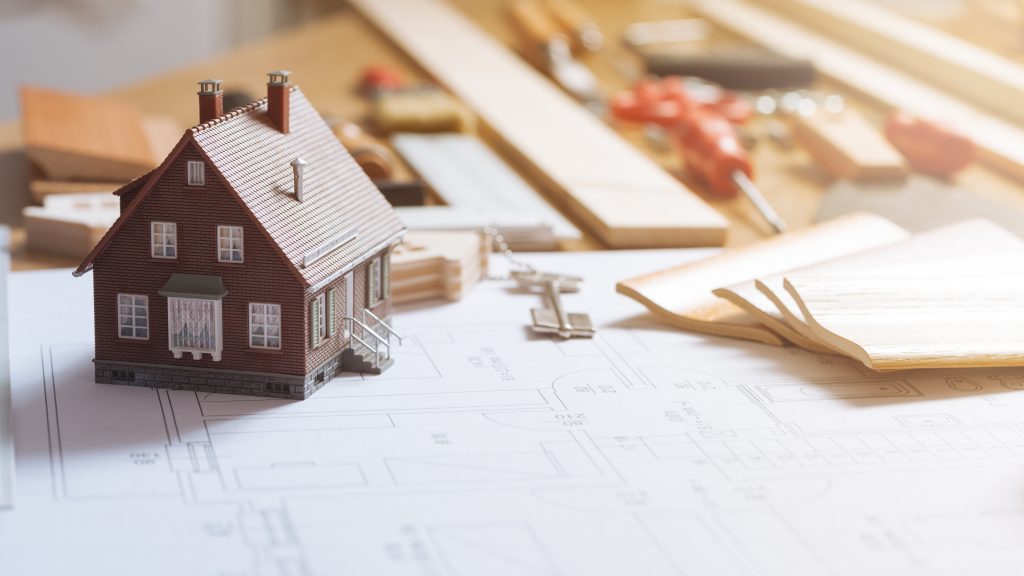 Small Changes, Big Impact
While it is easy to have ambitious goals for your home improvement project, sometimes small updates go a long way. Take time with your remodel and start with the least expensive fixes first. As you progress through your remodel, you will see your small changes accumulate and slowly enhance your living space. The more time you spend thinking about renovations and actively engaging in making these small updates, the better idea you will to approach a major remodel in the future. Begin your minor remodel process by checking off items from this list: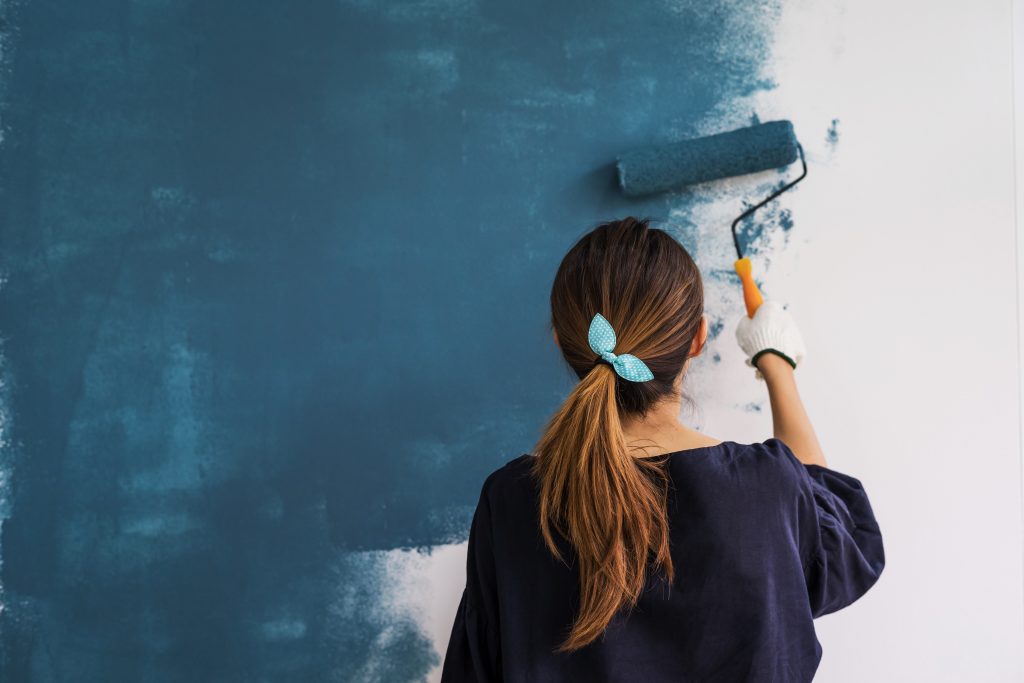 icon

Look at the little things. Squeaky door knobs, rusted hinges, dusty window screens, leaky faucets, etc. Such small details are often forgotten, but when you begin to update them, small changes add up and quickly turn into big improvements

icon

Replace your old bathroom rug, doormat, and area rugs. Rugs take up space and a used, dirty rug can really be an eye sore. It's fairly inexpensive to add quality rugs that look good, are easy to clean, and last a long time.

icon

Replace switch plate and outlet covers. Every room has electrical outets and light switches, so these overlooked room accents are minor changes that will subtly enhance the look of any room. It only costs a few dollars to replace a cover. They come in a variety of styles from fresh white to stainless steel (found online or any homegoods store).

icon

Paint. Nothing better than a fresh coat of paint. Painting your interior or a specific room is the most cost efficient way to create a new ambiance for any room in your home. Spray paint doorknobs to beautify instead of replacing. If you are looking for the most economic paint job, look into painting the trims of your house. A clean new color or a refinished trim is often sufficient.

icon

Order and purchase before. If you want to save money, purchase items you want to replace, before you hire a contractor. If you want to remodel a bathroom, buy those new light bulbs, a sink, and glass shower door before you hire a contractor. When the contractor does the shopping, they might charge you more or select a new appliance or fixture that is beyond your budget.

icon

Resurface. If it's not broken, don't replace it. New installation is always more expensive than updating the appearance of something. Resurfacing old floors, cabinets, and appliances can dramatically change the look of a room. Overtime, floors will gather scrathes, dirt, and may fade in coloring. Have a professional refinish your hardwood floor to slow down the deteriorartion process

icon

DIY. Avoid those hefty installation and labor costs. Many of the suggestions given in this article are straightfoward and require minimal construction knowledge. If you are at all handy, do the minor repairs and updates yourself. But be careful, extra damage will cost you more money. If you have any doubts about rewiring the electrical outlets or installing tile backsplash, just hire the professional.

icon

Ask about finance options. Although a few thousand dollar project is still considered minor, it is not a small amount of money. It can be hard to come up with a few thousand dollars at once. So, try and seek out payment plans. Some general contractors or handymen will set up installment amounts for you to pay in the future.

icon

Buy Recycled and Used. Go on craigslist, facebook marketplace, or visit your local appliance store. With a bit of research, you should be able to find quality products that are second-hand, but still function and look great without the hefty price tag. A great option is a 'Habitat for Humanity' store. This company has independently owned retail store across the country and takes donations or buys back used home items. They then sell these items to public customers at a discounted price. Buying used is a good deal for you, your community and the environment!
Living Room
As one of the most laid back and used areas of any home, living rooms are subject to the most 'wear and tear'. When remodelign a living room, you don't need (or want) to do a major overhaul. Usually, living rooms are already open floor plans, so there isn't much structural changes you can do anyways.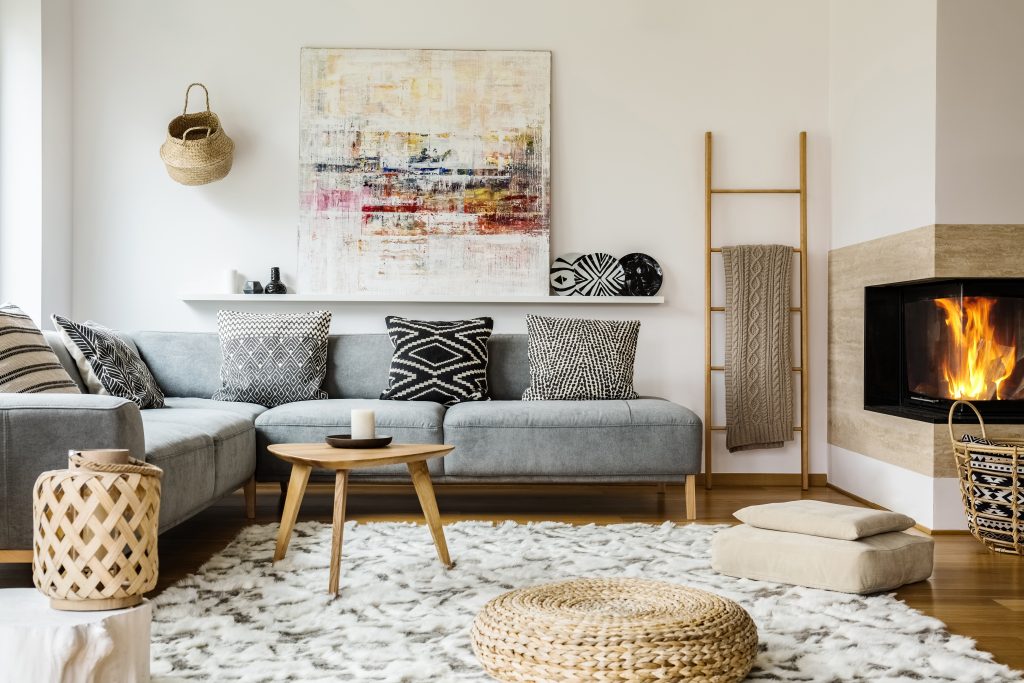 icon

Accessories. Try adding new pillows, laying down wool rugs for winter and cotton rugs for summer, hanging new pictures or paintings,

icon

Revamp your furniture. Fixing small tears and replacing the upholstery is inexpensive when compared to new furniture. The old lounge chair can be brightened up with new colors and materials.

icon

Flooring. If you have the money to spend, invest in flooring. It usually has a good resale value and will instantly change the look of any room. Vinyl tiles and wooden laminates are appealing and budget-friendly.

icon

Rethink your Layout. The easiest thing to do is to move around your furniture or even move your current living room to another room. It's free to play around with the space you have, so see if you can move the couch and lights around to create a new design.

icon

Lighting. Start with specific lighting first. These include small fixtures that highlight paintings or accessories. Using floor lamps and reading lamps give you versatility and mobility. In 'hang-out' areas, you want ceiling lights to give a yellow/red undertone. Hang mirrors to reflect light and give an illusion of more space.

icon

Connect the kitchen. If your home layout permits, one way to give an illusion of a larger home is to knock down a wall that seperates your kitchen and living room. Opening up your floor plan physically gives your home more usable space. This is the most expensive suggestion, but connected living rooms and kitchens are currently in high demand (great ROI opportunity). Each situation is different, and much of the cost depends on materials, but if your wall is non-load bearing expect to pay less than $1,500 to knock down a wall. If it is load bearing, expect to pay a little more (~$3,500).
Bathroom
Like kitchens, bathroom renovations can quickly add up. Updating bathrooms and kitchen are the most expensive of all our suggestions, but these are also among the most highly used, and subsequently most desirable areas to renovate. We list out some inexpensive decor tips that will make the most out of your money. Following all these tips should cost around $2,000-$3,500 total.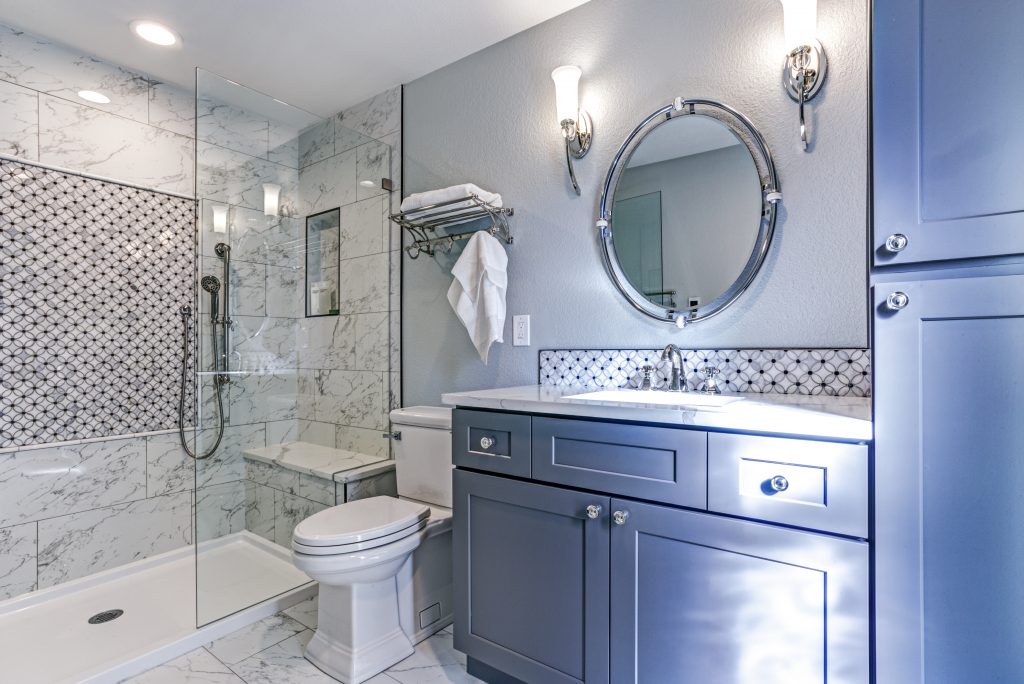 icon

Don't Move your Plumbing. Leave your sink, toilet, and shower where they are. Moving around and rerouting your plumbing immediately drives up costs.

icon

Replace the Vinyl Tiles. A lot of homes have vinyl tiles in their bathrooms. Tear them out, lay a new subfloor, and choose a ceramic to match your paint.

icon

Freshen Caulk and Grout. Grimy caulk and grout is unappealing and could pose a health hazard (mold). Replace them for a few dollars to freshen any bathroom.

icon

Paint. Go for a bold new paint in your bathroom. If you are unsure of a color choice, refinish your current paint or pick a white. White works well for most bathrooms, especially if you want a modern look.

icon

Refinish your Tub. Replacing and installing a new tub or shower should be your last option if you are trying to save money. If there are yellow stains or cracks, it's not worth the money to replace, instead have a professional refinish and realign your bathtub.

icon

Update Fixtures. New towel racks, light fixtures, changing interior cabinet design, and adding smooth drawer pulls are great places to start and easy to install. If your faucet or showerhead is dated, select a new one. Choose a low-flow option to conserve water and save money.
Kitchen
The kitchen is the heart of any home, so it makes sense why an updated and highly functional kitchen is among the most sought after aspects of any living space.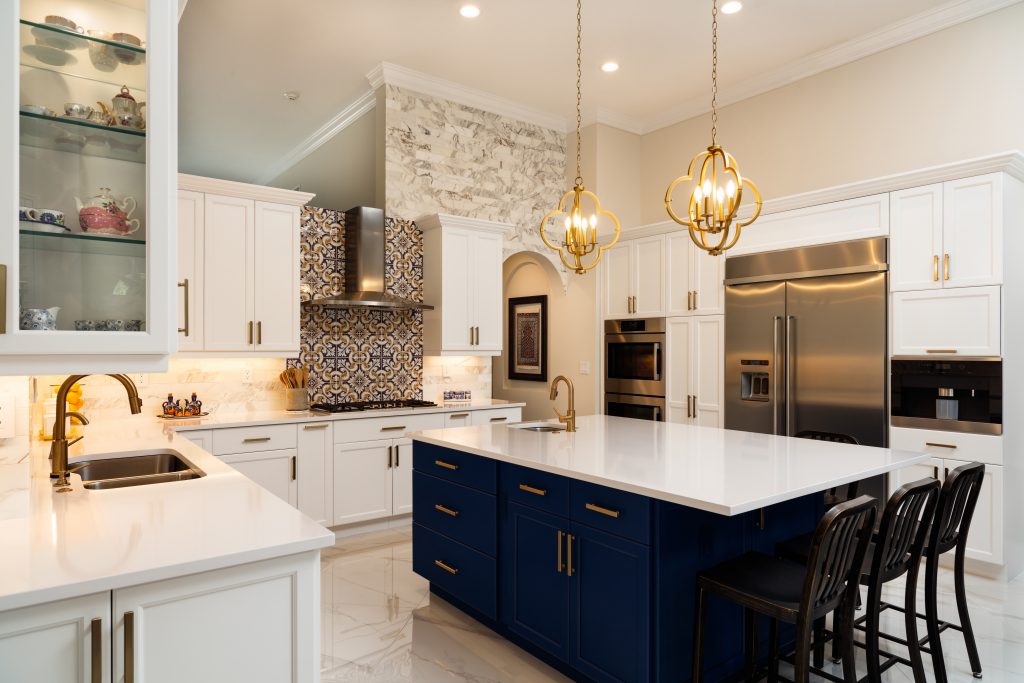 icon

Lighting. Make sure to add lights and replace bulbs. Focus lights on areas where you cook the most. Lights under or on top of cabinets provides an impactful, chic look.

icon

Floors. Refinishing, applying a protective layering, and new paint hues offer an economic way to update your floors. If you have the money to install new floors, look at our post on what kitchen floors are best for your budget.

icon

Buy Smart. When selecting new appliances, go for kitchen sets at places like Home Depot to receive bundled prices or used products. You can find amazing deals on second-hand products, if you put in the time and research effort.

icon

Paint. Like with any room, adding new paint is the cheapest and quickest way to change the look of your kitchen. White is trendy and provides a modern look. In addition, white is a guaranteed way to hide outdated cabinets and drawers. Add new accents (i.e. draw handles) for a totally new look.

icon

Remove Doors. Many dated kitchens have walls that close it off to the rest of the home. If you can't afford to remove a wall, consider getting rid of a door. Kitchens without doors are lighter and more open. Similarly, removing cabinet doors is a cheap way to provide a unique look and improve accessibility.

icon

Remnant Stone. Everyone wants brand new countertops, but the luxurious stone is expensive. Go to your local granite supply yard. They should have remnant stone that will be a fraction of the cost of brand new options. This is a great option especially if you have limited counter space. No one will know the difference!

icon

Cabinets. Cabinets are a significant cost for any kitchen remodel. If your cabinets are sturdy, don't replace them. Repaint, reface, add new hinges, update the handles, and reorganize interior shelves. Refacing cabinets with a wood veneer can make any cabinets look upscale. If it's time to completely install new cabinets, be prepared to drop a bit more. Check out our article on how to select kitchen cabinets.
Accomplish YOUR REMODELING DREAMS TODAY
CONNECTING YOU WITH LOCAL SERVICE PROFESSIONALS YOU CAN TRUST!
PoweredByPros is a leading digital home services marketplace. We match homeowners from across the nation with screened remodel and repair professionals they can trust to successfully complete any type of home improvement or renovation project. For over a decade, homeowners have trusted us with providing them professional and quality services for their property. In order for us to connect you with the best pro, our highly skilled customer service team will contact you to gather all your project information and pay special attention to your design and amenity requests. Save time and money, get started today!