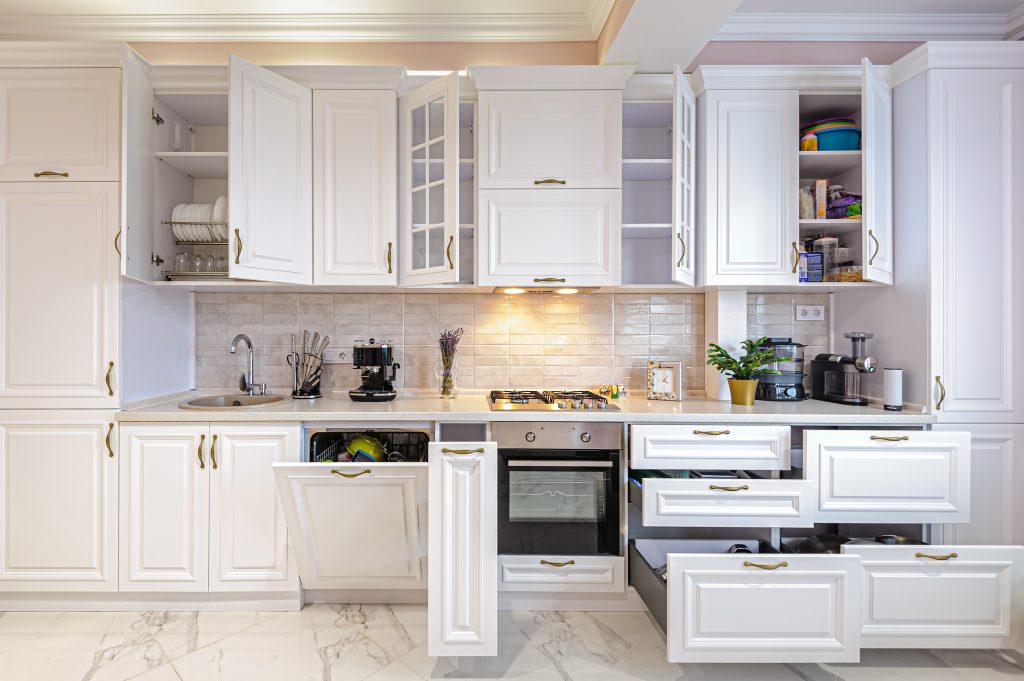 An attractive, highly functional kitchen is among the most desired aspects of any home. In fact, according to forbes.com, modern and well-designed kitchens are on top of the list when it comes to reasons why people purchased their homes in 2019. If you are thinking about remodeling your kitchen, one of the first factors you need to consider are cabinets. Cabinets can make or break your kitchen. So, how can you select the best kitchen cabinets for your kitchen? e created this post to guide you through the cabinet selection process. This article will help you understand what factors to consider when updating your cabinetry – and which cabinet types are optimal for your lifestyle and budget. Cabinet types are organized from budget-friendly to luxurious options.
Budget, resale value, layout
How to plan Your Kitchen Cabinet Remodel
Save time and money by devising a well-thought-out plan before you update your kitchen. Keep in mind these three considerations—budget, potential resale value, and your current kitchen layout—when planning out your new cabinet project:
Ask yourself, How much am I willing to spend? Look at the current state of your kitchen. If your cabinets are sturdy, and you like the existing layout of your kitchen, then a face-lift may be all that you need. New doors, smart hinges, glides, and fresh paint goes a long way. A cosmetic makeover updates your kitchen and keeps expenses low. If your cabinets lack structural strength, then it is probably time to replace them. Replacing old cabinets will most likely result in higher expenses, but is an exciting endeavor that will breathe fresh life into your kitchen space! Best of all, they may even pay off in the long run when you decide to sell.

Are you renovating your kitchen to sell or rent? If a high ROI is important, "Remodeling Magazine's Cost vs. Value Report" suggests that minor renovations tend to do better than major remodels, averaging 81% recouped costs. Updates for short-term uses means you probably don't want to invest in the highest quality cabinets. New stock cabinets are a budget-friendly option to quickly enhance the appearance of your kitchen. On the other hand, if this is your home for the long-term, you want cabinets that will last. Semi-custom or full-custom cabinets will provide you the durability to last many years and the appeal that will keep you happy to look at them day after day.

You can choose to restructure your entire kitchen or use the same layout you have. Look at your existing kitchen design. Measure out your space; write down the dimensions of windows, doors, and appliances. Keep in mind electrical outlets and water connections. For our budget-friendly remodelers, it's important to know that moving around your plumbing generally drives up expenses. After measuring, you will know what size of cabinets you need. If you are stripping and replacing all your cabinets, consider a total kitchen remodel. You don't want new, fancy cabinets with old countertops and buckled floors.
Cabinet Types
New cabinets might not be a small investment. However, the right selection of kitchen cabinets will keep you happy for years to come. With so many options available, there are bound to be cabinets perfect for every homeowner's budget, kitchen use, and personal style. It's important to know that typical kitchens have around 25 to 30 feet of cabinet space. Remember to add on installation costs when accounting for the total price (usually labor is about 30%-50% of the material costs).


Economy Cabinets (Stock)
These budget-friendly options come in two styles: fully built and ready to assemble (RTA). Stock cabinets are found everywhere: online, your local kitchen retailer, or a large home goods store like IKEA (the king of RTA). Standard stock cabinet dimensions are usually 12"- 60" width by 30"-36" height. These cabinets are considered 'stock' because they are mass-produced in a limited amount of style and colors (but you can paint over). The price varies, typically ranging from $60-$250 per linear foot. Price normally is determined by material makeup. Less expensive stock options are made of particleboard covered with plastic laminates. More expensive stock cabinets can be made of solid wood and include more features, however, these push the boundary of 'economy'.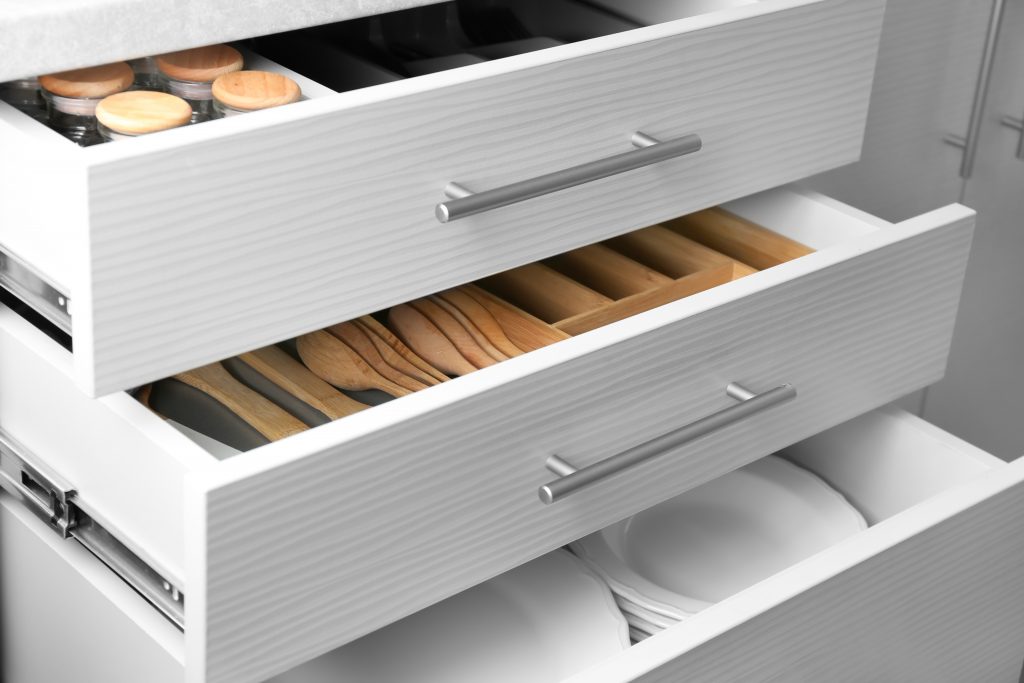 Pros
Most affordable cabinets
Easy to order online or in-store
In-depth research can result in a good product, at low cost
Cons
Limited style, design, and accessories
Material quality/ Durability issues
Measurement issues/ Difficult DIY Project
Mid-Range Cabinets (Semi-Custom)
Semi-custom cabinets offer a wider selection of styles, materials, and accessories. Due to their increased flexibility in measurement and design, these cabinets will complement the appearance of most kitchen styles. The boost in quality and style options means semi-custom cabinets cost more than stock. The price range is roughly $175-$550 per linear foot. With semi-custom, you really need to pay attention to material make-up. Some manufacturers will boast that their cabinets are 'semi-custom'. However, you must be careful! They can be made of low-grade materials. If you are looking for durable and attractive semi-custom cabinets, we suggest avoiding the lowest in the price range.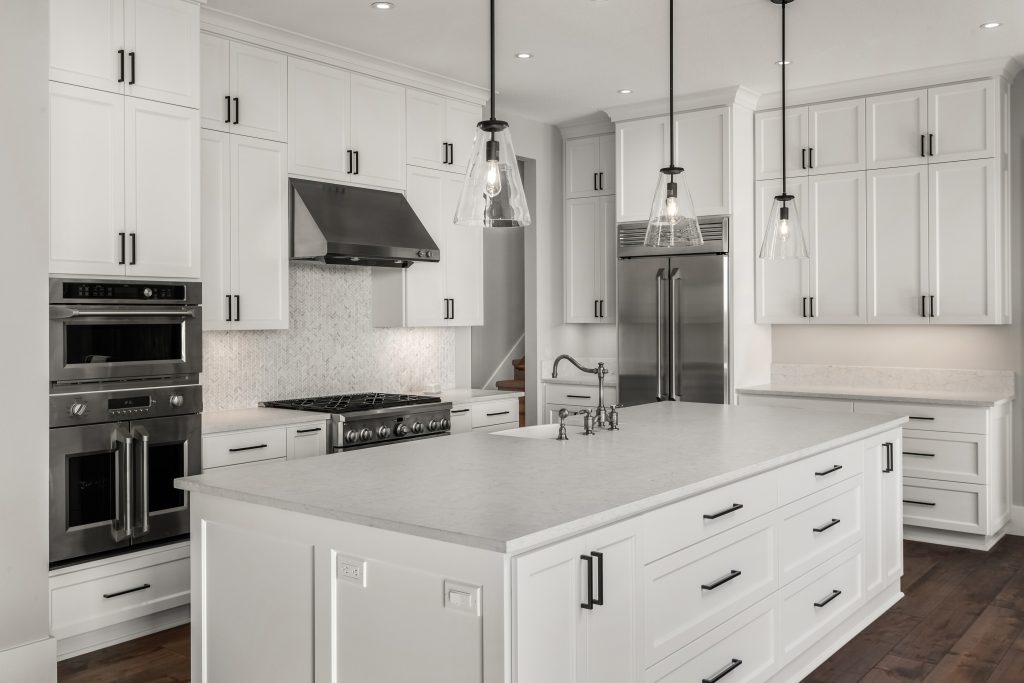 Pros
Works well for most homes
Reasonable price for quality cabinets
Improved storage solutions, depth, and measurement options
Many styles and designs
Cons
Not truly unique in design or material
Some semi-custom cabinets are essentially stock with minor alterations
Price, features, and quality vary greatly
High-end, Luxury Cabinets (Custom)
High-budget cabinets are usually custom cabinets. As the name suggests, these cabinets are made-to-order. Typically guided by an expert, you design the cabinets to be exactly what you want. Designers will amaze you with what they can fit into a tiny space. This customization ensures a proper fit into your kitchen space. Custom cabinets give any home an upscale-look. Luxury cabinets can be made of solid wood, high-end plywood, wood veneer, or even stainless steel. The choices are endless. Well-chosen cabinets, that match the style of your home, can boost the value of your property. They are the best on the market, and the most expensive option, for a reason. Prices range from $500-$1,300 per linear foot.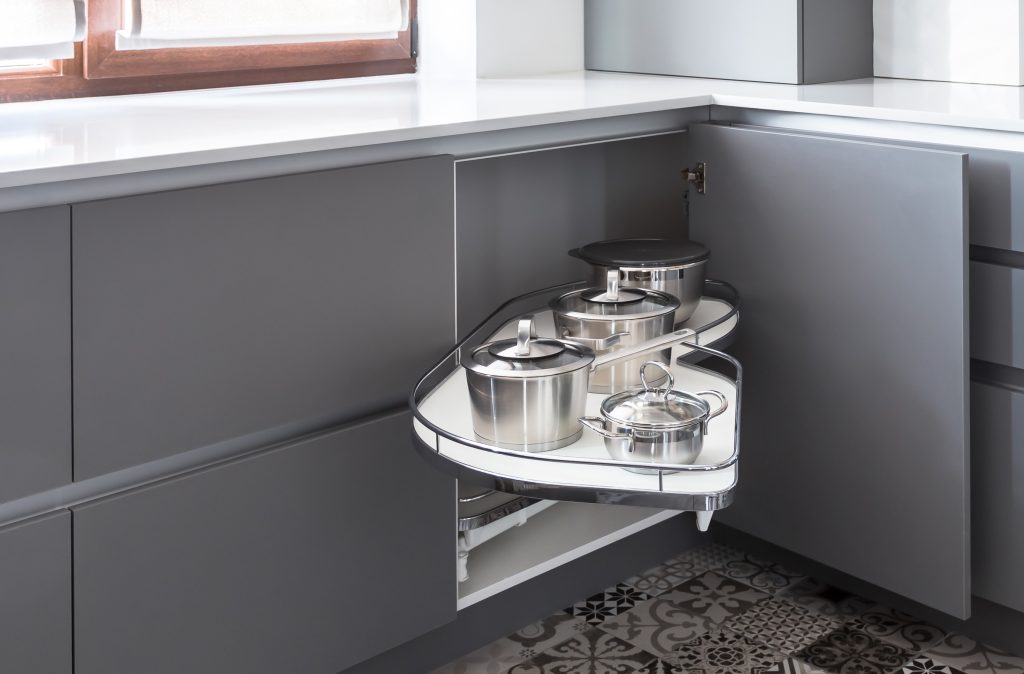 Pros
Highly durable materials
Countless design options
Many accessories: well-built drawers, smooth gliders, dovetail joinery, and soft-close features
Cons
Most expensive $$$
Niche, very unique, or non-matching designs can hurt resale value
it's free
CONNECTING YOU WITH LOCAL KITCHEN PROS YOU CAN TRUST!
PoweredByPros is a leading digital home services marketplace. We match homeowners with screened kitchen cabinet professionals they can trust to successfully complete any type of cabinet and kitchen remodel project. For over a decade, homeowners have trusted us with providing them professional and quality kitchen remodeling services for their properties. In order for us to connect you FOR FREE with the best local pro, our highly skilled customer service team will contact you to gather all your project information and pay special attention to your design and amenity requests. Save time and money, get started today!