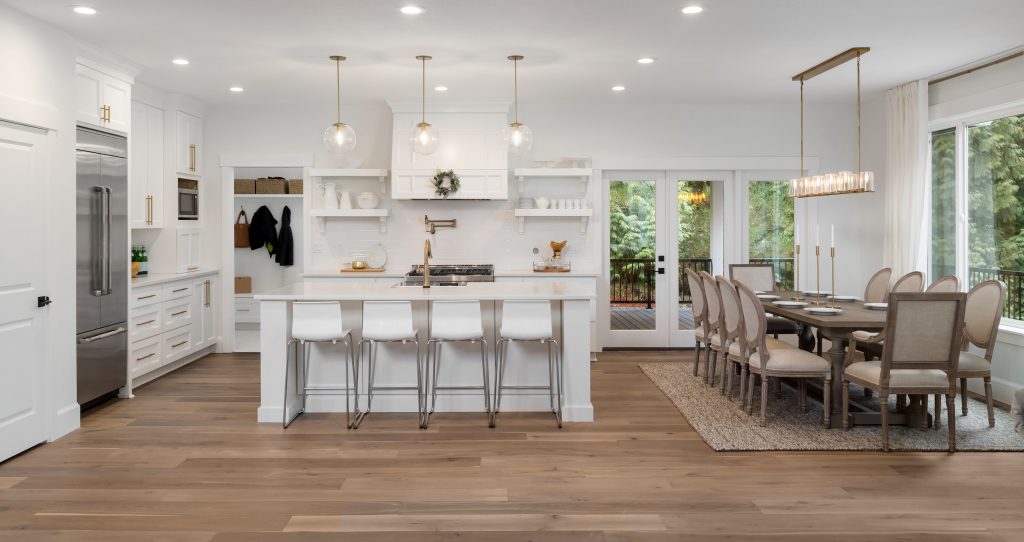 The kitchen is the heart of your home. A lot happens in it: memorable nights, fun laughs, and family dinners. At the same time, your kitchen is also subject to spills, cracked plates, and heavy foot traffic. All this attention your kitchen receives means that it's an area of your home that will deteriorate and appear outdated at a faster pace than other rooms. For this reason, an open, highly-functional, and modern kitchen is among the top reasons why new homeowners purchased a home in 2019. If you are thinking about updating your kitchen, consider the flooring first—it builds the foundation of any room! With so many options available, picking the proper flooring material that best fits your personal style, need, and budget can seem like a challenge. The right floors will look great, maintain functionality, and keep your kitchen attractive even after many years of use. So, how do you select the best floors for your kitchen?
This article will break down the typical kitchen flooring types by cost and popularity. We have listed out the pros and cons of each flooring type. By the end of this post, you should have a better idea of which flooring material will enhance your kitchen space.
Luxury Options
Genuine Hardwood & Tile Flooring
There is a reason why hardwood and tile are the most desired type of kitchen floors. They give your home an upscale look, provide strong protection, and typically increase property value. If you are set on either hardwood or tile, be sure to keep in mind your home's climate. Wood retains heat and can be preferable in colder weather. Vice-versa, tile does not retain heat well and it will help keep a house cool during warm summer months. Moderate temperatures mean that either wood or tile works well. These climate tips are just suggestions to consider, not rules. If you live in a cold area, it does not necessarily mean that tile is a poor choice. Laying down a thick area rug on top of your tile will provide you an extra cushion to walk on, lower heat loss, and can be easily moved or replaced!
Hardwood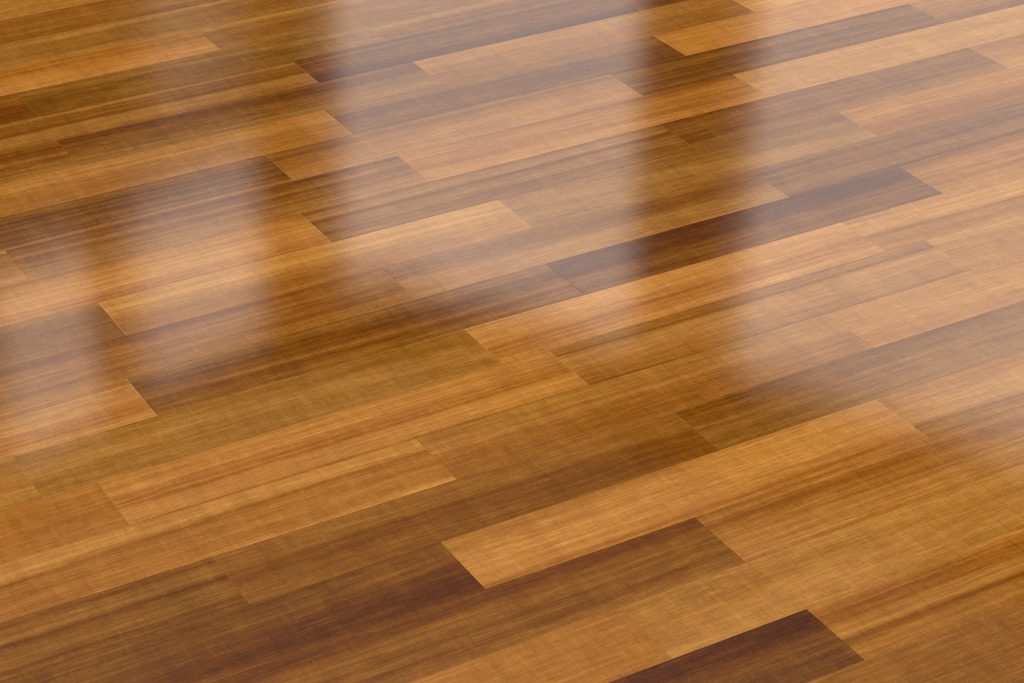 Pros
Hardwood gives your home a warm, natural appeal. It's highly durable but still comforting to walk on and probably the most popular flooring option for mid to high-end homes. Because of hardwood's reputation and timeless fashion appeal, this type of floor will most likely boost your home's value, giving a high return on investment. Hardwood is also flexible in appearance and use! Over time, you can change the style of the wood by sanding, adding new gloss, and refinishing it with a new color or protective coating. Minor repairs and damages can occur, but the base integrity and structure of solid wood will last you anywhere between 25 to 40 years.
Cons
The main drawback is the initial investment. Quality, solid wood flooring is highly prized and priced. Some of the finest hardwood comes from rare tree species throughout the world. Additionally, hardwood is very water-resistant, but not fully waterproof. If flooding has occurred in the past, genuine wood floors may not be the best choice for your home. Water could seep below-ground and become trapped under the boards. Lastly, wood is prone to scratches and dents. However, choosing the strongest types (i.e. Brazilian Walnut, Teak, or Chestnut) provides increased durability and minor damages can be fixed by a professional or handy homeowner.
Tile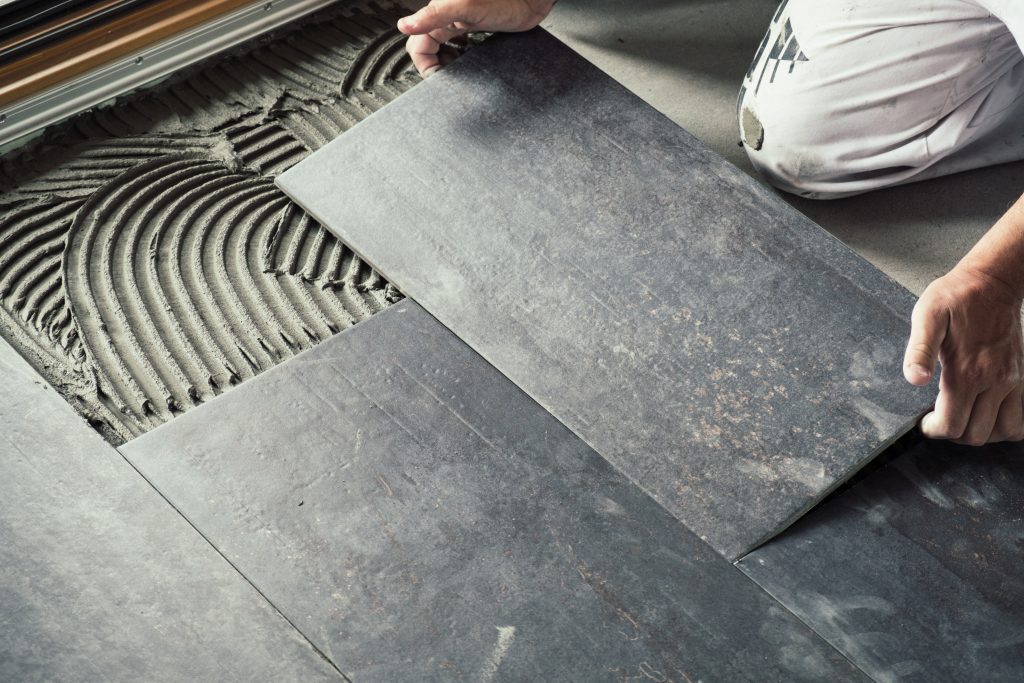 Pros
Tile is flexible in design and can complement most home styles. This material has been a prime flooring choice for centuries. It gives any residence a high-end, classicly luxurious look. On the other hand, with the right aesthetic features, you can transform your kitchen into an ultra-modern masterpiece. Tile comes in many sizes, colors, and styles. The abundance of style choices allows most tile floors to go well with any existing cabinetry, countertop, and appliances. If durability and longevity are important to you, tile has an edge over hardwood. Tile flooring provides extreme resistance to scratches, dents, and moisture. These make messes extremely easy to clean and the waterproof capability will inhibit water damage and mold accumulation. Tile is arguably the most durable floor option, potentially lasting 40 years or more.
Cons
Like hardwood, the primary concern for most homeowners is the price of tile floors. Tile and hardwood are usually comparable in material costs. However, unlike hardwood, tile labor is often considered more difficult and expensive. Although tile repairs are less common than hardwood, damages are typically more expensive to fix. Beyond the costs, tile is the hardest and coldest of most home floors on your feet. This makes it slippery and easy for items to break, creating a hazard for aging adults or young children. Lastly, tile lasts a lifetime but certain tile designs can potentially go out of style quickly (dropping resale value). An experienced flooring professional can help guide you to select the best tile material and style that will last decades.
Mid-Range Options
Engineered Wood, Travertine, Linoleum, & Cork
These options won't break the bank and provide an updated, quality look to any home. Before purchasing, do your research! You need to be especially careful when selecting these materials. Some suppliers will boast a low price, but be poor in quality. Alternatively, expensive options will most likely provide a higher quality grade, but at this price range, they can cost as much as solid hardwood or tile.
Engineered Wood (Luxury Vinyl)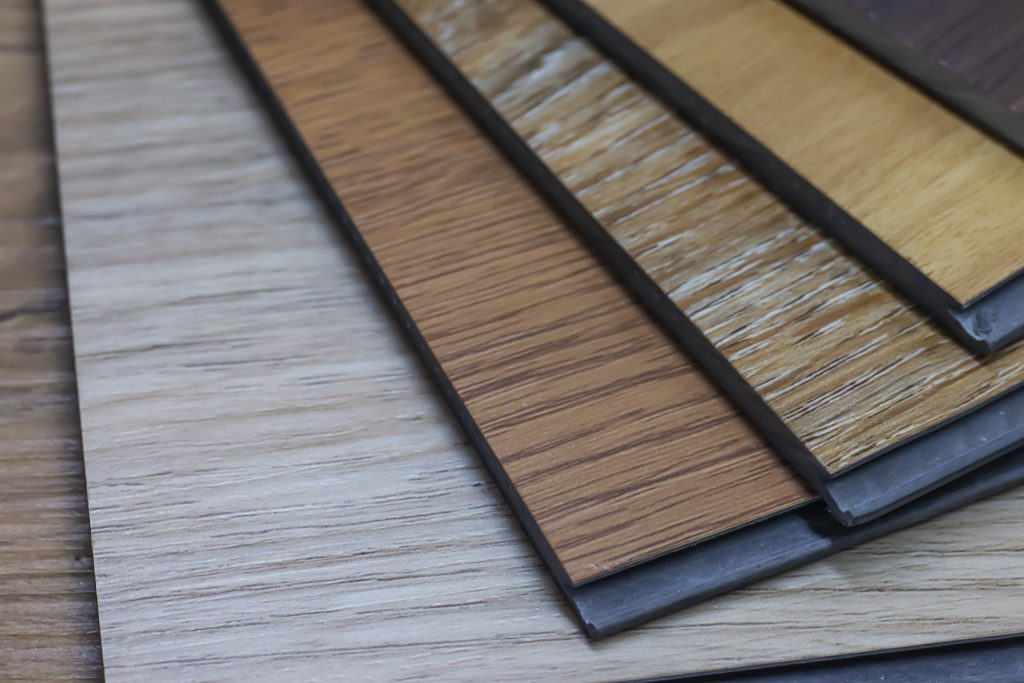 Pros
Engineered wood, also known as luxury vinyl, is an increasingly popular option for residential kitchens. It's an affordably great alternative to solid wood. Engineered wood is similar to laminate, but it's a much higher-grade option. It's made up of wood derivatives and other products to form a strong composite material, usually with a real wood veneer top layer. Quality luxury vinyl looks (almost) like real hardwood flooring and will have grooved surfaces to mimic the feel. Additionally, it comes in tile form to appear like ceramic or porcelain tile. Countless amounts of colors and design mean that this flooring option will match most kitchen styles. The best brands on the market will be essentially waterproof; a great option for moisture and spill-prone kitchens. Most of the time they come with a cork layer that reduces sound and retains heat.
Cons
Engineered wood is not real wood. Luxury Vinyl does not last as long and will begin to buckle or curl over the years. Depending on factors such as moisture and foot traffic, typical replacement is required every 10-15 years. If your floor is not level, engineered wood can bounce, create separating issues, or promote conditions for water to be trapped in between the boards during heavy rain (mold issues). Luxury Vinyl also varies widely in quality and price. Some are essentially laminate, while others can cost as much as real hardwood.
Travertine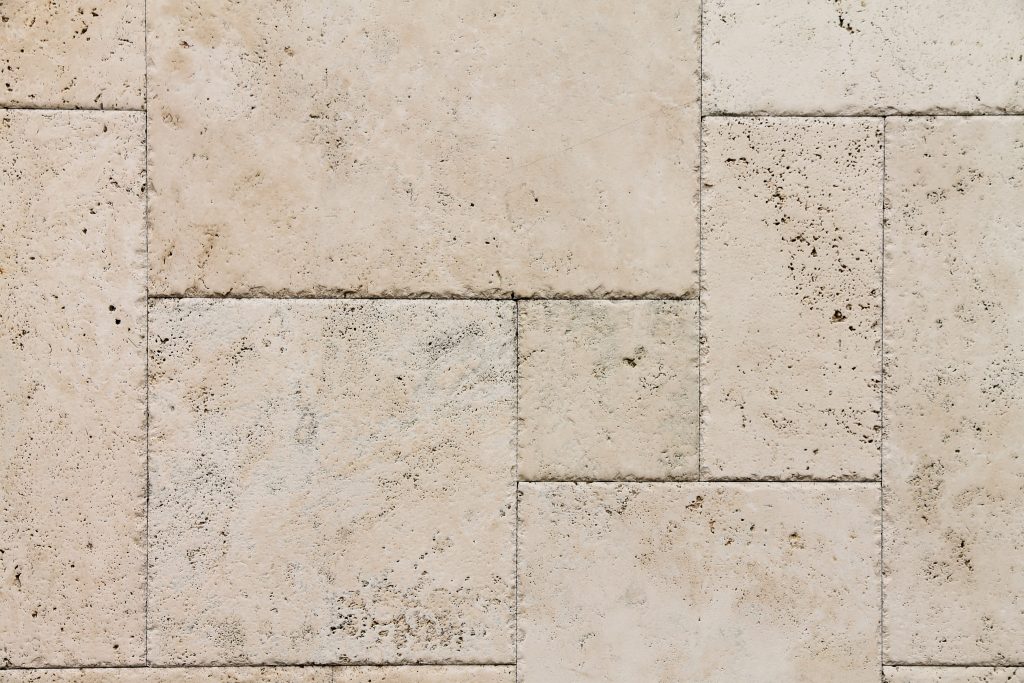 Pros
Travertine is a common natural stone used in many homes as floors or walls. It looks like it has been there for a long-time, rendering a timeless look. Travertine comes in four styles: polished (glossy, sparkling finish), honed (slightly polished, slightly matte), tumbled (rounded edges, with an antique look), and brushed (wire brushing creates a matte-appearance). It has a semi-rough texture which provides extra traction against slippery messes. Typically available in tans and beiges, grays, and speckled off-white hues, travertine brings an earthy feel to any kitchen. With the help of a professional, travertine can be easily cut and designed to fit almost any corner or awkward space. Finally, travertine is laid down in tiles, which means that you will not have to replace your whole floor if it is damaged—just the cracked or broken section.
Cons
Although less costly than hardwood or tile, travertine is the most expensive mid-range option. It's heavy and cumbersome, creating tough installation conditions. Like with most natural stones, it's filled with tiny air holes that can allow water to seep in. However, this can be easily avoided by applying a protective sealant during installation. Maintaining travertine can become frustrating at times. The moisture-resistant coating needs replacement every year or two. Also, you need to be careful with spills. Travertine is subject to staining and etching. For example, leaving red wine on travertine for an extended time can result in a stain. Still, immediate cleaning, proper sealant, and specialized products will most likely rid of most stains. Overall, travertine maintenance costs are usually slightly higher than other flooring types.
Linoleum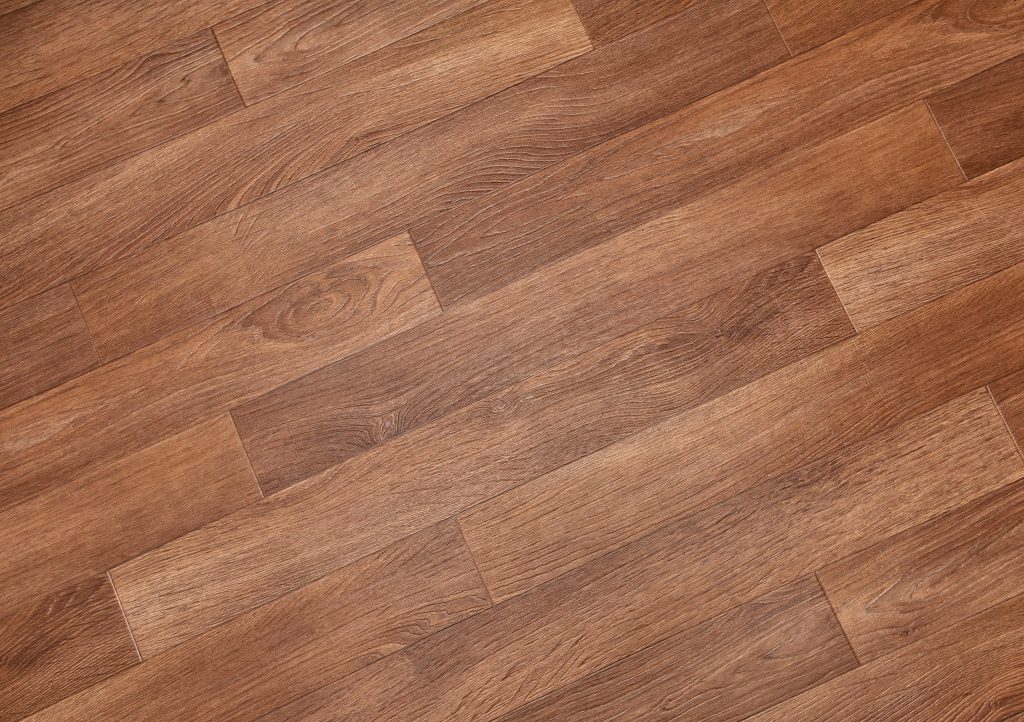 Pros
Linoleum can have a retro look or an updated appearance. Homeowners prefer linoleum as it is generally inexpensive in price. This floor is made of all-natural materials that last upwards of 25 years. Linoleum is made out of renewable products like linseed oil, making it eco-friendly! This natural composition means it provides extra cushion to walk on. The cushion provides a slight bounce similar to cork or vinyl flooring. Compared to some other options, new linoleum is very safe to breathe. The initial natural odors of linoleum do not emit harmful VOCs. This material comes in a variety of colors and is usually installed in snap-together tiles or glue-down planks. Snap-together tiles make linoleum installation a DIY friendly project. All these benefits are making linoleum a popular flooring option once again.
Cons
Linoleum is water-resistant, but not suggested for excessively water-prone areas. It may buckle and crease in high moisture. Likewise, it's reasonably durable but can become dented by heavy, sharp objects. We suggest avoiding the least-expensive options, as they curl over time and might not be made of the quality natural materials. Without protective layering, linoleum is subject to 'ambering' and darkening when exposed to constant sunlight. Finally, it provides minimum grip underneath the foot, creating slip hazards (especially when freshly waxed).
Cork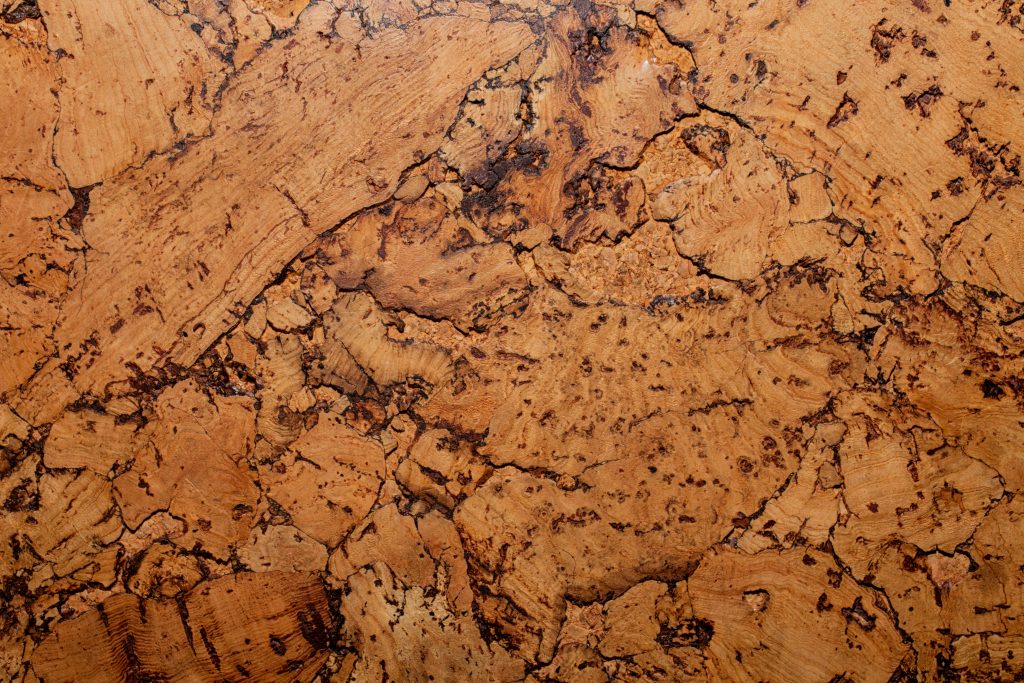 Pros
With a great sealant, cork is water, mold, and mess resistant. Besides carpet, which is a poor choice for a kitchen, cork is arguably the most comfortable flooring. Cork retains heat, so it works well for cold areas. Additionally, it's essentially soundproof, helping absorb a lot of foot traffic. Cork is safer for aging people and developing children. This flooring material is naturally springy, so it is great for arthritic joints and will help stop most plates from breaking. Finally, cork is naturally antimicrobial, hypoallergenic, and entirely recyclable.
Cons
The primary problem with Cork is that it is niche. Cork might not be the best idea if you are planning to sell soon. Some people love it, and some don't. If you want the benefits of cork, but don't necessarily love the look, you can always add a cork sub-layer to most laminates or hardwood floors. Even with a great seal, spills can seep in if left long enough. The protective sealant must be replaced every 5 years (but cleaning is generally easy). Cork absorbs foot traffic well, but it can scratch and dent from moving the furniture. Like linoleum, this flooring type can fade due to the sun. Finally, cork is somewhat expensive and can be as pricey as travertine or low-grade hardwood.
Budget-Friendly Options
Laminate & Sheet Vinyl Flooring
These inexpensive options will provide the essential functions required out of kitchen flooring. If keeping costs to a minimum is of the utmost importance, these materials get the job done. We suggest avoiding use for long-term ownerships as you will need to replace rather quickly or unfortunately become exposed to unhealthy chemicals for an extended time. Some homeowners choose these options because they want to quickly rent or sell.
Laminate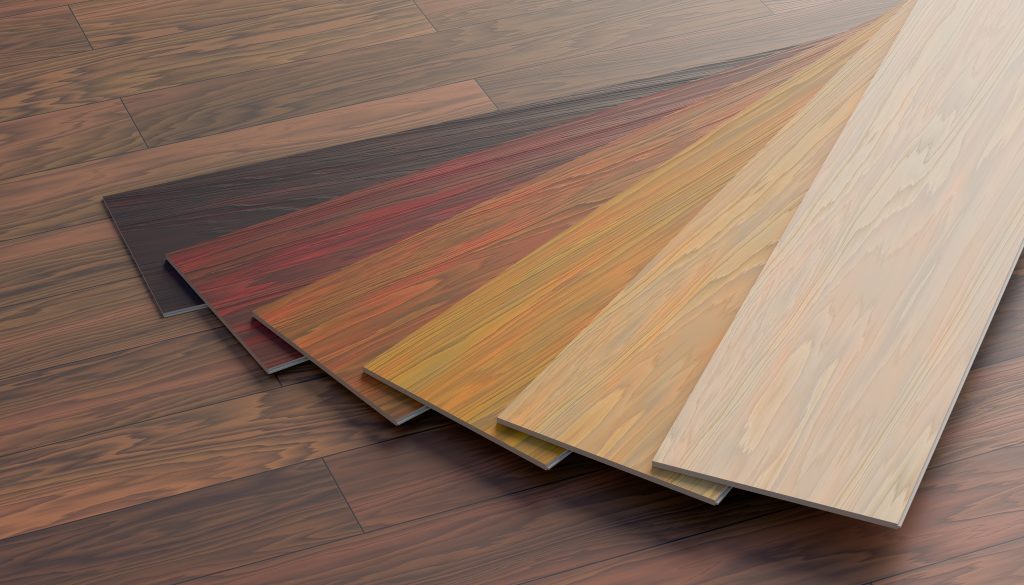 Pros
Laminate is a wide, encompassing term that essentially means 'mock hardwood flooring'. This flooring option is fairly inexpensive, varied in colors/designs, and is easy to install. Laminate is a sensible DIY project because it's a floating floor system. This means the laminate tiles interlock and are not bound to the ground. Some look and feel like wood, however, these options can cross the economic boundary and become luxury vinyl. As discussed earlier, laminate is similar to engineered wood. It just differs in grade, with laminate being made of lesser quality materials. Laminate can last 10-15 years, depending on material make-up, moisture, and the amount of foot traffic.
Cons
Many laminates are made in China, and there are growing health concerns about the materials they are made of. Many of the inexpensive laminate options have been found to have VOCs (which are widely unregulated in production). There are durability and moisture issues as well. Unlike, vinyl there is very minimal moisture protection from the top. So spills or leaks could quickly turn into buckled floors and mold-promoting conditions.
Sheet Vinyl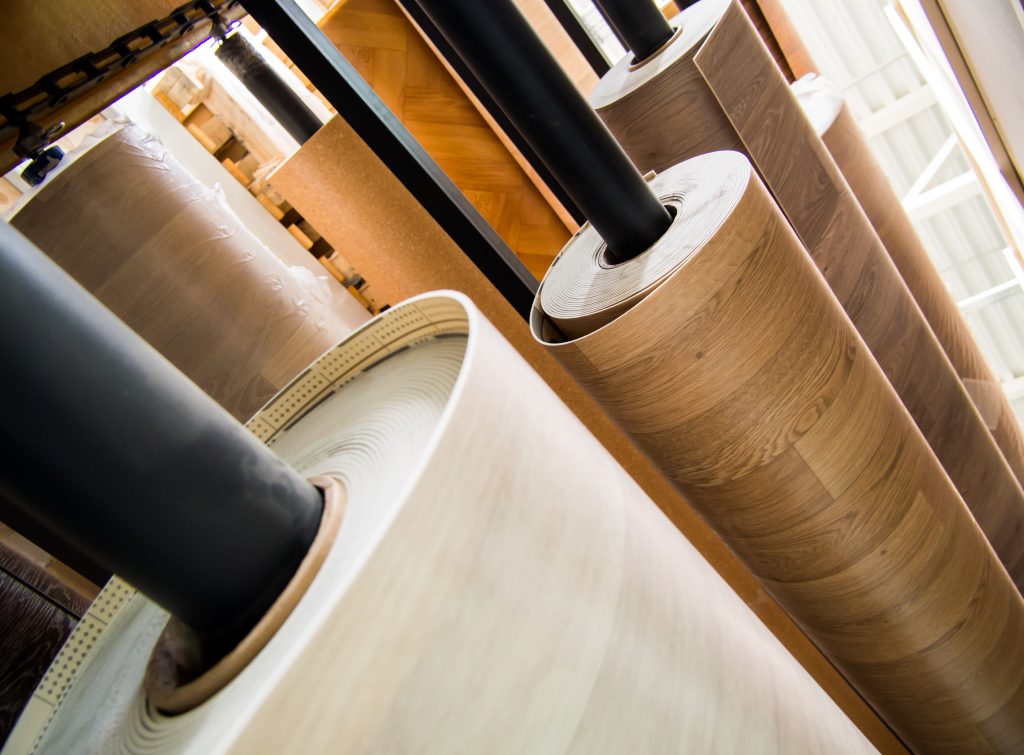 Pros
Sheet Vinyl's primary benefit is that it's inexpensive. It's the least expensive option for kitchens. The next benefit is that vinyl is waterproof. Spills and leaks can easily be cleaned without the worry that moisture will deteriorate the floor. Lastly, some options can possibly do a good job imitating wood or stone tile (but more money!).
Cons
Unfortunately, the adhesives that hold sheet vinyl to the ground are weak, and after time they can shift around and create an unorganized look. Buckling is common and you can expect a few seams to develop. It can be difficult to install and requires special equipment. Additionally, the ground needs to be leveled for application. Lastly, sheet vinyl usually comes in 12-foot roles, sometimes creating installation issues.
CONNECTING YOU WITH LOCAL FLOORING PROFESSIONALS YOU CAN TRUST!
PoweredByPros is a leading digital home services marketplace. We match homeowners with screened flooring professionals they can trust to successfully complete any type of kitchen floor repair or remodel project. For over a decade, homeowners have trusted us with providing them professional and quality flooring services for their property. In order for us to connect you with the best pro, our highly skilled customer service team will contact you to gather all your kitchen flooring project information and pay special attention to your design and amenity requests. Save time and money. Get started today!