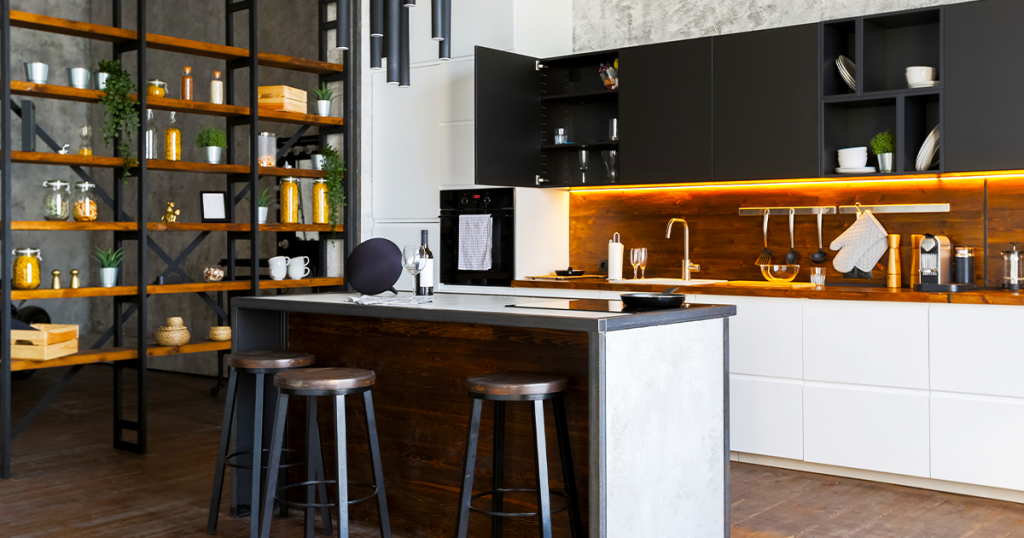 The kitchen is the heart of the home: it's a place where we cook, eat, do work, share stories, and make memories.  Beyond creating a more beautiful and functional home, A remodeled kitchen can actually improve the health and well-being of your household. According to a recent survey by Houzz, homeowners with recently renovated kitchens tend to live healthier lifestyles, eat more meals at home, and experienced a boost in morale. If you are looking for some kitchen inspiration, continue reading to find out 8 popular kitchen trends of 2020.

Return on Investment
Why Updating the Kitchen is worth it?
An open, highly-functional, and modern kitchen was among the top reasons why new homeowners purchased a home in 2019. When you update, expand, and improve the kitchen's functionality, you will almost always boost property value. Regardless if you are thinking about selling anytime soon, it's nice to know that the kitchen is one of the most profitable areas of any home. Keeping mind contemporary trends and lasting styles creates a well designed and attractive kitchen space that will help you recoup most of your money


Suggestion #1
Handle Free
The latest contemporary designs are all about a multi-tasking, free-flowing design. Handles used to be an important design element of the kitchen, now you are seeing more and more new remodels choose to remove or opt for cabinets without cabinet and drawer handles! Some handleless cabinets are push to open or feature a recessed handle, which is not easily visible and do not protrude outward. A kitchen without too many handles helps create a streamlined and simplistic kitchen.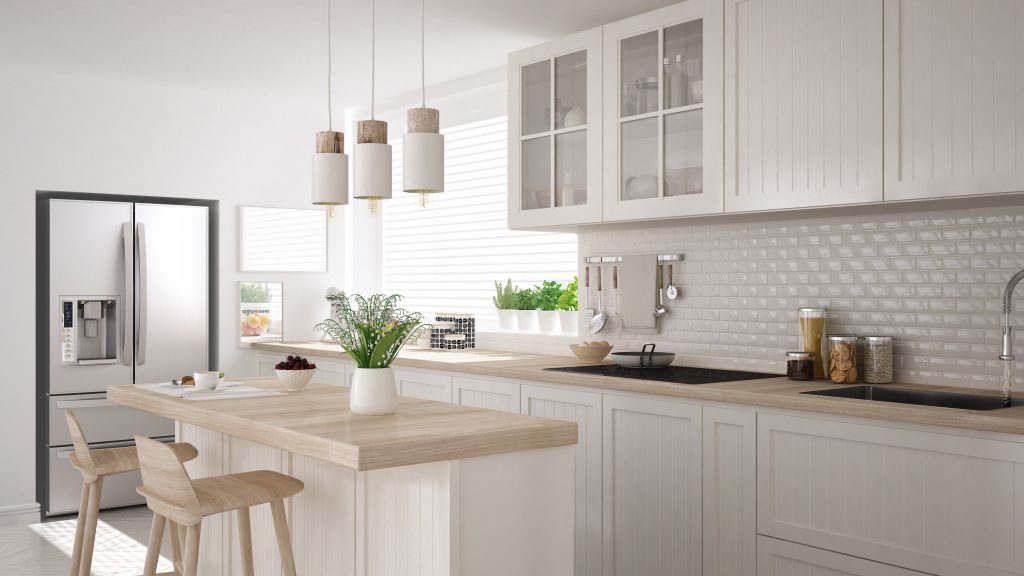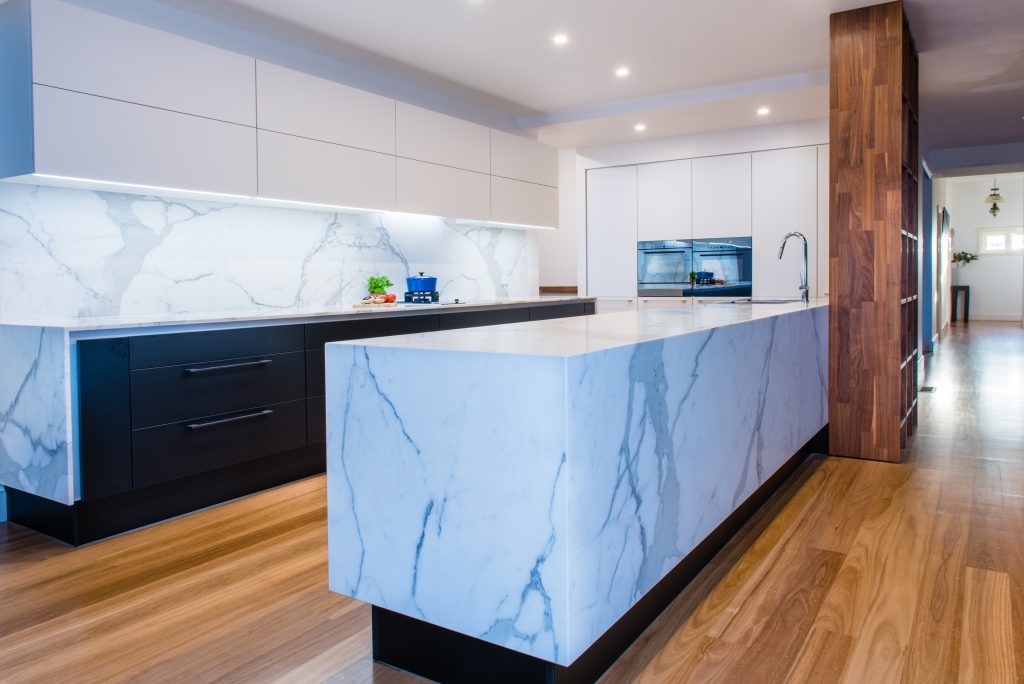 Suggestion #2
Veined Marble
Marble is a timeless material that stirs a feeling of luxury and opulence. Even the most modern and forward-thinking kitchen incorporate marble islands, backsplashes, and countertops: which means it's here to stay! Marble is 100 percent natural stone, so each piece is unique. Many consider busier marble, with more distinct lines, to be the most desirable. You can even have gold veined lines (among many other colors) to really add a dramatic effect. Marble can be pricy but one way to bring the cost down is to look for remnant stone. Check out our article on marble vs. granite to learn more about this in-demand material.
Suggestion #3
Ambient & Natural Lighting
Lights are always among the most important aspects of interior design. They serve functional and aesthetic purposes: adding lights under cabinets or hanging bulbs above kitchen islands create a new ambiance and brighten up previously dark spaces. They can also help you save money by switching over to LEDs, which cost less to run and have a longer lifespan. Natural lighting creates a sense of openness and airiness, which can illude a feeling of more space. Consider installing more windows or add a skylight in your kitchen to reduce the need for electrical lighting altogether.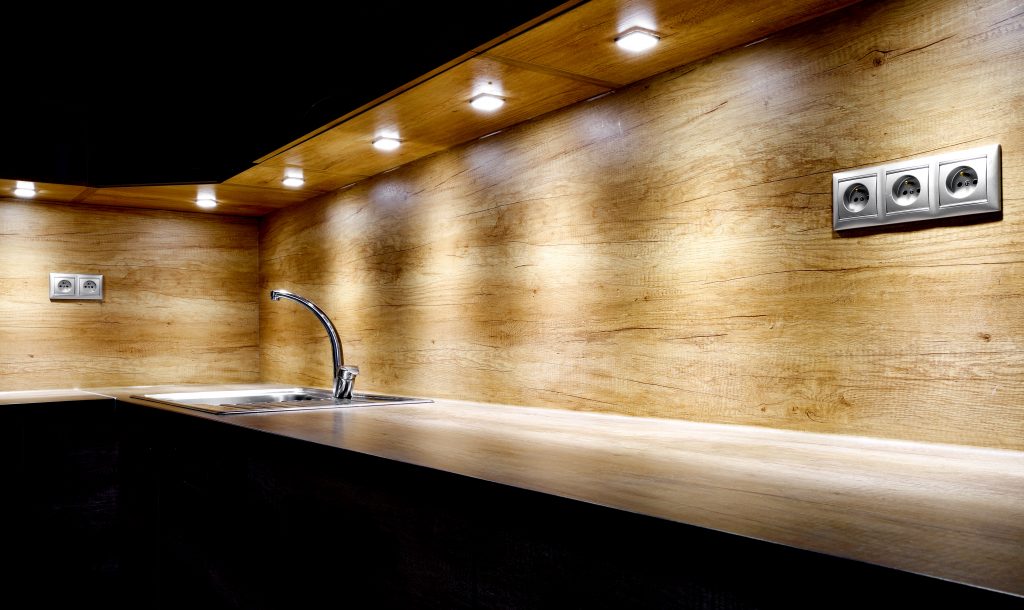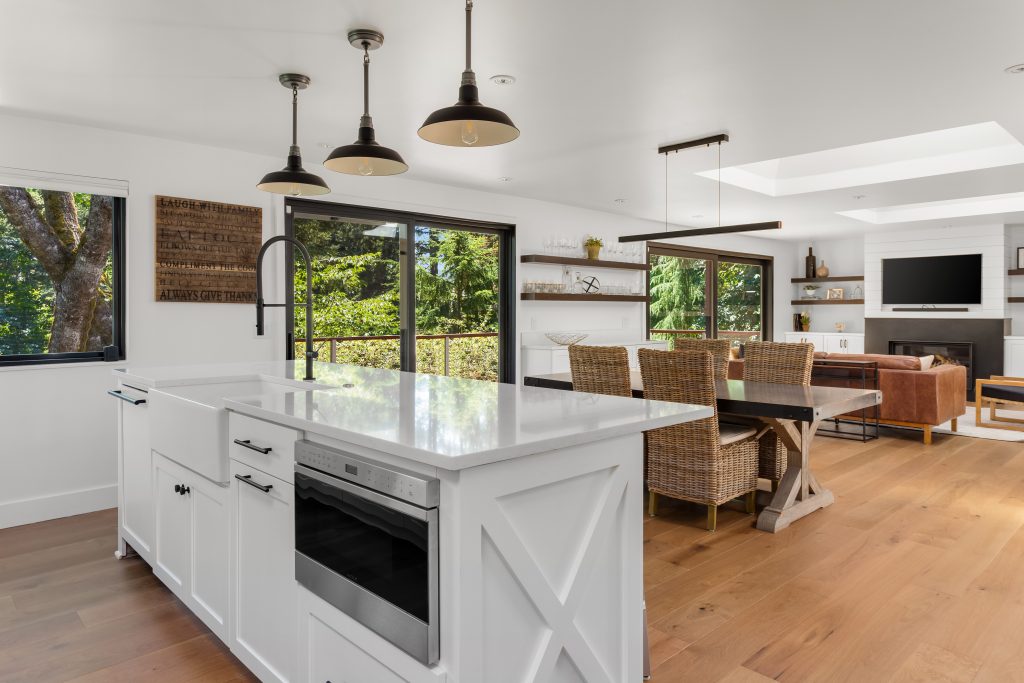 Suggestion #4
Open, Airy Kitchens (No Seperating Walls)
A kitchen that has a door to enter or that is completely blocked off from the rest of the home is a staple of an old design. Whether you are going for the ultra-modern look or are just looking for an update, perhaps one of the most important home improvements you can do is knock down any walls that separate your kitchen and living room. This will literally free up square footage in your home (which always adds to property value)and dramatically change the appearance of its interior.
Suggestion #5
Open Shelves
Typically, we envision cabinets of having doors to open and close. However, the idea of having closed storage is changing. Open shelves and cabinets without doors are becoming a new trend. If you have sturdy cabinets, you can freshen up your kitchen space completely by removing the door and adding a fresh layer of paint: it's cheaper than installing brand new ones! Cabinets and shelves that are not closed increase functionality and can make a room seem larger. Place your interesting and attractive cooking ware, china pieces, and cookbooks on the open shelves to add to your kitchen's personality.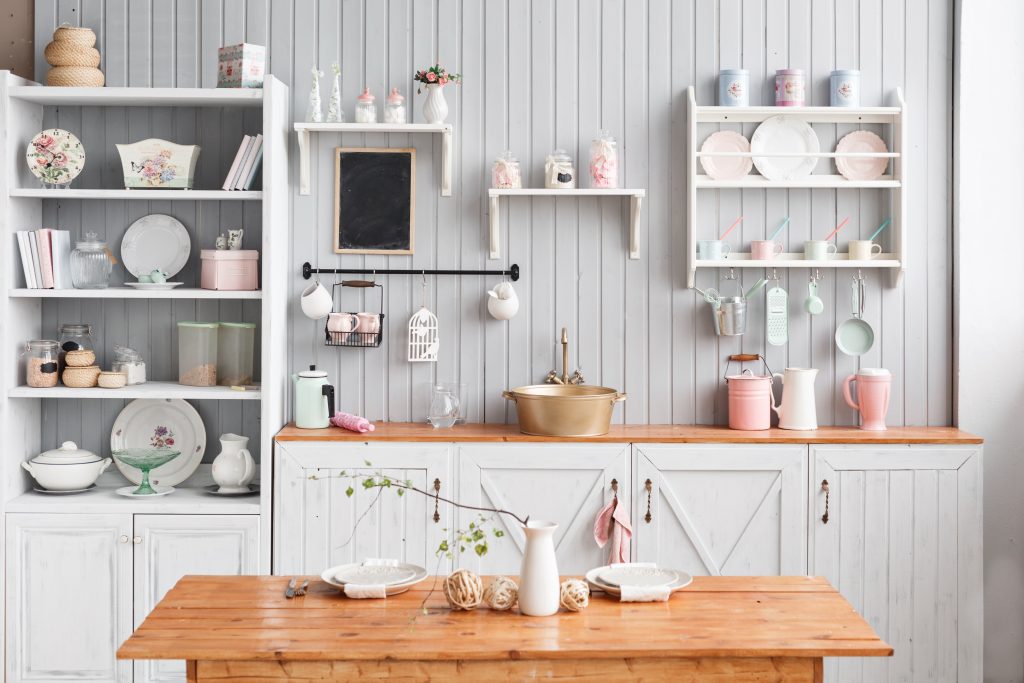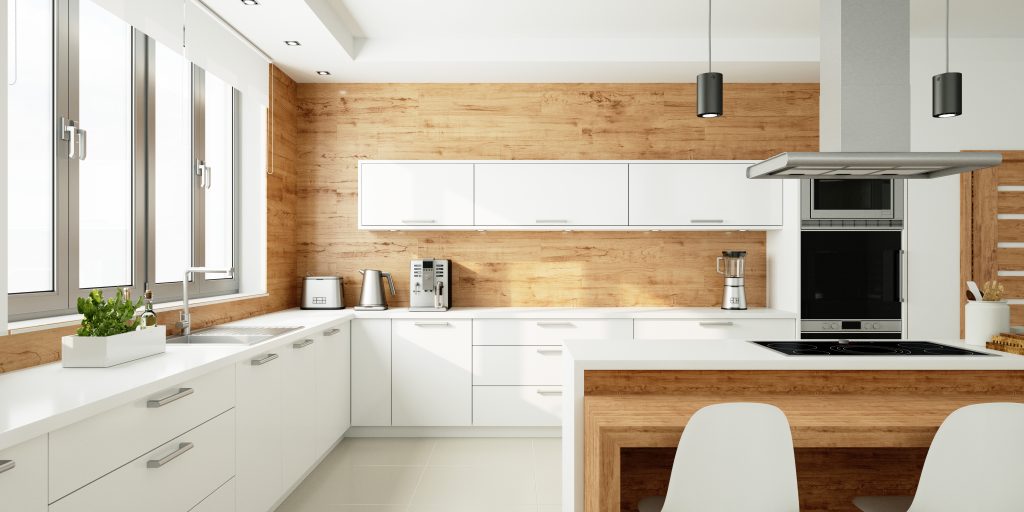 Suggestion #6
Natural Accents & Materials
Whether it's because of the abundance of technology in our life or due to the fact that classic wood style has been out of fashion for a while, natural accents and materials are making a big comeback. Wood elements work particularly well in modern kitchens because contemporary styles tend to make the most use out of the color white. Wood adds visual interest to modern cooking spaces, instills a feeling of warmth, breaks up monotonous color schemes, and adds rustic character. Natural and stained timber can work well in islands, inside cabinets, as backsplashes, shelves, and stove hoods.
Suggestion #7
Distinct Colored Island
You can break up the original design of your kitchen by painting your island with a distinct and eye-catching color. The island is typically the centerpiece of any kitchen so make it stand out! If you aren't into the bright or visually different color idea, paint it to be a natural or neutral hue to help accent the rest of your space.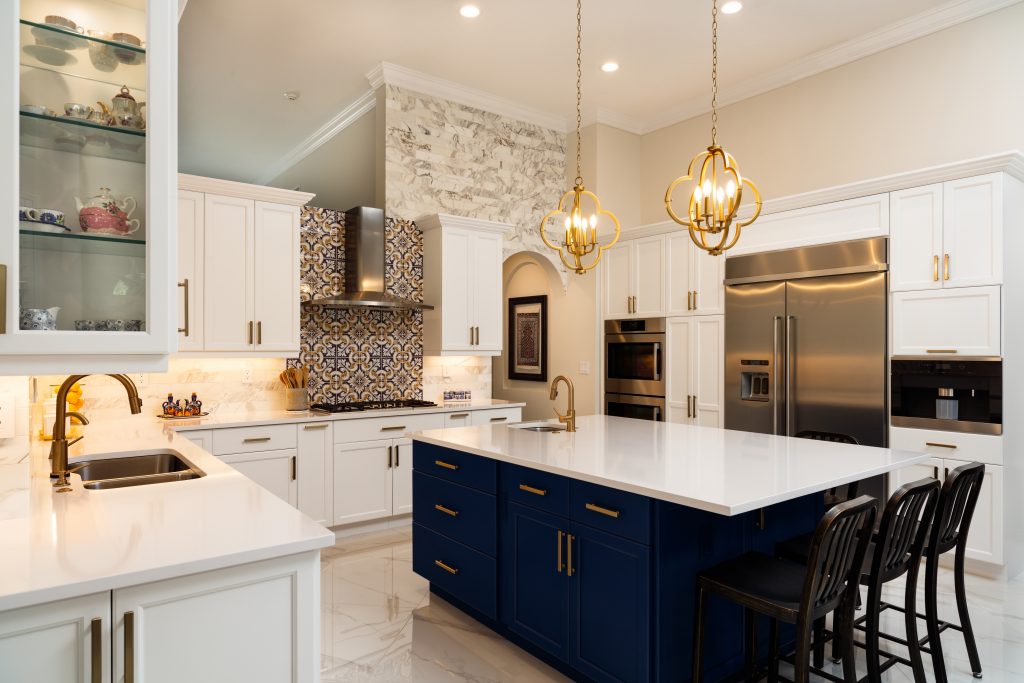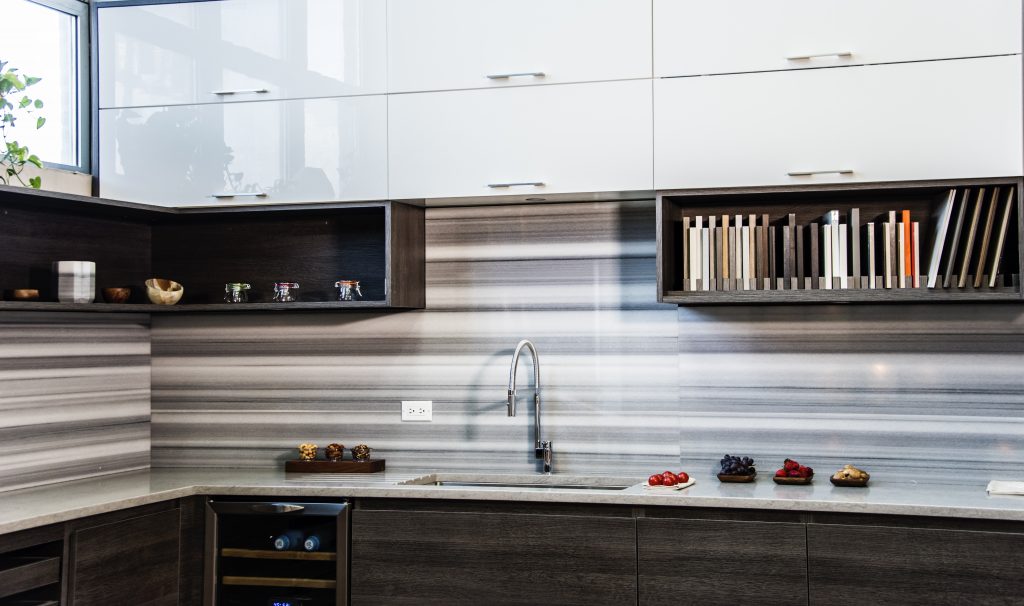 Suggestion #8
Bold Backsplash
Backsplashes add character and truly make the kitchen your own. You can decide whatever kind of material you want and color to accent the rest of your kitchen space. A backsplash adds texture, depth, and can be exemplified at night via lighting, so another great reason for ambient lighting! Bold colors and unique design patterns almost serve as your own art piece, so be creative!

BENEFITS OF USING PROFESSIONALS
Advantages of Powered By Pros kitchen Experts
When remodeling you want to make sure you get it done right the first time around. At PoweredByPros, you can count on our many years of experience to guide you through every step of your kitchen remodel process. We will guide you on what specifics you should or should not renovate. From planning to material selection to the finished product, PoweredByPros will help you achieve a functional, budget-friendly remodel project. We have spent years refining and perfecting our process to create the best final result. From the initial estimate to the final product, our kitchen pros promise a budget-friendly and personal experience. Call us or click one of the get started links today!
Upgrade Your Bathroom Today
CONNECTING YOU WITH LOCAL SERVICE PROFESSIONALS YOU CAN TRUST!
PoweredByPros is a leading digital home services marketplace. We match homeowners from across the nation with screened remodel and repair professionals they can trust to successfully complete any type of home improvement or renovation project. For over a decade, homeowners have trusted us with providing them professional and quality services for their property. In order for us to connect you with a home expert in your area, our highly skilled customer service team will contact you to gather all your project information and pay special attention to your design and amenity requests. We make planning, budgeting, and hiring a local contractor easy and free! Save time and money, get started today!