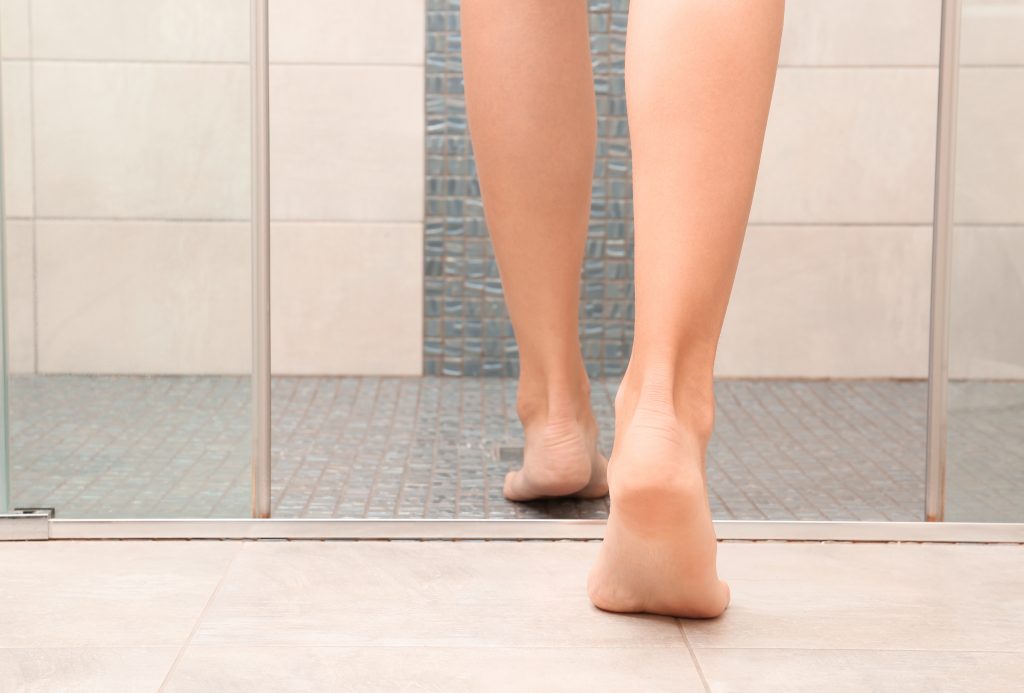 The bathroom is one of the most important rooms in the house. Everyone wants a bathroom that is clean and easy to take care of. Whether you are just daydreaming about the perfect spa or are about to undergo construction, selecting the right flooring for your shower—that meets your desired look, lifestyle, and budget—can be the most challenging aspect of the remodel. We have been in the home improvement business for over ten years, so we know a thing or two about bathroom renovations. We compiled a list of the 5 best shower floors for 2020 to help narrow down the industry's most wanted options. Continue reading to learn about the pros and cons, price ranges, and unique characteristics that make up each of these floor types.
Option #1
Marble
Marble is an adaptable material that will provide you an upscale refined look, no matter if you are going for a classic appearance or something more modern. Marble is versatile and comes in different shapes and sizes. You can have it come in solid pieces, four-by-fours, herringbone, basketweave, honed and more. Typically, the color scheme is a blend of white, cream, and soft grey or browns. However, you can find more exotic colors with enough research. The pros are: it has a timeless appeal, has great resale value, and is compatible with radiant heating. Some cons are that (depending on the type) marble can be prone to scratching, requires consistent and specialized care, and can be expensive. Marble must be specially sealed at least once or twice a year and may require certain cleaning products, otherwise, the stone may become susceptible to scratches and water damage. If you think scratching might be a problem, the go with honed marble; it is known for being the strongest type. Depending on square footage, your bathroom configuration, and the quality of the marble—you can expect to pay between $200-$600 for the materials alone.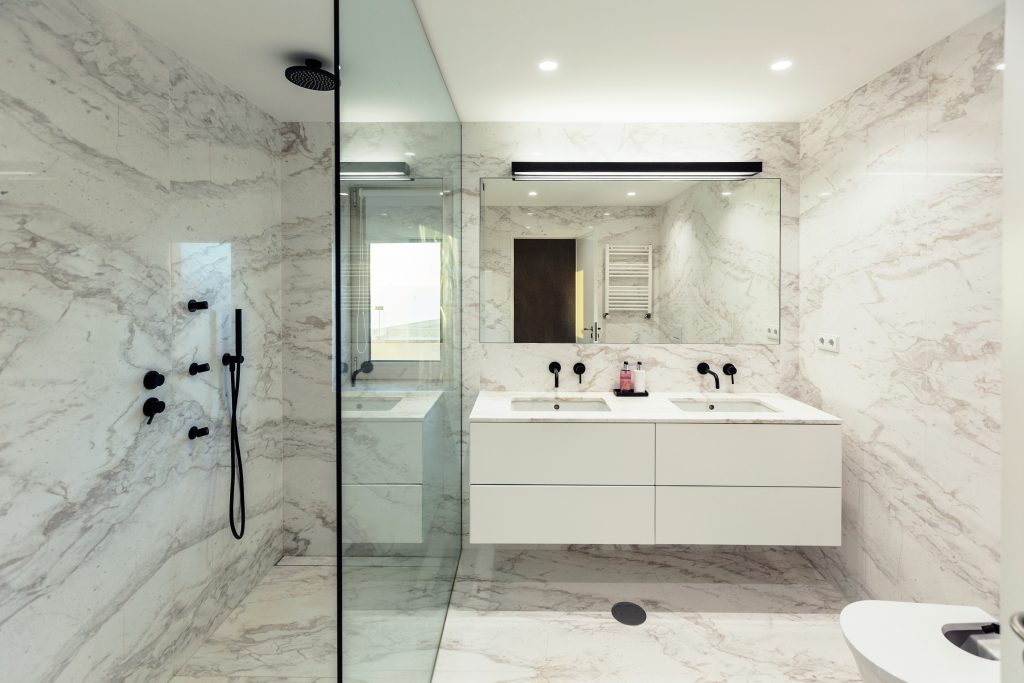 Option #2
Travertine
If you want natural stone, but don't want marble (or the associated costs that come with it), then travertine may be a great alternative. It is a limestone that has a wide color range and comes in versatile patterns. It has a rather low material cost and will not take a long time to install. The material can be used for just flooring, or you can expand it to cover the entire bathroom. Usually, you can find this stone in honed, polished, chiseled, or tumbled finish. If you or a loved one are prone to slipping, we suggest avoiding large tiles as they don't provide much traction; honed travertine is a better option for bathrooms. The pros of travertine are that it is highly durable, adds home value, is stylish, and can be cost-effective (depending on how much of the bathroom you cover). Some cons are that it requires periodic sealing (like marble), may develop etching if shampoo products are left exposed on its surface for long periods of time, and is heavy (making it a tough DIY job). The average price per square foot is around $15 per square foot.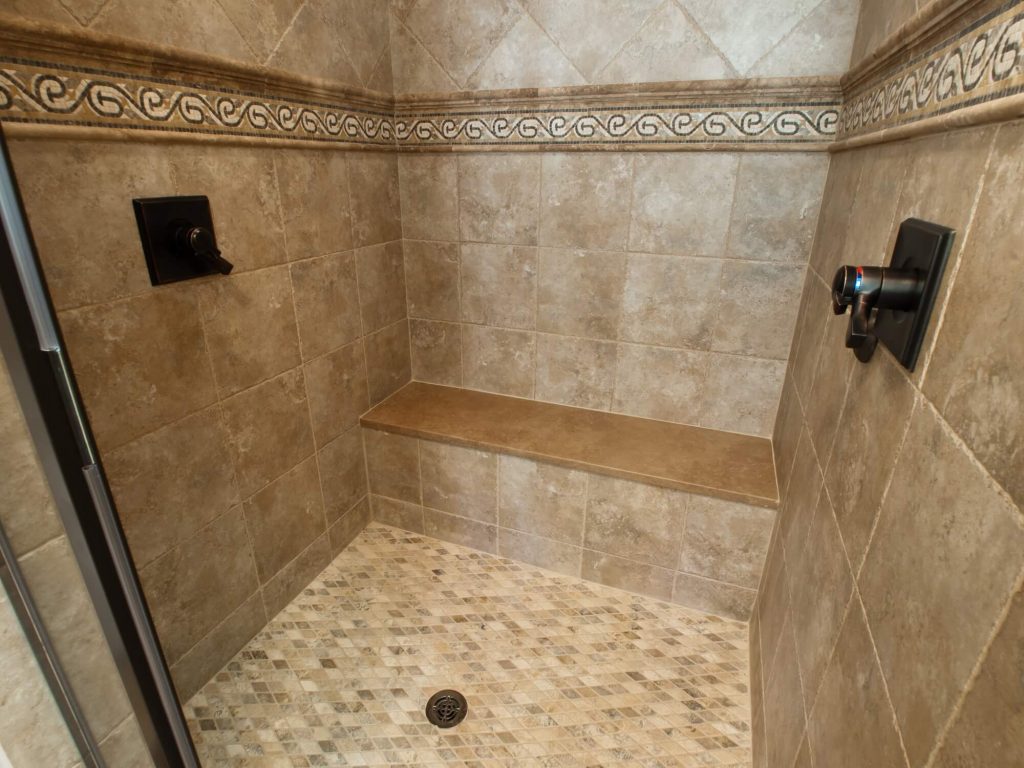 Option #3
Porcelain
Porcelain is becoming a go-to for bathrooms and showers alike. New home developers that are looking for a cost-effective way to give a modern appeal to bathrooms often opt for porcelain tiles. Tiles are somewhat DIY friendly, which makes the installation for a pro a breeze. Quality porcelain tiles can be bought at big box stores and online easily.  They come in many shapes and sizes, so you can be as creative as you like with it. Tiles have a flat look that not only provides a modern look but, makes cleaning simple. The main pros of porcelain compared to the rest of the options on the page are: it is easy to maintain, typically costs less, and comes in practically any color you want. Some cons are that porcelain tends to be brittle (so a heavy drop could cause a crack), it is cold to the touch, and that it does not have as good of resale value as natural stone like marble or travertine. You can find porcelain tile in the range of $5-$25 per square foot, depending on quality, colors, etc.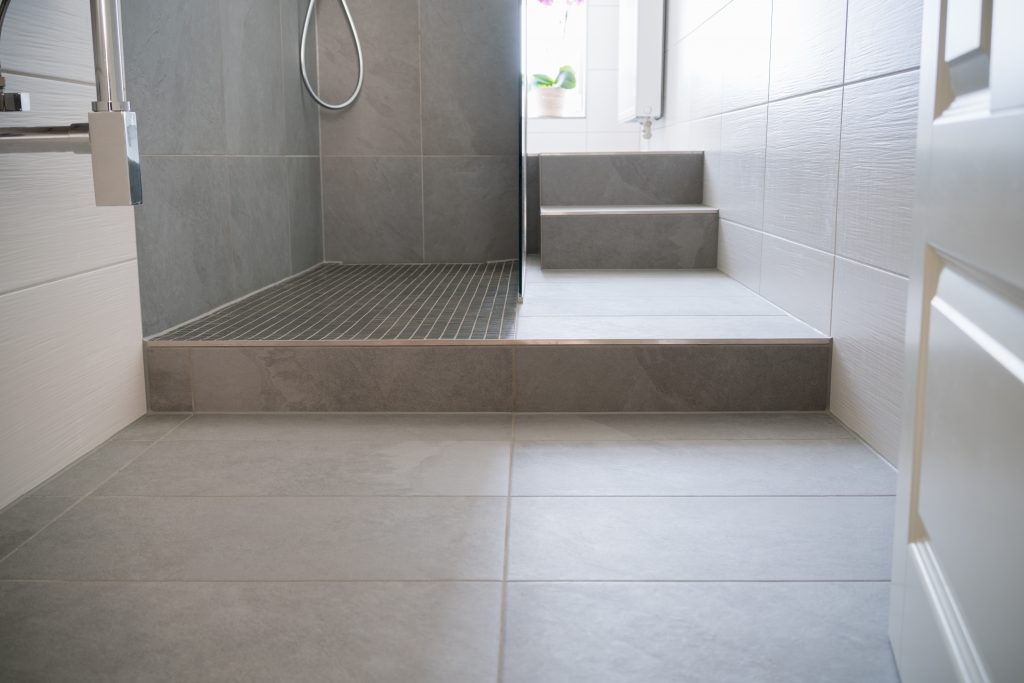 Option #4
Pebbles
Pebbles have an organic look to them and will help you create a truly unique ambiance in your bathroom. They are naturally slip-resistant and are very versatile. Pebbles feel soothing under your feet and can make your bathing experience refreshing and invigorating. From user experience, we can tell that smaller pebbles tend to be more comfortable under the foot, but depending on how flat the pebbles are, this can be personal preference. Pebble shower floors usually come in a tiled mosaic format. The main pros of pebble shower floors are that they are highly customizable, earthy, distinct, and slip-resistant. A major con is that they require specialized maintenance, there is a large amount of grout you need to clean and seal. The average price is around $10-$20 per square foot.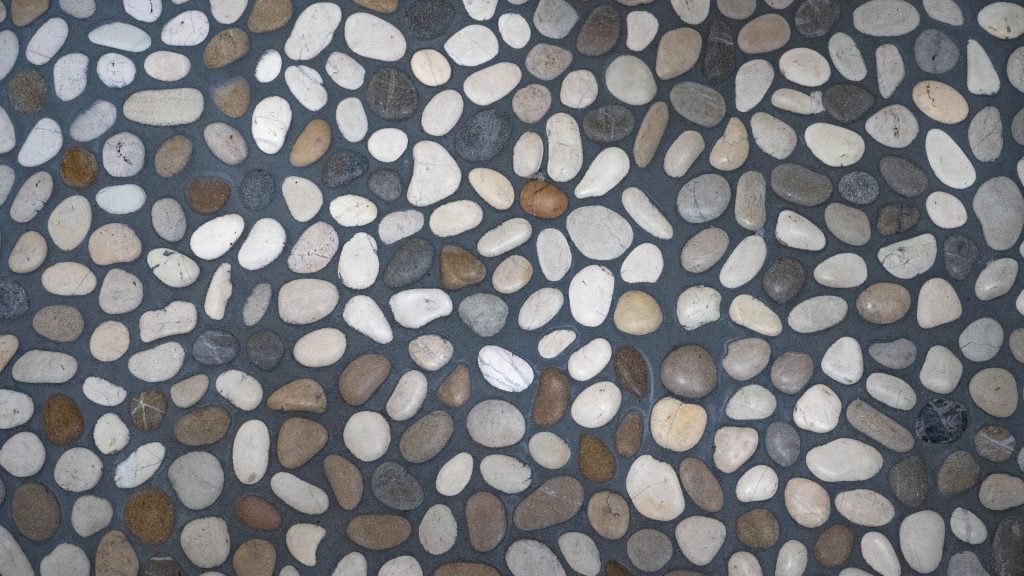 Option #5
(Teak) Wood
Wood may not be the first idea that comes to mind for the best shower floors. But, professional spas and hotels do it… so why can't you? Wood may require a special sealant and will need a special draining system. The best wood shower floors are teak. Teak wood planks must be elevated and placed above the drain. It is really important to have good draining system that allows water to dry and drain out properly. Teak planks can look their best when you add wooden accents to the rest of your bathroom. This doesn't have to be the whole spa area, like the picture below, but expect to dish out more money than required for just the flooring. The pros are mainly in their aesthetic appeal: wood is unique and brings warmth (physically and visually). Cons are mainly found in life expectancy, cost, and upkeep: prolonged exposure to moisture can cause wood to warp, discolor, and fade. Additionally, be ready to apply sealant and clean with a specialized brush. Lastly, the price is expensive; the average price of teak wood planks are 40 dollars or more per square foot.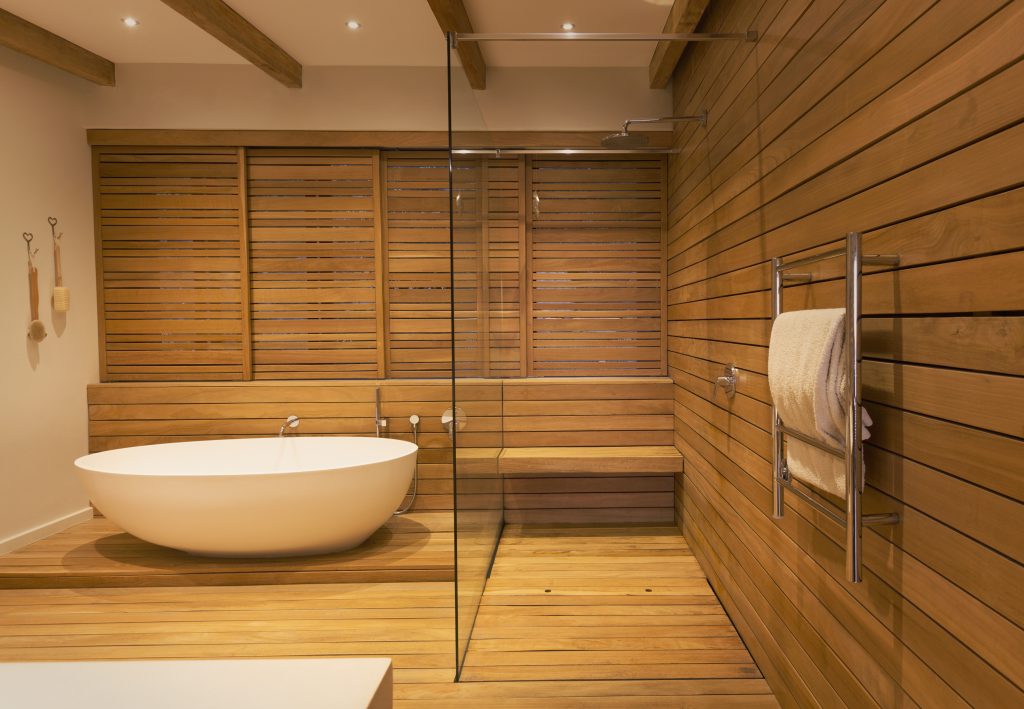 Achieve the Bathroom of Your Dreams Today
CONNECTING YOU WITH LOCAL SERVICE PROFESSIONALS YOU CAN TRUST!
PoweredByPros is a leading digital home services marketplace. We match homeowners from across the nation with screened remodel and repair professionals they can trust to successfully complete any type of home improvement or renovation project. For over a decade, homeowners have trusted us with providing them professional and quality services for their property. In order for us to connect you with a home expert in your area, our highly skilled customer service team will contact you to gather all your project information and pay special attention to your design and amenity requests. We make planning, budgeting, and hiring a local bathroom contractors easy and free! Save time and money, get started today!