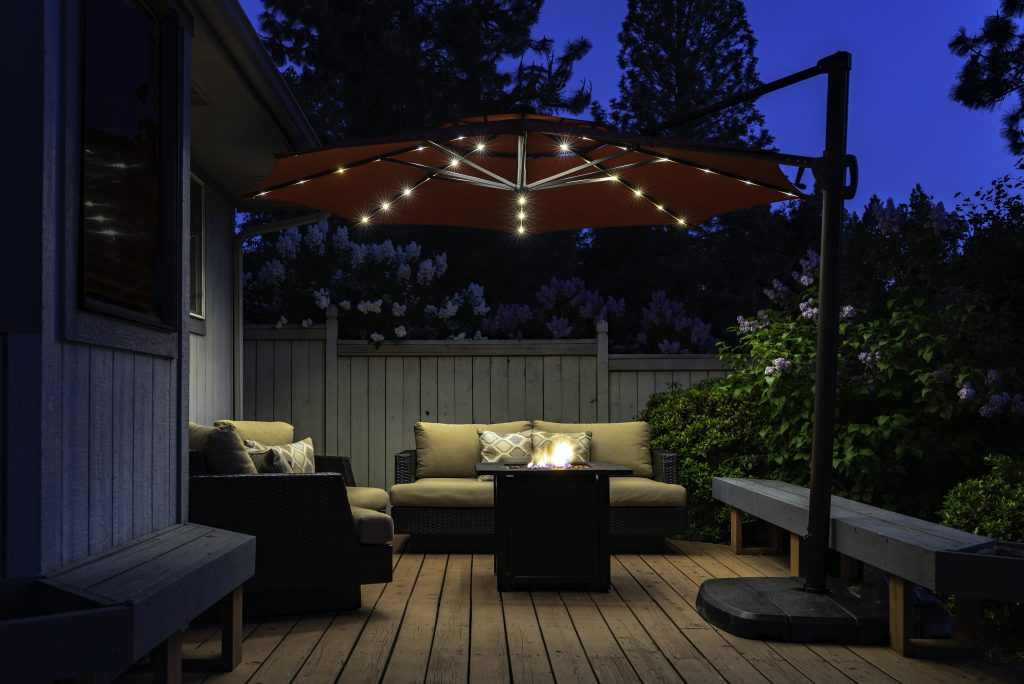 As the nights get longer and the temperatures start to warm, it's only natural to want to spend more time outside. Whether you are enjoying the sun by yourself or spending some quality time at night with friends, it's always nice to have an inviting and comfortable outdoor space. No matter the size of your home, there are always innovative designs to make the best use of your yard. A well-designed, attractive deck or patio can really enhance the look of your home's backyard—and it's easier and less costly to have a magazine worthy backyard than you might imagine.
In this article, we list out the best deck and patio ideas for small spaces. These simple, space maximizing, and cost-effective backyard decor solutions will instantly improve the appearance of your outdoor area, making your home the next best hangout spot in the neighborhood!
Suggestion #1
Stringed Lighting
And for the first step, let there be light! Light is the first element of design. Without it color, form, and texture diminish. Lighting is essential for any outdoor area, especially when it comes to smaller patios or decks. Lighting enables a patio to be used, regardless if it is dark or not. Stringed lights are the new fad, which promote a warming atmosphere that creates a sensational view for you and those accompanying you to sit under. Globe style string lights are the most popular, and in our opinion are the best looking. Many of these options allow for different colors and brightening or dimming options.
It's essential to have waterproof, sturdy lighting for outdoor patios. The price range of stringed lighting varies greatly—and so does the quality. Investing a bit more into your purchase will provide you with thicker wiring, bulbs that last longer, and components that will avoid rusting. Great stringed lights will survive all types of weather over many years. We suggest purchasing solar lights. It is an environmentally friendly option that runs on clean, reliable electricity that will not raise your electricity bill.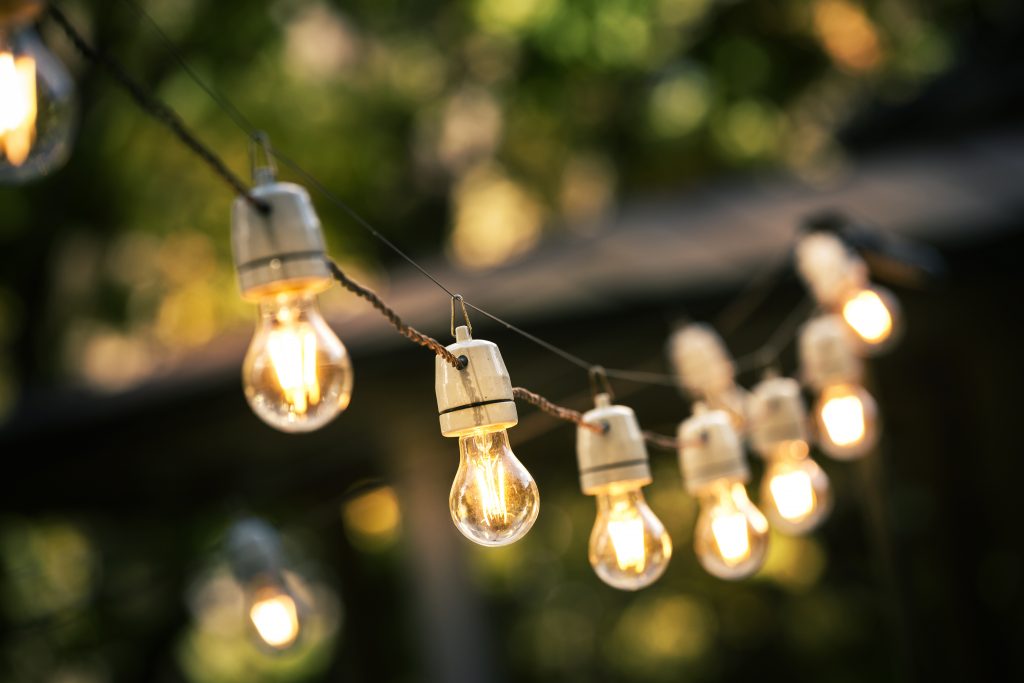 SUGGESTION #2
Storage Bench
For small yards, finding the best way to maximize space is the name of the game. Sometimes, it can seem like a trade-off between having sitting areas or room storage space. Utilizing a storage bench offers the best of both worlds. A storage bench is just like any other bench except that it has a hollow base. A quality bench offers a base that can store whatever your heart desires, while keeping it protected from weather elements like rain, snow, and sunshine. Typical benches have a back and arms, but there are so many products out there that you should be able to find the design that best fits your style preferences and needs.
Most manufactured benches are designed to be waterproof and are generally made out of plastic or wood. We believe that plastic outdoor storage benches are a more preferable choice, as they offer a greater amount of advantages. Plastic storage benches are made from resinous material proven to be durable. This resin is UV resistant meaning it will protect the products inside and will not fade in exterior coloring. Additionally, you will not have to worry about rusting or warping as found in traditional wood benches. This means maintenance is almost non-existent and cleaning is a breeze (wipe it down with a damp towel or wash it with your hose). Rattan style benches are popular choices among homeowners because they resemble real outdoor wicker storage benches. Rattan-look benches look and feel like wood, but provide the benefits of plastic.
Of course, building a storage bench is a great DIY project. It is a fun endeavor that is generally a less expensive route than purchasing a completely assembled product. If you live in a moisture prone area, wood products can be made tough and durable. Selecting cedar, wicker, teak, and cypress are great wood choices because they provide essential protective qualities and look appealing. Adding the right outdoor primer and paint will increase bench longevity and durability. If you prefer not to build one yourself, reliable brands include Rubbermaid and Step2.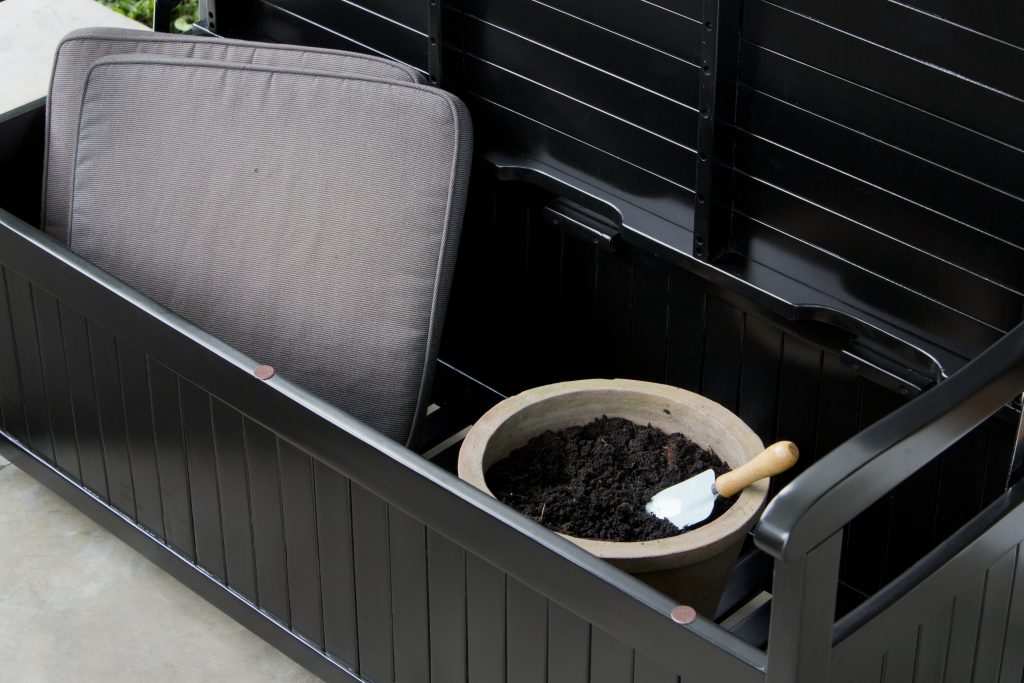 Suggestion #3
Introduce a Fire Element
Ahh fire. There's just something naturally appealing about a flame. Fire pits are the center of attention on decks and patios, regardless of the size. They not only provide an additional source of light and heat—fire pits will create a unique ambiance that promotes conversation and congregation. They can even be pacifying beneficial for your health according to a study by the University of Alabama. The calming effect of watching the flames dance is thought to lower blood pressure! Fire pits are flexible in use and make the days last longer; you can roast marshmallows, listen to the crackling of wood, and simply unwind over a glass of wine. A source of fire will keep you and your guests warm and relaxed throughout spring and summer nights!
Fire pits are fueled in four different ways: via wood, gas, propane, or electricity. Wood burning pits are probably the easiest DIY project and the least expensive to maintain among the four. They provide the classic campfire feel and are highly flexible in design. Gas fired pits burn cleanly, giving off no smoke which enables them to be highly versatile in where you can place them. Propane fire pits are highly convenient because they can easily be ignited and refilled. These types are usually larger than the other three, and can look very impressive when the flame rises from beneath faux wood or pebbled stones. Lastly, natural gas fires are highly reliable as they are usually directly connected to a gas line. Natural gas pits are least the least portable among the four, but typically are inexpensive and easy to maintain/operate.
One of the best things about fire pits is their cost-potential and flexibility in use. For less than a hundred dollars, you can create your own fire pit out of recycled materials or buy a small premade metallic structure to burn wood out of. On the other hand, you can have an elegant, well-made pit designed by a professional landscaper to perfectly compliment your yard no matter the size.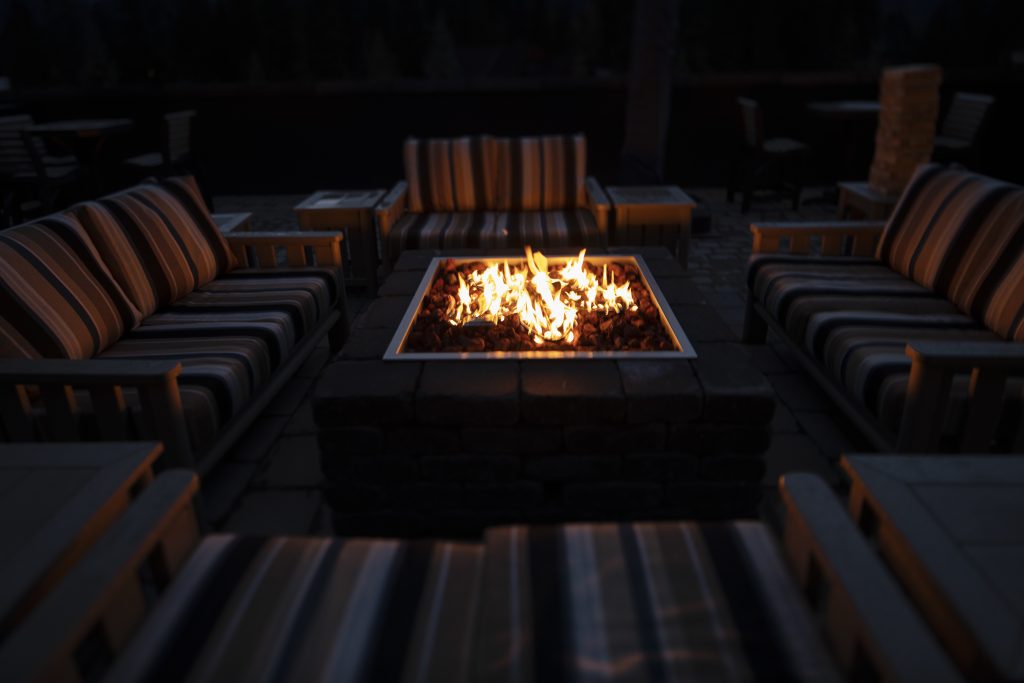 Suggestion #4
Murphy Bars
This is a perfect solution for a homeowner with a small yard space that wants to enjoy some fresh air and their favorite beverage at the same time! A murphy bar is a fold down construction that can be pulled down or pushed back up in seconds. This bar setup stacks up linearly and vertically against a wall to conserve space. When it is not in use and stacked up against the wall, innovative shelf design will keep your bottled drinks safe and secure. You can place potted plants or decorative pieces on top of your murphy bar to add some personal flair. Keep some chairs nearby to make it a perfect place to converse over during a social gathering. It can be pulled down to use as a table and bar set up, and then quickly pushed back up to conserve space.
If you are at all familiar with woodworking, Murphy bars can be a fun and rewarding DIY project. Have old pallets lying around? Add some paint and primer to recycle them! If you want to have a brand new look, go to your local store and purchase some cedar planks. Cedar is ideal for outdoor use as it is naturally rot and pest resistant. In addition, it is a strong and durable wood that will not sag or degrade over a short period of time.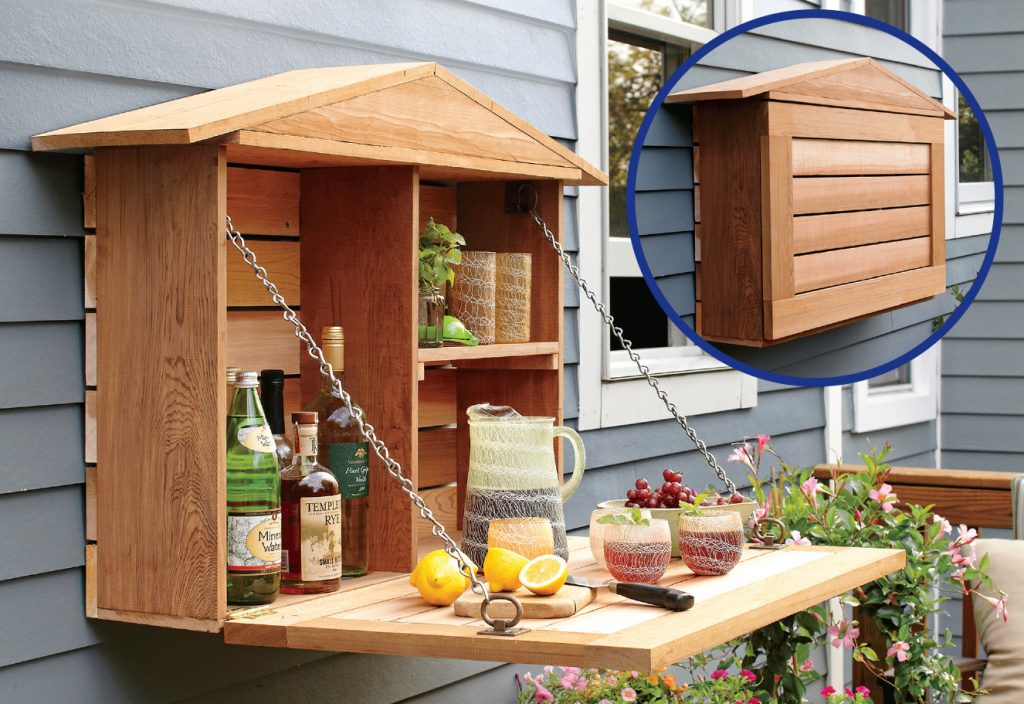 ACCOMPLISH YOUR REMODELING DREAMS TODAY
CONNECTING YOU WITH LOCAL SERVICE PROFESSIONALS YOU CAN TRUST!
PoweredByPros is a leading digital home services marketplace. We match homeowners from across the nation with screened remodel and repair professionals they can trust to successfully complete any type of home improvement or renovation project. For over a decade, homeowners have trusted us with providing them professional and quality services for their property. In order for us to connect you with the landscaping or outdoor pro, our highly skilled customer service team will contact you to gather all your project information and pay special attention to your design and amenity requests. We make planning, budgeting, and hiring a local contractor easy and free! Save time and money, get started today!