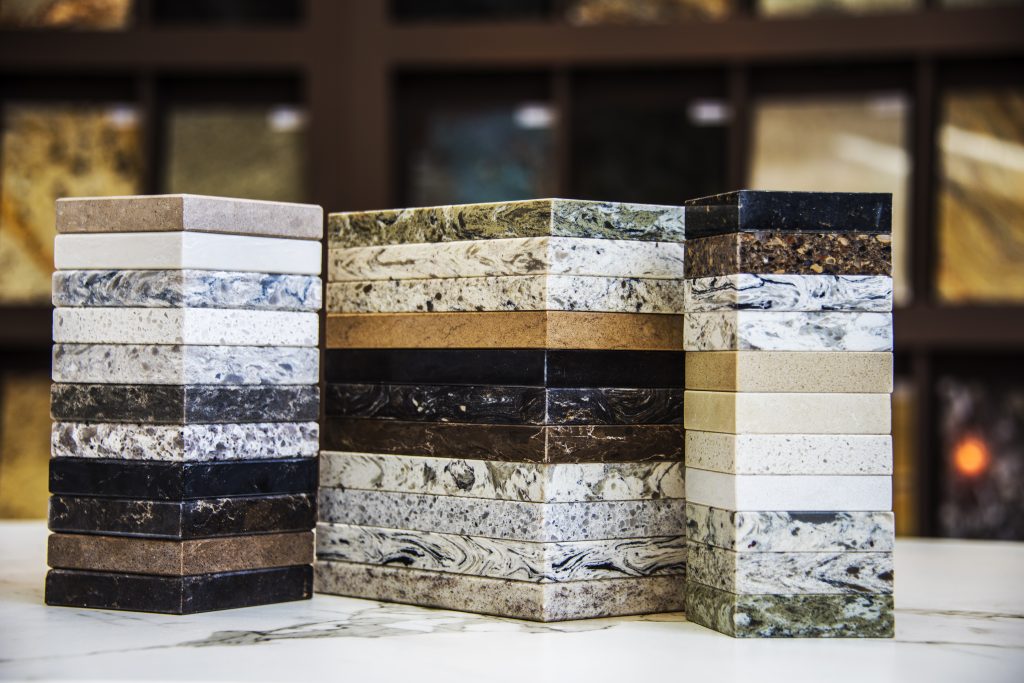 Countertops play an important role in the functionality and appearance of a kitchen or bathroom. You have to pick the right material that suits your lifestyle and achieves the look you desire, all while fitting into your budget. Two of the most prominent and luxurious countertop materials are quartz and granite. Quartz and granite are revered for their natural appearance, strength, value, and high desirability. While they share similarities, they have some fundamental differences that may influence you to choose one material over the other.
If you want to enhance your living space with a natural, high-end material, then consider either quartz or granite for your next remodel. We created this article to give you a breakdown of each material, along with their pros and cons, and associated costs. Continue reading to find out which material will best suit your home!
The Basics
What is Granite?
Granite is a 100% natural stone that is derived from quarries around the world. The stone is mined and taken to a manufacturer who cuts the stone pieces into thin slabs. After, it is polished and fabricated into countertops.
icon

100 Percent Natural Stone

icon

Each Countertop is distinct and unique, not one piece is the same

icon

Quality Sealants can make granite highly water and stain-resistant

icon

Works well outside, durable against weather

icon

Granite can bring a higher resale value, usually preffered by buyers

icon

Slightly less expensive compared to Quartz

icon

Less susceptible to heat damage
icon

Granite requires more maintenance

icon

Granite is porous, letting water and dirt seep in if not properly sealed

icon

Less of a wide range of appearance selection compared to quartz

icon

Granite has a lot of natural variation, some people love the differences in colors, some people hate it

icon

Granite is thought to be slightly less environmentally friendly because of mining
The Basics
What is Quartz
While some manufacturers boast that Quartz is 100% natural, this is not the case. Quartz is an engineered stone product, made of roughly 95% ground natural quartz and 5% polymer resins (consisting of color additives and binders).
icon

Wider choice of colors and designs

icon

Naturally stain and waterproof, no sealant required

icon

Slightly more durable when compared to granite

icon

Fewer maintenance requirements when compared to granite

icon

Slightly more environmentally friendly
icon

Less natural beauty compared to granite

icon

Not as unique and distinct

icon

Usually slightly more expensive when compared to granite

icon

More susceptible to heat damage (i.e. hot pans)

icon

Not a great outdoor material and can lose color when exposed to constant sun
Appearance
What does Granite Look Like?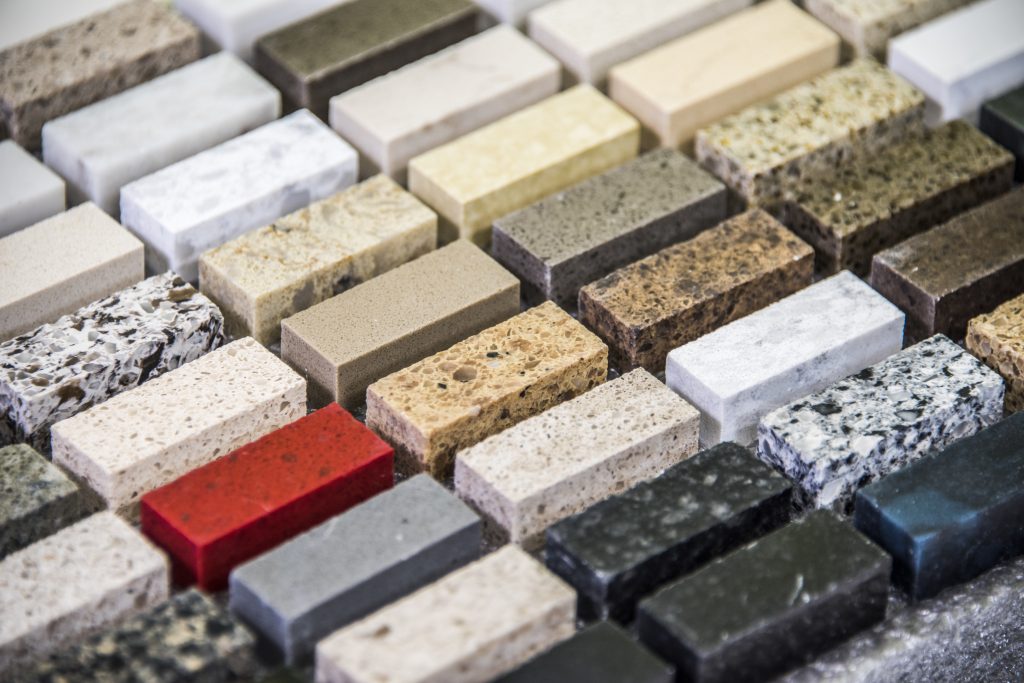 Each piece of granite is completely unique, never being quite the same as another. There are hundreds of shading and color schemes of granite slabs to choose from. These countertops are beautiful and impressive to look at; homeowners and interior designers consider the imperfections to be what makes granite so distinctive. Whether you're looking for a subtle accent to complement your kitchen or a standout slab with unique mineral inclusions, there is an almost limitless selection to choose from. Colors come in a wide range of everything from earthy tones to more vivid blues and red hues.
Appearance
What does Quartz look like?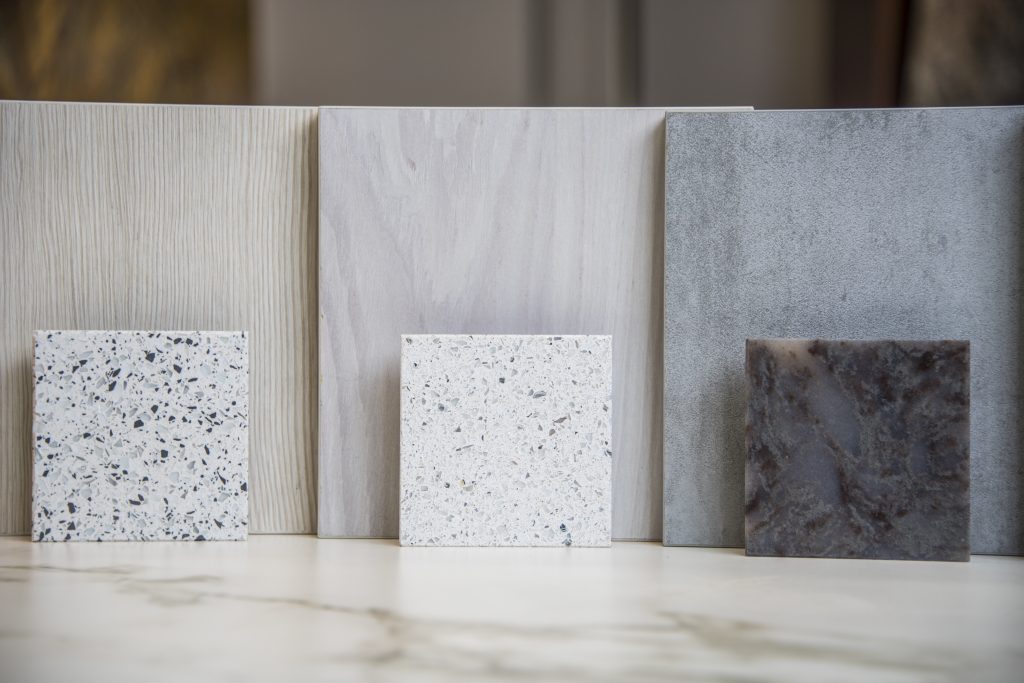 Quartz countertops can look like they are genuine 100% stone, however it is mostly actually crushed quartz mineral that is binded by a resin. Quartz is not as distinctive as granite, usually being more uniform in appearance. Still, many colors and patterns are available, including forms that do not resemble stone at all. This material has grown in popularity because it is customizable. Unlike granite, which you have to search through many products to find the right one that matches your style, quartz countertops can be custom-made and designed from an abundance of colors to your liking.
Durability
Granite Maintenance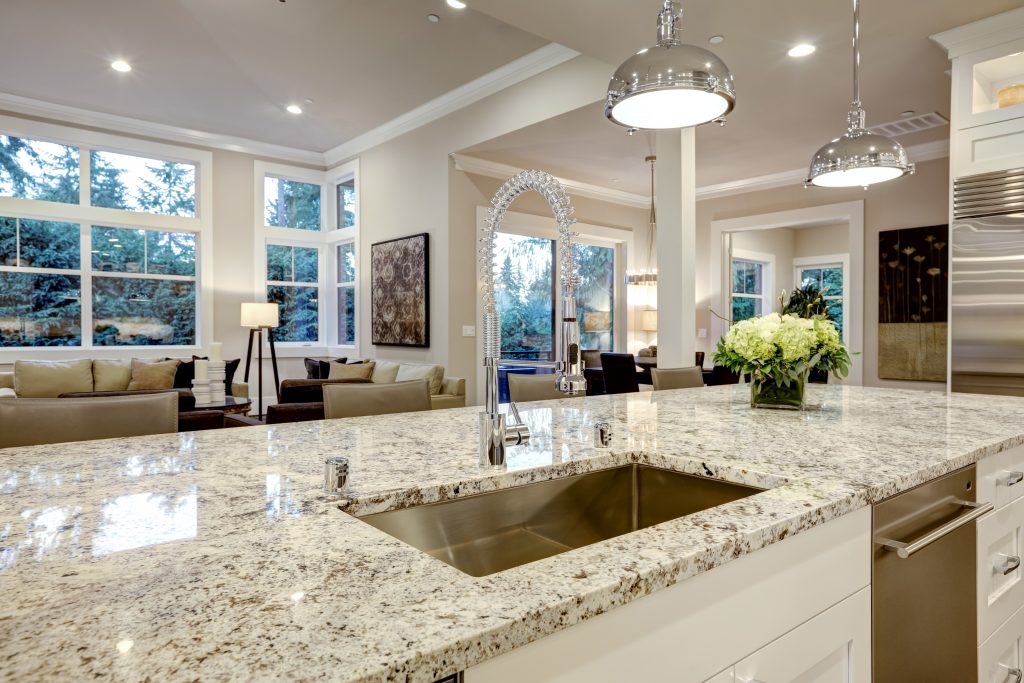 When you decide to go with granite, expect to deal with slightly higher and pricier maintenance. Granite should be cleaned with mild soap and water daily, or as often as you can. This material is solid stone, meaning that it is naturally porous and contains inherent imperfections. These generally microscopic imperfections allow for water and dirt to seep, meaning that granite is subject to cracking or developing mold if left unattended. If you spill red wine, you should act quickly to clean up your granite countertops. Luckily, a professional can install a sealant to render your countertops essentially waterproof and highly stain resistant. You should have your countertops resealed every year or two.
Durability
Quartz Maintenance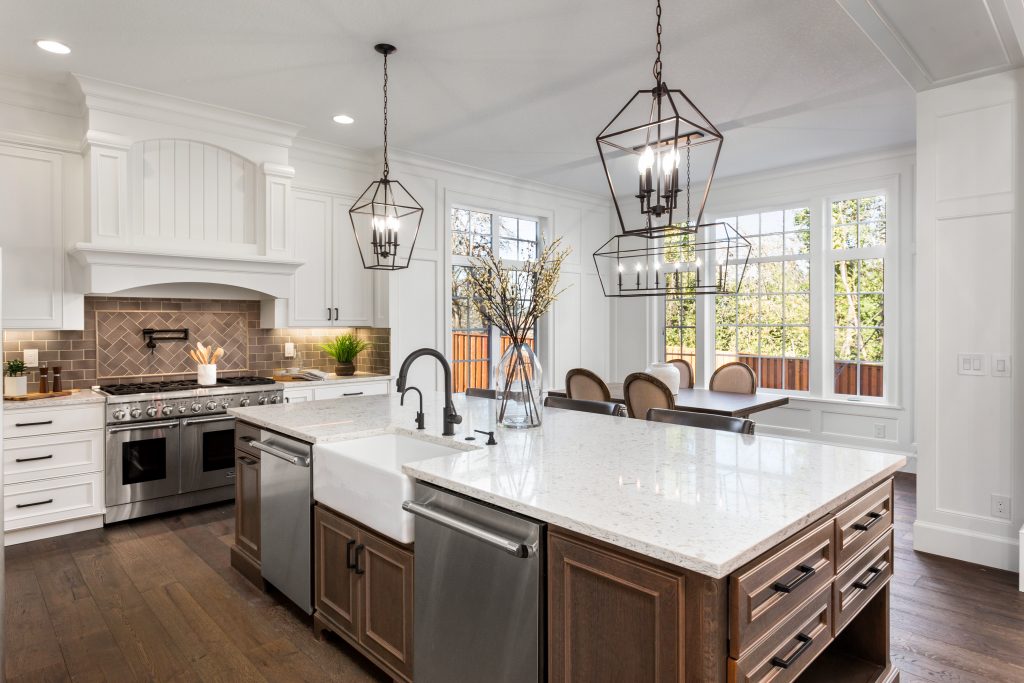 Quartz is easier to maintain and is generally thought to be slightly stronger. The engineered process creates a more durable material when compared to granite. Quartz does not require sealing, thanks to the resins used in the fabrication of the slabs; and the material is uniform throughout, which means it rarely cracks. The resins in the quartz countertops produce a (basically) waterproof surface and are made to be stain resistant. The resins create a non-porous surface which prohibits bacterial growth. Quartz does not withstand weathering elements, such as constant sunlight, as well as granite.
$$ Pricing $$
How much do Granite & Quartz coutnertops cost?
Both Granite and Quartz are generally not the most economic option in terms of pricing. These are luxury materials, with even the lower-ended choices being pricey. Both countertops are very heavy, sometimes requiring engineering work to retrofit your kitchen or bathrooms to be able to withstand the weight. This all makes the installation work difficult, requiring the expertise of a professional, ultimately driving up the installation costs. **It's important to note that installing either countertop material is extremely difficult, we highly advise against DIY unless you have the proper experience.**
It is generally understood that Granite countertops cost $80 to $175 per square foot, when installed by a professional. The price differences depend on the style chosen, in addition to the edging type requested. Quartz countertops range from about $80 to $140 per square foot, installed. In recent years, quartz demand has increased and so has the supply. As a result quartz has dropped overall in cost. Today, quartz tends to be slightly more expensive, especially when you request for high-quality stone. **One way to bring down the price of the material is to look for remnant stone. Remnant stone, which can be found at some hardware or stone yards, is extra quartz countertops or granite stone that is either recycled or lightly used, usually priced a fraction of normal pricing. **
CREATE A MORE BEAUTIFUL HOME TODAY
CONNECTING YOU WITH LOCAL SERVICE PROFESSIONALS YOU CAN TRUST!
PoweredByPros is a leading digital home services marketplace. We match homeowners from across the nation with screened remodel and repair professionals they can trust to successfully complete any type of home improvement or renovation project. For over a decade, homeowners have trusted us with providing them professional and quality services for their property. In order for us to connect you with a home expert in your area, our highly skilled customer service team will contact you to gather all your project information and pay special attention to your design and amenity requests. We make planning, budgeting, and hiring a local contractor easy and free! Save time and money, get started today!