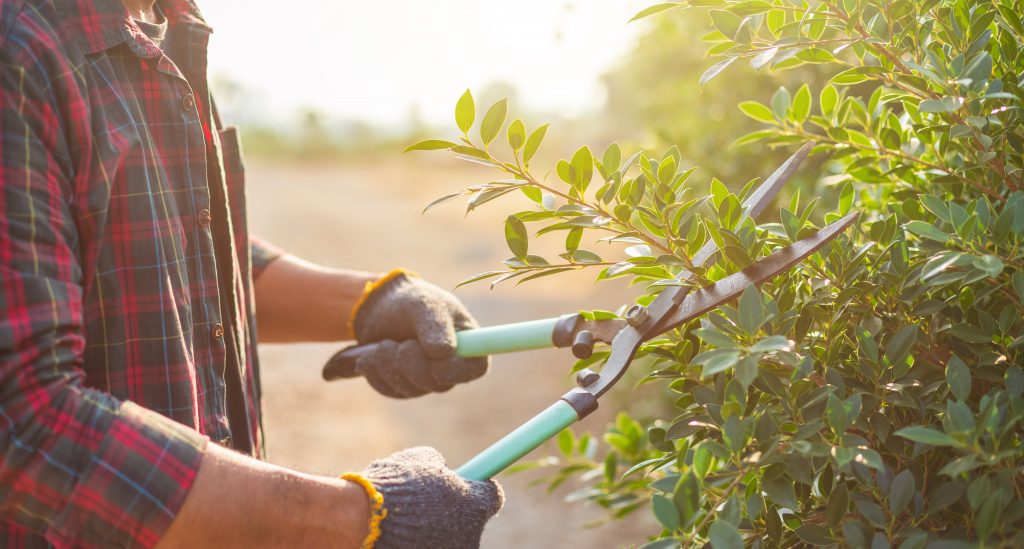 Summer is well on its way! Now is the time to enjoy warmer temperatures. When you and your guests are basking in the sun, wouldn't you like to be surrounded by a vibrant garden? Sunlight plays a vital role in a plant's health, but it is a fine and delicate balance. Too much sun and your plants will wilt and struggle, too little and it will not be able to blossom beautiful flowers or produce delicious vegetables. At the same time, you must account for water, soils, fertilizers, and pests. With all this in mind, gardening in the summer heat can quickly transition from a fun hobby into a chore.  Don't let the heat beat you down! We thought it would be a great idea to provide our readers with helpful tips to set up your garden for success. Continue reading learn some important information that will teach you how to keep your garden green and healthy this summer.
Basics
Why is Summer Hot?
Why are there seasons? Popular belief, and common sense, might tell you that it is because the earth is moving closer to the sun or further away. But it is actually due to the tilt of the earth's axis. There are 92 days in the summer season for the northern hemisphere: June, July, and August are the summer months in a year. When it is Summer in the US, the sun's rays are more focused on the northern hemisphere and result in higher average temperatures. Coupled with longer days, the Summer is typically the hottest time of the year.
Proper Selection is Key
Plants that thrive in the Summer
Selecting the right plants for your garden is ultimately determined by the Season. Some plants thrive in sunny, warm conditions, while others can't tolerate it. The most important step in having a healthy and vibrant garden begins with picking out hearty summer plants. Warm-season crops will typically germinate (produce flowers) at 50⁰-90⁰ F. Below is a list of flowers and vegetables that tend to do well in the Sun and can tolerate in warm or hot temperatures. The general rule-of-thumb says that it is safe to plant Summer veggies and flowers after the last frost. If you live in an area that experiences cold nights, then you might want to consider growing herbs inside and utilizing a greenhouse to keep your plants warm even throughout the nighttime. Buy your seeds or baby plants locally, this way you can ask your nursery staff which plants grow best in your specific climate!


Beat the Heat!
5 Tips for a Healthy & Vibrant Summer Garden
After you plant the right vegetables, herbs, or flowers for your garden, now it is time to take care of them! In the summertime, there are some extra precautions you must take in order to have a successful and beautiful garden. These five tips will help you achieve the picture-perfect backyard you have always dreamed of.
Tip #1
Water Wisely
Along with sunlight, proper watering is the most important attribute to any healthy garden. Every plant type has a specific taste for water, some are more thirsty than others. So, the first step is to determine how much water each plant in your garden requires. Take a look at the container your seeds or plant came in, it should tell you the amount of water it requires. If you lost the original packaging, a quick google should point you in the right direction. The amount of water you give to your plant will result in different sized fruits and veggies. For example, the more water you give your tomatoes the larger they will become, but this sacrifices flavor. Conversely, the less you water your peppers, the spicier they become. Most plants like a happy medium, a moist soil; not too soggy and not too dry. Once you determine how much water each plant needs, try to water in the morning, avoid wetting leaves, and make sure to water the soil evenly! When it is hot and leaves begin to wilt, you will most likely need to water your plant twice or more thoroughly to ensure the water is reaching the roots. When watering, avoid watering the leaves of plants as this could encourage disease growth. It's best to water your plants in the morning, as excess moisture will evaporate.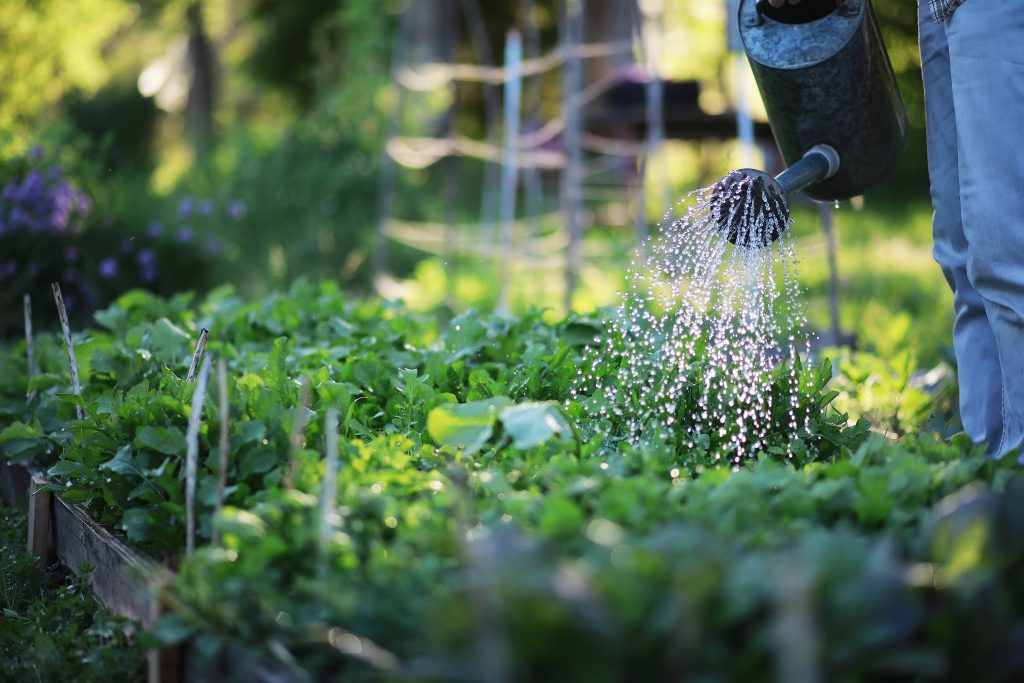 Tip #2
Mulch, Fertilizers, and Pest Control
Mulch is an all-around great addition to any garden for any season. Mulch can be made out of a variety of substances: bark, sawdust, shredded leaves, etc. Mulch discourages weed growth, conserves moisture in soil, maintains proper temperature, and can enhance the look of your garden by offering a color contrast. Apply 2-4 inches of mulch around your garden plants. Make sure to weed and water deeply before applying. In addition to mulch, fertilizers will promote strong growth and can reduce susceptibility to disease. Buy organic fertilizers from a local supplier, no one wants unhealthy chemicals in their plants! You can buy specific 'plant foods' or all-around fertilizers, but try to start out with only half of the suggested amount as too much fertilizer can cause stress to plants. Finally, pests will always cause problems for gardeners. If you are experiencing harmful bugs or other pests, consider buying or making an organic pest control. A variety of homemade pest controls can be found here.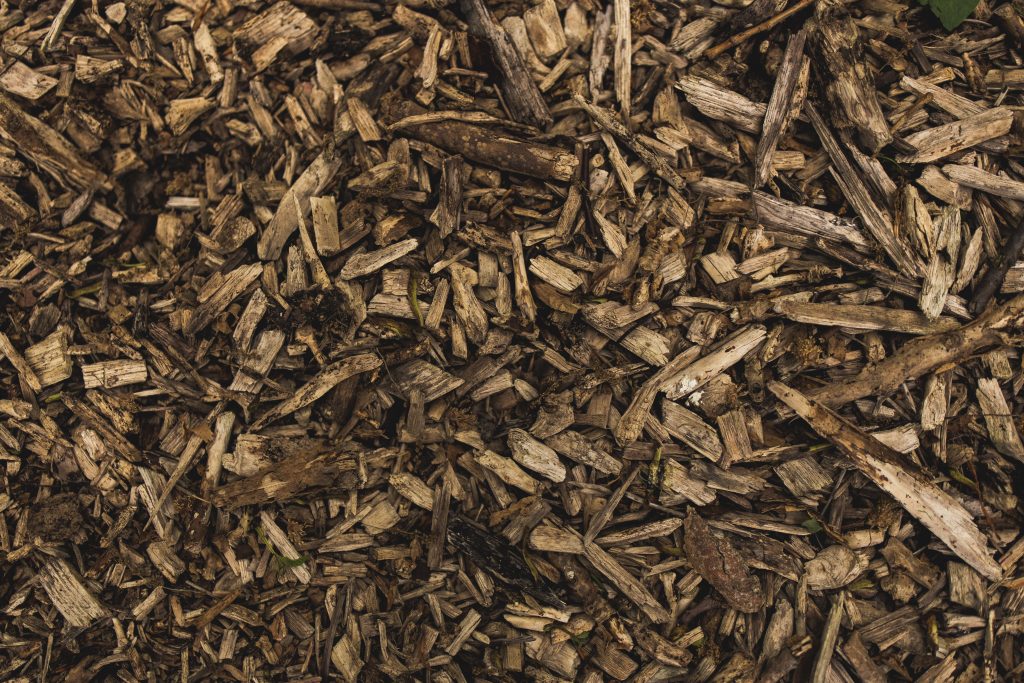 Tip #3
Weed the Weeds
'Weeds' is a broad term for plants that are out of place, growing where it is unwanted, and often out-compete desirable plants. They are a problem because they usually produce rapidly and are adapted to thrive in your local environment, usually killing many native or garden plants. There are many ways to get rid of weeds: utilize mulch, applying herbicide, potting plants, and manually hand pulling weeds. Typically, you want to weed by hand first and use herbicides as a last resort. When weeding, make sure you are pulling out the roots too.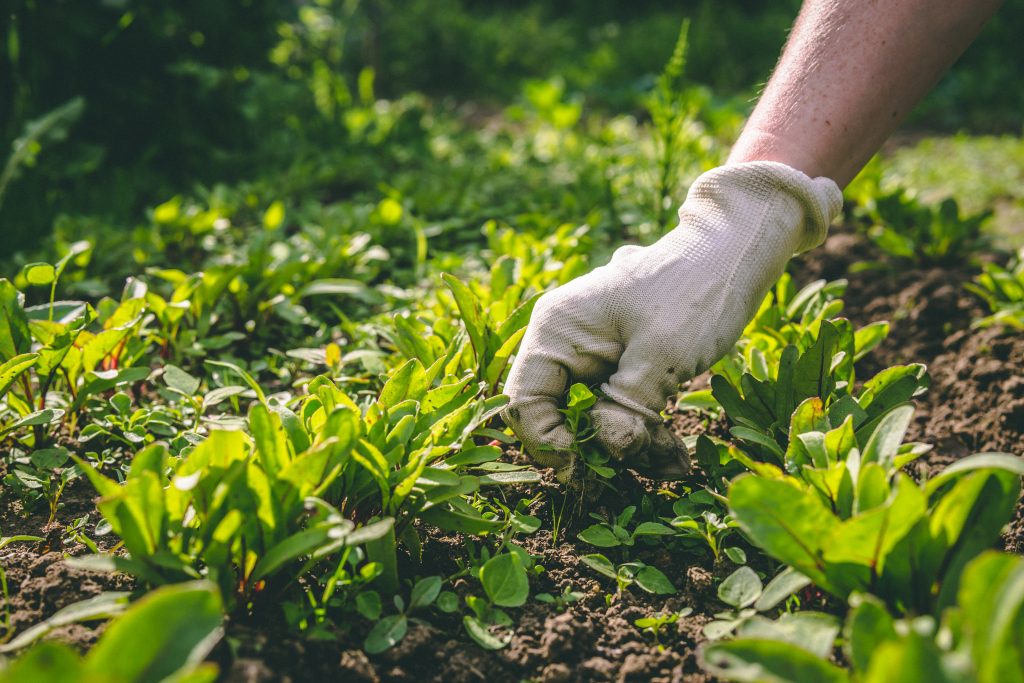 Tip #4
Trim, Prune, & Harvest
Dead flowers don't look good and they don't serve a helpful purpose for your plants. Remove faded flowers or seed pods from plants and they will soon grow back to look pristine! Don't be afraid to trim your herbs. Trimming herbs regularly will supply you with fresh food and will encourage them to grow new leaves as long as possible.  Crops like zucchini will stay in high production if you harvest regularly and don't allow fruits to overmature on the plants.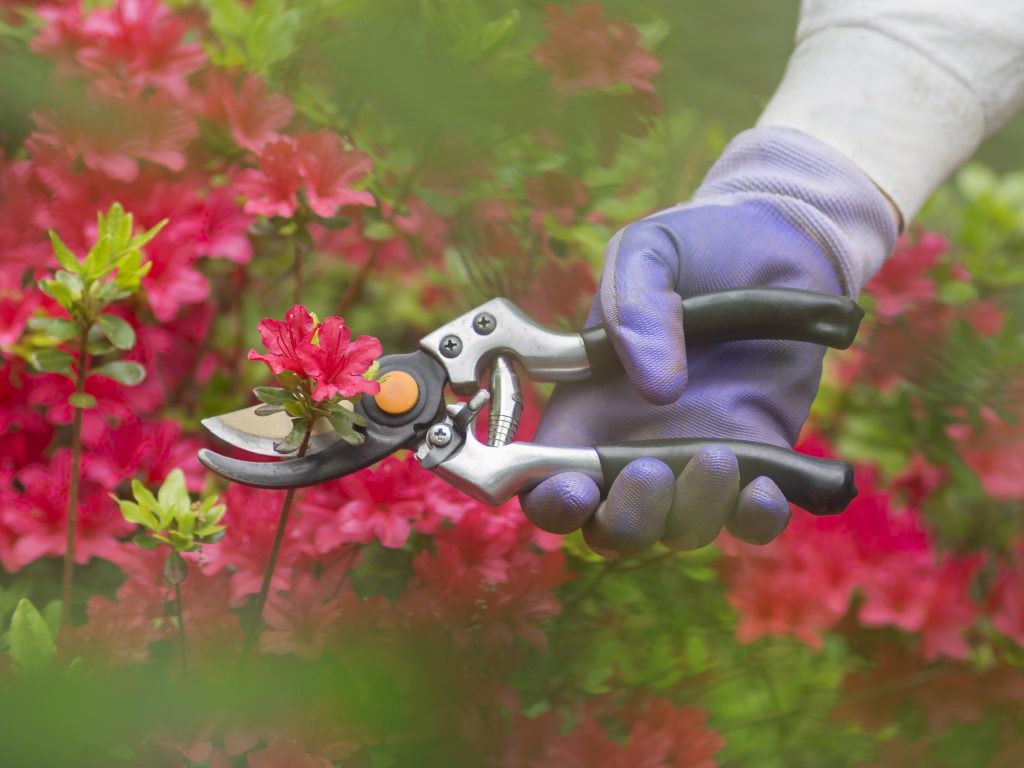 Tip #5
Consider a Shade Element
While some plants, like tomatoes, thrive in extended exposure to sunlight, other summer plants only require a few hours of sunlight a day. Regardless, if you live in desert-like conditions or if your home lacks natural shade, then you will want to set up a shade net or move them to an area of your house that will be shaded for a portion of the day. If the temperature constantly reaches over 90 degrees, then even your tomatoes will need some relief from the sun's rays. Shade covers should be lightweight and light-colored so sunlight will reflect and your shade netting will be easy to move once it cools down. Purchasable shade cloths typically are knitted or woven made that can block anywhere from 5% to 95% of sunlight. Use a shade cover if you notice your plants wilt (~over 90 degrees) and take it down when it cools down.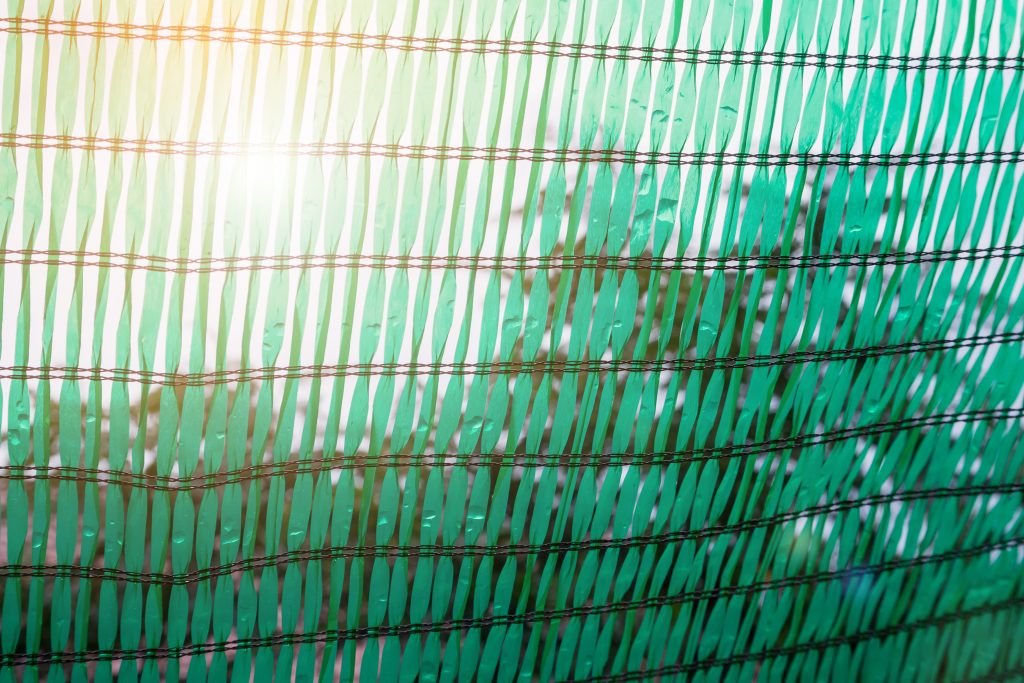 Create a healthy and beautiful garden today!
CONNECTING YOU WITH LOCAL SERVICE PROFESSIONALS YOU CAN TRUST!
PoweredByPros is a leading digital home services marketplace. We match homeowners from across the nation with screened remodel and repair professionals they can trust to successfully complete any type of home improvement or renovation project. For over a decade, homeowners have trusted us with providing them professional and quality services for their property. In order for us to connect you with a home expert in your area, our highly skilled customer service team will contact you to gather all your project information and pay special attention to your design and amenity requests. We make planning, budgeting, and hiring a local contractor easy and free! Save time and money, get started today!