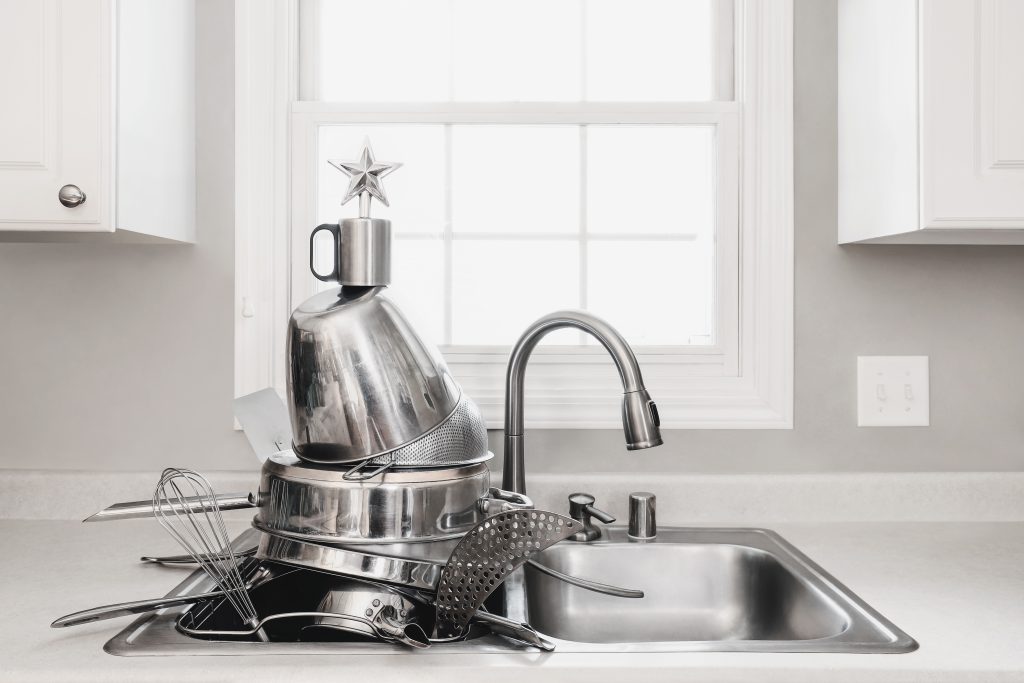 Whether it be a stove, a knife, or a faucet—most Americans seem to have some form of stainless steel in their household. The sleek look, longevity, and affordability have made it a staple in residential and commercial kitchen and bathrooms.. If you are an owner of stainless steel, then you are probably aware that one of the downsides is that it retains fingerprints, smudges, water spots, and other grime exceptionally well. In order to extend the lifespan of your appliances and keep them shining like new, it's imperative to know how to clean stainless steel properly. In today's day and age, keeping a clean cooking area has never been so important. That's why we created this article; to supply you with informative tips and tricks for easy, streak-free stainless steel cleaning.
The Basics
Why Do We Use Stainless Steel
Stainless steel is one of the best materials available for the kitchen.  The malleability of the iron alloy allows manufacturers to easily shape and form utensils and appliances. The chromium in stainless steel, when reacted with air, forms a protective layer that prevents moisture from entering the metal, inhibiting rust development. Unlike iron and aluminium, stainless steel is unreactive which is essential for preparing acidic foods. Lastly, cleaning is a relatively straightforward process that when done correctly, will extend the life of your stainless steel products. All this makes for a strong, durable, versatile, and headache-free kitchenware. 

What to avoid when cleaning stainless steel?
icon

Chlorine-based cleaners

icon

Chloride-based cleaners
Easy, Straightfoward
Typical Everyday Cleaning
For typical everyday cleaning, you can use a targeted cleaner such as store-bought specific stainless steel wipes.  Weiman makes a good and easy to use wipe.  Although this is the easiest cleaning method, it can get expensive to maintain. For cheaper at-home solutions, see the two methods below. 


Materials Required
White vinegar, olive oil, spray bottle, & microfiber cloth.


Clean out your spray bottle with warm water
Add white vinegar to spray bottle
Spray dirty stainless steel
Wipe down with microfiber cloth
Add a dollop of olive oil to the cloth
Wipe down cloth in the direction of the stainless steel grain.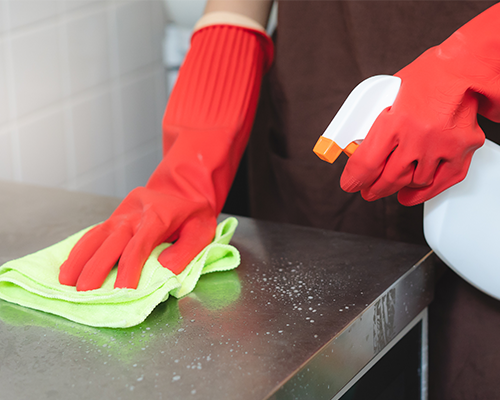 A little bit of elbow grease necessary
Deep, Streak-Free Cleaning
When you start seeing stubborn streaks or an abundance of fingerprints on your culinary or appliances, then it is time to give them a deep clean. It's not too much more difficult compared to everyday cleaning, but it will require a bit more materials. Once you start the cleaning process, it is imperative to note that stainless steel has a directional grain to it. If you look closely, you will see which direction the grain generally points. When the steps indicate, clean in the direction of the grain.


Materials Required
White vinegar, spray bottle, microfiber cloth, soft-bristled brush, soap, small bucket, mineral/olive oil

Pre-clean: Add a little dish soap to warm water in a bucket, wipe down Stainless steel surface with a dishcloth.
Mild Scrub: Add a light coat of baking soda to the wet surface. Then add some vinegar to a nylon scrubbie or brush and scrub gently in the direction of the grain.
Rinse: Wash down the stainless steel thoroughly with a clean and damp dishcloth.
Drying: Thoroughly dry the countertop with a dish towel, paper towel, or microfiber cloth in the direction of the grain to prevent streaking.
Polishing: Like the other steps it is important to clean in the direction of the grain. Add a small amount of mineral or olive oil to a clean cloth or paper towel. Buff away the excess with a dry and clean cloth. Try to avoid skin contact with the stainless steel to prevent fingerprints. Now your stainless steel should shine with opulence.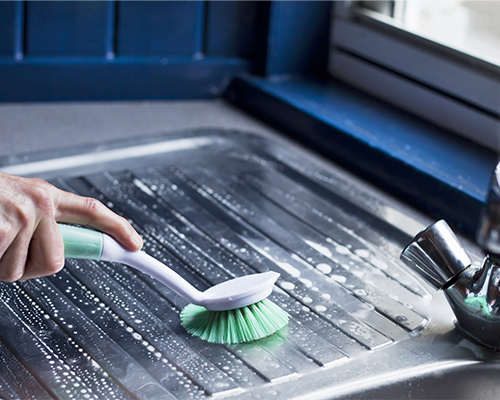 Bring your old pots back to life
How to Clean Stubborn Burn Stains
Do you have an old stainless steel pot that is your go-to for everyday cooking? If so, then chances are you might have a tough and dark burn mark on your favorite pot. If regular soap and water aren't enough to fully clean your pot, then check out the instructions below to make your burned stainless steel shine bright once again. 


Materials Required
Burnt pot, baking soda, stovetop, mesh dishcloth, wood spoon


Fill your burnt pot with water and place it on top of a burner.
Turn on the heat, bring the water to a boil, and let it sit for 15-20 minutes.
Once the time has passed, the brown and black staining should appear to have loosened. See if it is by scrubbing the burnt area with a wood spoon.
Turn off the flame and pour out the water into your sink.
Let the bot cool down, but not back down to room temp. Place a generous coat of baking soda throughout your pot.
Scrub the pot with a mesh cloth. Don't be afraid to put some elbow grease into it.
Rinse thoroughly with warm and repeat step 5 or 6 if need be.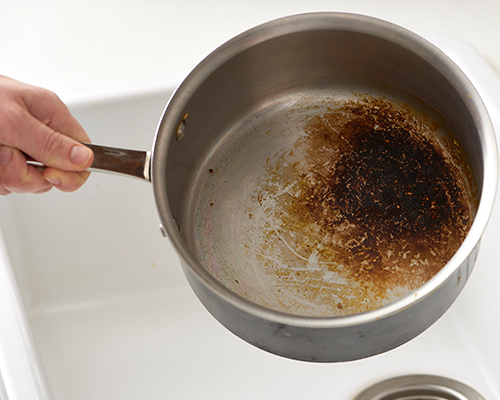 Make Your Home Cleaner Today
CONNECTING YOU WITH LOCAL SERVICE PROFESSIONALS YOU CAN TRUST!
PoweredByPros is a leading digital home services marketplace. We match homeowners from across the nation with screened remodel and repair professionals they can trust to successfully complete any type of home improvement or renovation project. For over a decade, homeowners have trusted us with providing them professional and quality services for their property. In order for us to connect you with a home expert in your area, our highly skilled customer service team will contact you to gather all your project information and pay special attention to your design and amenity requests. We make planning, budgeting, and hiring a local contractor easy and free! Save time and money, get started today!