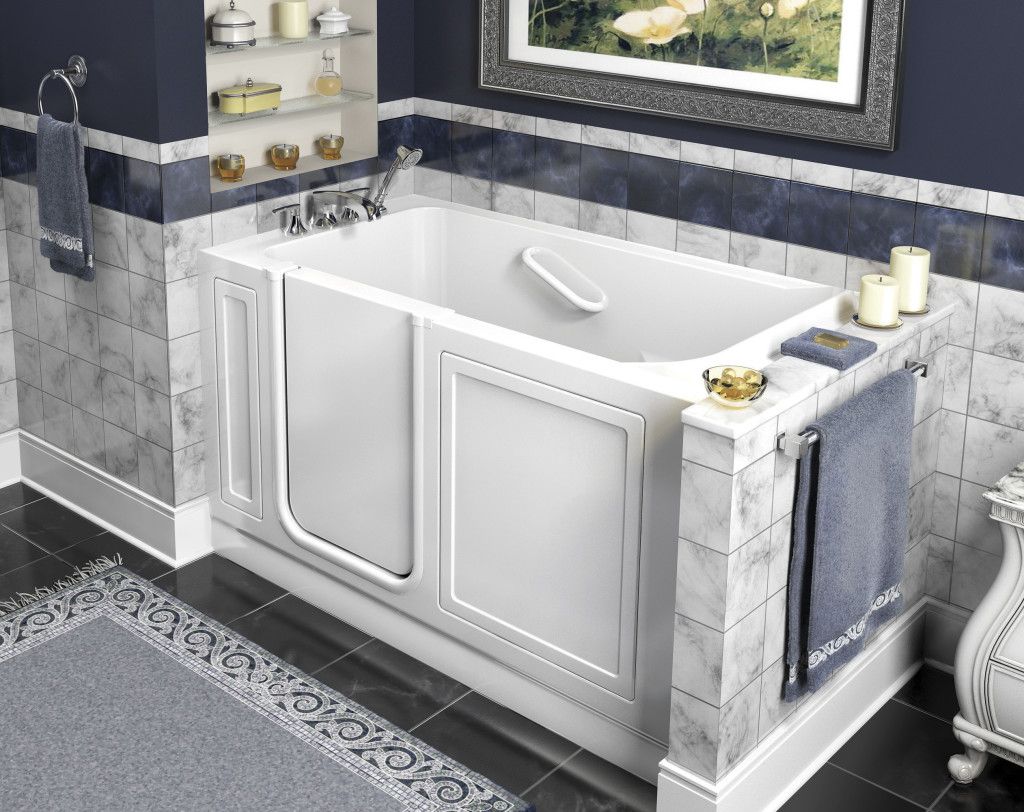 Aging is a part of life. If you or a loved one are beginning to require a little more accessibility ease around the house, it's a smart decision to invest in a walk-in bathtub. It can be tiresome and potentially dangerous to be constantly moving in and out of a bathtub. Wet, slippery surfaces commonly found in bathrooms create fall hazards. All walk-in bathtubs feature easy-to-use doors that allow for simple entering and exiting. Each person's mobility and dexterity differ, that's why there are an abundance of walk-in bathtubs to accommodate each person's needs.
Narrowing down styles, features, and pricing can seem like a time-consuming task. That's why we broke down the common types of walk-in bathtubs that should suit your specific budget and requirements. Continue reading to learn more about the varying styles, price ranges, and installation costs of walk-in bathtubs.
The Basics
What Should You Know about Walk-in tubs?
A walk-in tub is just like any other bathtub, except it's just easier to enter into! The goal and the main advantage of walk-in tubs is increased safety. A watertight door allows any user to step into his or her tub without bending the knees, minimizing slipping concerns and unnecessary pressure on arthritic joints. Once the door closes, the tub fills with water and the person can then enjoy their bath. After, the bath drains normally. Then the person opens the door and steps out safely.
Most models are taller than they are wider. With this configuration, users can sit down on a manufactured chair. This further hinders pressure on joints. Instead of having to push up your whole body weight with your arms, you can just simply stand up and down. Depending on the situation, walk-in tubs can be made to easily and safely transfer a person from a wheelchair to the tub seat (known as a slide through tub).
Pros & Cons of Walk-in Tubs for Seniors and Handicap
At the end of the day, you or your loved one wants to remain safe and comfortable when bathing. Most brand new walk-in tubs will cost (at least) a few thousand dollars to purchase and instal. Sometimes, you have to compromise finances in order to prioritize safety. With such an investment, It is always best to familiarize yourself with the advantages or disadvantages. If you are considering a walk-in tub, take a look at these primary benefits and drawbacks:
Pros
Benefits of Installing a Walk-in tub
icon

Accessibility ease for those with limited mobility

icon

Increased safety, reduced fall-hazard

icon

Customizability of surfaces and safety features

icon

Theraputic options via air and water jets

icon

Can potentially raise property value in elderly communities
Cons
Drawbacks of Installing a Walk-in tub
icon

Price compared to normal tubs

icon

Time consuming fill and drain

icon

Increased amount of water usage

icon

Measurement and sizing issues
Pricing
Feature and Cost Breakdown of Walk-in Bathtub types
The cost for these types of bathtubs vary greatly depending on: whether you retrofit, how many options your tub has, what kind of materials make up the tub, the design, brand-name, and your current bathroom configuration. These variable will increase or decrease the cost of the product and installation accordingly. Each situation is different, so it's tough to give an accurate estimate. Nevertheless, continue reading to learn more about the common types of walk-in bathtubs and their associated costs.
Features and Cost Breakdown
Basic Soaker Tub
The most basic walk-in bathtub. Soaker tubs comply with the American Disability Act, are easy-to-use, and are the least expensive of all the options These can be bought as premade models or you can retrofit your old tub. If your tub allows it, it is a more cost-efficient option to retrofit and remodel your normal bathtub into a walk-in one. Your service professional will custom-build a leak-proof door, a seat, and low-entry step. A handyman can also add grab bars and anti-slip flooring as needed. Premade models can be bought in-store or ordered online, typically costing around $1,500 to $10,000 for a new unit. Price varies depending on features and material make-up. Before you buy a new tub, have a bathroom contractor come to your home to discuss the possibility of transforming your existing tub into a walk-in. Your contractor should prepare you an estimate for the conversion costs. Then determine whether it is a better choice to retrofit or install a manufactured walk-in tub.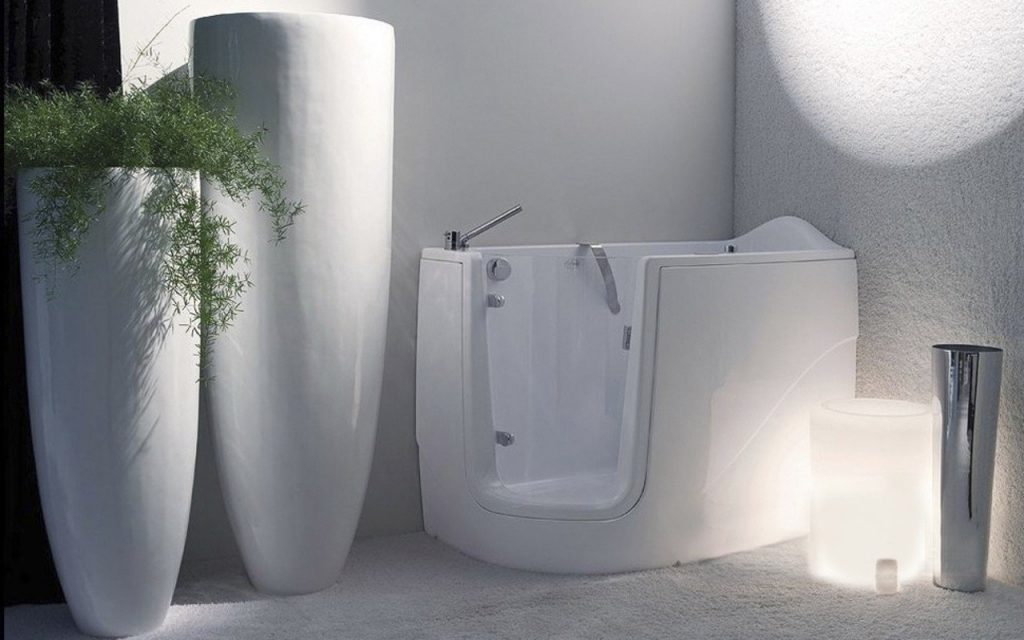 Features and Cost Breakdown
Bariatric Tub
Similar to the basic soaker model, these bathtubs are specifically built for people with extreme mobility issues. Bariatric Model are wider, boast even more accessible entrances, and a larger seat. Bariatric models are built for obese, those recovering from surgery, or for people who just prefer wide bathtubs. Standard walk-in tubs are designed for users who weigh less than 300 pounds, so pick a bariatric model for people with extra weight. Because of the extra materials and non-standard sizing, bariatric models cost more than basic soakers, averaging between $5,000 to $10,000.
Features and Cost Breakdown
Aero & Hydrotherapy Tubs
Aerotherapy tubs are soaker tubs outfitted with air jets for water circulation. These tubs are designed to provide a therapeutic massage experience and are known to be beneficial for those with diabetes or circulation issues. Hydrotherapy tubs are soaker tubs that include water jets for water circulation, which often provides a more intense massage than aerotherapy tubs. You can find a combination of these two types, with the most expensive options offering the advantages of both. Aerotherapy tubs are generally less expensive, averaging around $4,000 – $7,000. Hydrotherapy can be purchased at a price range of $5,000-8,000. Combination tubs are typically $10,000 or more. A drawback among jet powered tubs is the maintenance. You will have to make sure the pores do not become clogged and routine servicing will be needed to make sure all the mechanisms are woking at full potential.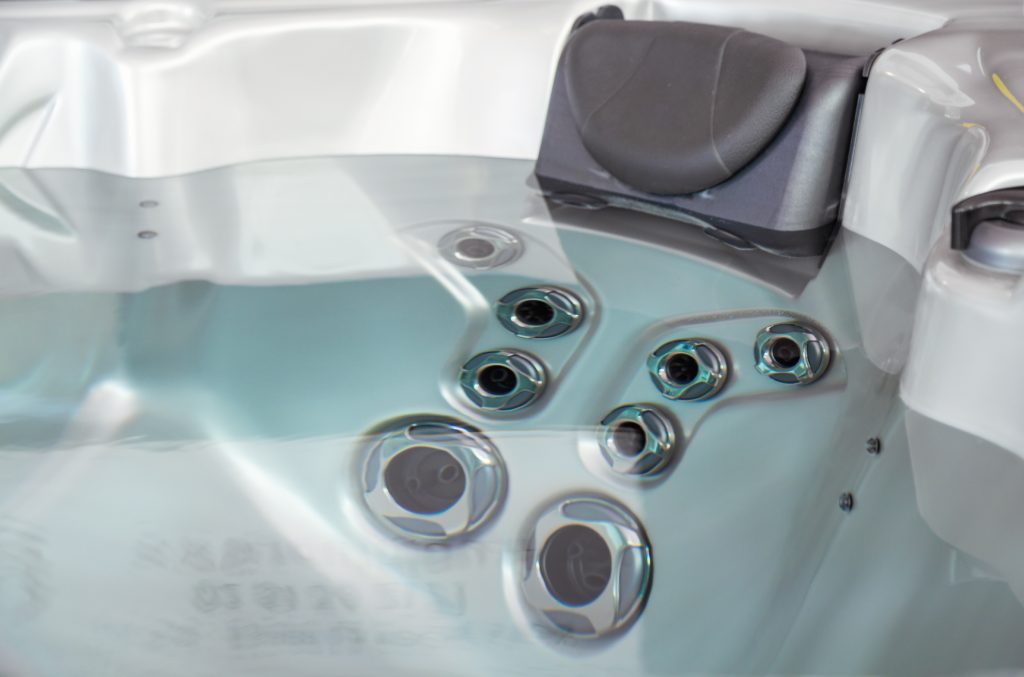 Features and Cost Breakdown
Slide-in & Wheelchair Accessible Tubs
If you or a loved one are nearly immobile, your best option is a wheelchair accessible tub. These tubs have extra wide doorways, making it the easiest option to enter a tub. One of the issues with a walk-in tub is the narrow opening that is next to the built-in seat, which makes it nearly impossible for someone who cannot walk to get into the tub without help. For these circumstances, wheelchair-accessible tubs have large doors that open wide, with clear access to the chair-height seat, making it easier to slide from a wheelchair to the tub. These tubs are larger and may not fit well into a small bathroom. Depending on what options you prefer to have, the price range be on a low-end estimate of $4,000 to over $10,000.
Walk-in Tubs
What are the Top Brands
There are a variety of brands to choose from. The most common walk-in tub brands include: Safe Step, Kohler, American Standard, Universal, and Premier Care. Most of the brands have a warranty, which gurantee to protect you for many years from unforseen damage internal damage. Some manufacturers specialize in making certain types. For example, Universal is known for making industry-leading wheelchair accessible tubs. In order to find the best brand to match your needs, Research the web and ask a service professional which they suggest. Many brands can be ordered online or found in-store at places like Home Depot. Of course, if conditions permit, you can also just retrofit your existing tub to become exactly what you want to be (without the pricetag of a new model).
Frequently Asked Walk-in Bathtub Questions
Labor expenses vary widely. It all depends on what you desire. If you are adapting your current tub to become a walk-in, expect to have higher labor costs but a lower price for materials. A new tub means you will need to rid of your current one and most likely need to retile the wall. Most baths are designed to be about the size of normal tub, so hopefully you won't need to knock down a wall or expand your bathroom. If you want a quicker fill time, you will need to expand your piping (which will increase the cost of your project greatly). New tubs , especailly jet therapy types, will require some additional new electrial wiring, which also drives up costs (but typically less than moving around plumbing). Exterior handles, textured rugs, and other safety measures must also be considered for an accurate total project cost.
Typically, no. Walk-in tubs are not considered 'durable medical equipment'. However, if you can prove it to be a necessary medical device, then you might be entitled to some compensation.
This is similar to medicare. Some home improvement projects are tax deductible, and if you can prove that it is beneficial and necessary to your daily life, then you might be able to have the walk-in tub be tax deductible.
Wider plumbing will fill a tub more quickly. Typical walk-in tubs take 6 to 15 minutes to fill.
It all depends on the type of product you buy. Some walk-in tub manufacturers boast quick draining. A standard-size walk-in tub usually takes between six to 15 minutes to fill or drain. Tubs with quick fill and quick drain features often fill or drain in as few as 1½ to four minutes. When you retrofit a tub, you might want to ask about updating your plumbing to have a quicking draining system.
Yes, consider buying a walk-in shower. Manufacturers will offer this combination at a higher price. You can stand, sit, or lay down. They often have handheld shower devices that make for easy cleaning.
We highly advise against it. Poor installation will result in leaky pipes, poorly functioning equipment, and labor difficulties.
ACCOMPLISH YOUR REMODELING DREAMS TODAY
CONNECTING YOU WITH LOCAL SERVICE PROFESSIONALS YOU CAN TRUST!
PoweredByPros is a leading digital home services marketplace. We match homeowners from across the nation with screened remodel and repair professionals they can trust to successfully complete any type of home improvement or renovation project. For over a decade, homeowners have trusted us with providing them professional and quality services for their property. In order for us to connect you with the bathroom pro, our highly skilled customer service team will contact you to gather all your project information and pay special attention to your design and amenity requests. We make planning, budgeting, and hiring a local bathroom contractor easy and free! Save time and money, get started today!