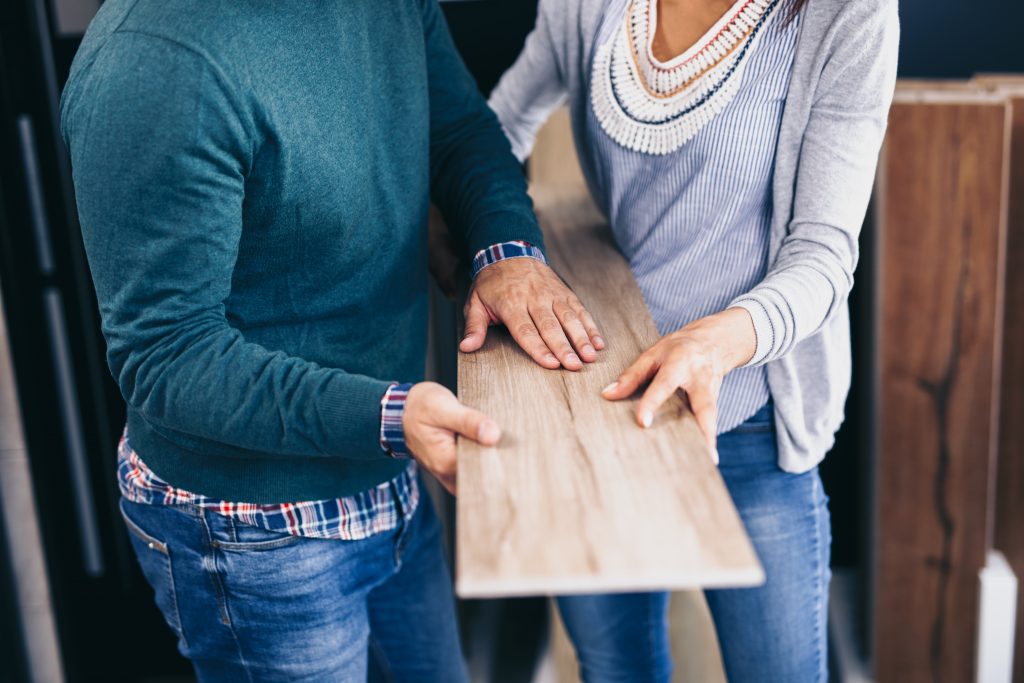 Two of the most popular flooring options for modern homes are laminate and engineered wood. They mimic solid hardwood and provide many of the same benefits—without the rather expensive costs. Although laminate and engineered wood are similar in many aspects (often being confused for one another), each has their pros and cons that make them better suited for certain homes and lifestyles. Learning about and weighing out the advantages and drawbacks of each material helps homeowners make better decisions. Continue reading to find out more about these two popular flooring options and which will work best for your personal situation.
The Basics
What is Laminate?
Laminate floors were the original economic alternative to hardwood floors.  They have been around since the 1970's and have continued to grow in popularity since. This flooring option is fully man-made that consists of several layers. The base is made of fiberboard or particleboard, then a photographic image that resembles real wood (or sometimes stone) is applied directly over. A protective layer is then added to prevent moisture and other debris from seeping into the base.  At a distance or to the unwatchful eye, laminate can look convincing. However, most people can decipher that it is ultimately a mock version. The average thickness for each laminate tile is about 12mm and usually come in floating tiles with interlocking edges. 
icon

(Typically) less expensive compared to engineered wood

icon

wider flexibility in appearance (can mimic stone, tile, or wood)

icon

Slightly Easier and less expensive maintenance

icon

Slightly Easier to clean

icon

Potentially better option for pet owners
icon

A more obvious 'fake' wood compare to laminate

icon

Shorter Lifespan (~10 years)

icon

Low-grade have been known to emit harmful fumes (VOCs)

icon

Color scheme cannot be changed
The Basics
What is Engineered Wood?
Also known as man-made or manufactured wood, this flooring option was designed to address the drawbacks found in solid hardwood, such as susceptibility to moisture and warping. Engineered wood floors bond a thin layer or real hardwood over multiple layers of high-quality plywood, fiberboard, or unfinished hardwood. This process almost duplicated the actual feel and stability offered by real, solid hardwood flooring. Generally, engineered wood is a more convincing but more costly option compared to laminate. Most engineered wood floors are nail-down or glue-down products.
icon

A more convincing wood replica

icon

Ability to change color scheme (at least one time)

icon

Longer lifespan (20-30)

icon

Stronger than many laminates

icon

Slightly more environmentally friendly

icon

Usually better resale value
icon

Usually higher price (primary disadvantage)

icon

More difficult and costly installation

icon

Can scratch or dent easier

icon

Can be more expensive to upkeep and repair
Appearance
What does Laminate Look Like?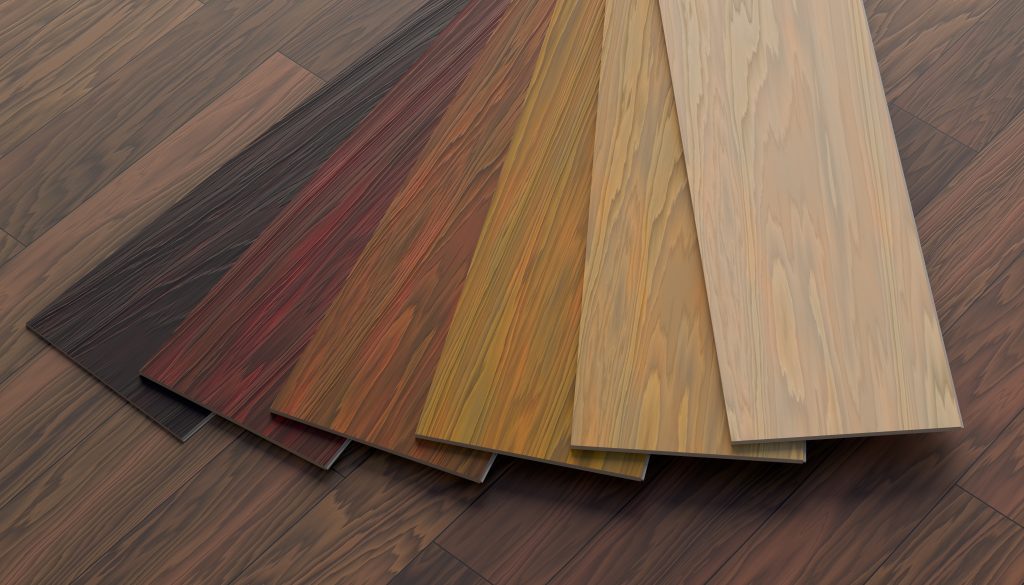 Newer and typically more expensive laminates have embossed and textured surfaces to replicate the look and underfoot feel of solid hardwood.  Over the years, laminate has improved its appearance and is able to mimic wood better than ever. The more you spend, the thicker the laminate tiles will be. Premium laminates, often called luxury vinyl, are the best laminates on the market. They often have a cork underlay that retains heat, absorbs sound, and gives a better overall feel when walked on. Regardless, all laminates are man-made, synthetic products. At the end of the day, most homeowners and guests will know that it is not the real deal.
Appearance
Engineered Wood?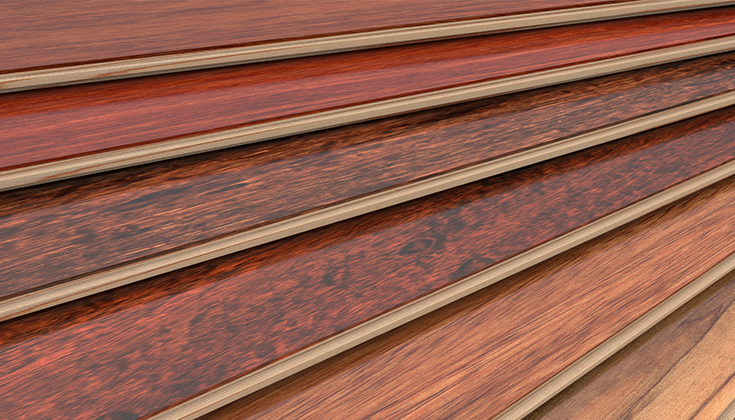 The primary advantage engineered wood has over laminate is that it is a much more convincing replica of real hardwood flooring.  This is because the top layer is actual real hardwood. You can obtain beautiful exotic wood species at a much lower price, when compared to solid hardwood, because engineered wood only uses a thin veneer layer. This opens up a wide range of options to homeowners who would have not been able to afford these exotic woods for solid hardwood. Ultimately, engineered wood will always look better than laminate, particularly when looked at closely.
Care
Laminate Durability & Maintenance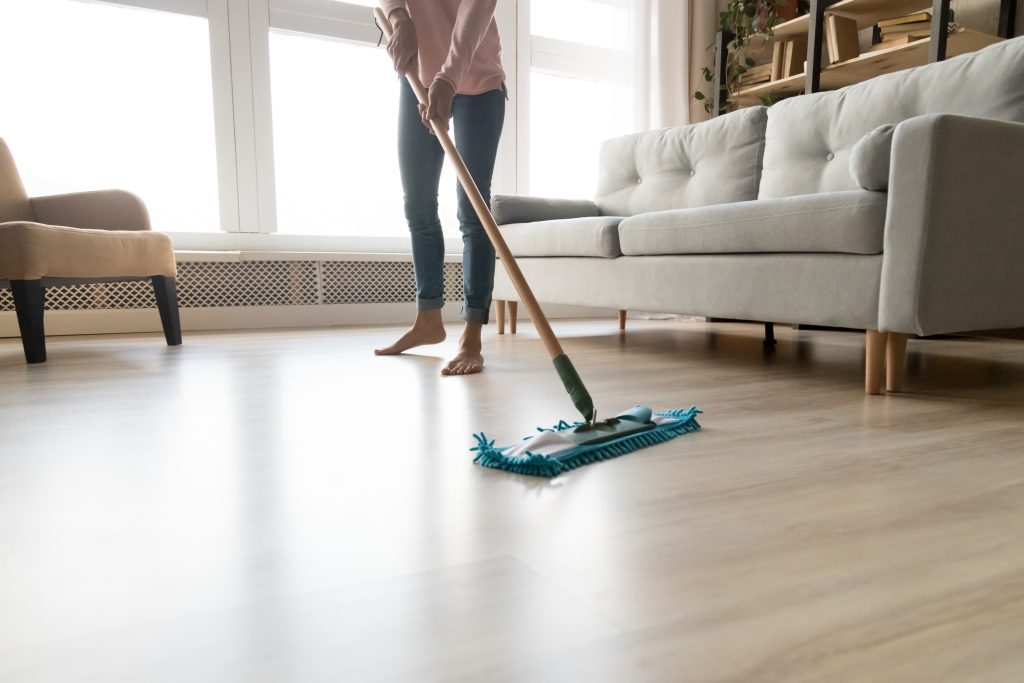 Laminate is slightly easier to clean and take care of when compared to engineered flooring. The surface layer is a type of plastic, therefore it can be easily wiped down with general cleaning supplies. Typically, laminates contain an Aluminum Oxide surface layer that protects against fading, spills, stains and scratching. While laminate might be easier to maintain day-to-day, the overall strength, durability, and longevity of the product falls short of engineered wood.  The average lifespan of laminate is about 10 years.
Care
Engineered Wood Durability & Maintenance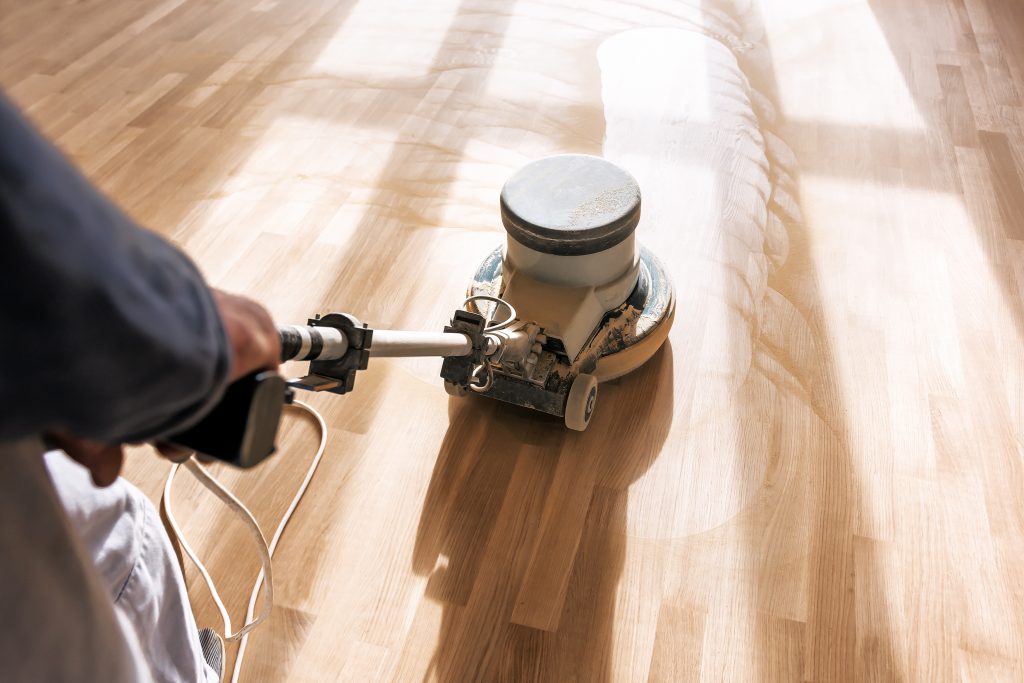 Engineered hardwood flooring has a real hardwood veneer, which ultimately makes it more prone to surface scratches and dents. However, damaged engineered wood has the capability to be repaired. Typically, most engineered woods can be refinished at least once but sometimes two or three times if your veneer is thick enough. This allows you to change up the color scheme as well!  Cleaning is relatively straightforward, but you will need to periodically apply a new protective layer or refinish it as your flooring accumulates scratches/dents and dulls over time. This material is thicker and stronger, extending the lifespan to 20-30 years.
$$ Pricing $$
How much does Laminate flooring cost?
Laminate is the clear winner in terms of cost. The relatively inexpensive flooring material can be purchased for as little as $1 to $3 per square foot from big-box stores. Inexpensive material will deteriorate faster and have less design variety to choose from. Although, buyer beware. There are some growing health concerns about cheap laminates and noxious fumes which you can read about further down. Luxury Vinyl, and other premium laminates can cost up to $12 per square foot. Because of the lower lifespan and lack of real wood, the resale value of laminate is usually lower than engineered wood.
$$ Pricing $$
How much does Engineered Wood flooring cost?
Engineered Wood is more expensive, but usually more highly regarded by potential buyers and real estate professionals. So, it is important to consider resale value. The starting price for engineered wood is around $4.50 per square foot, however, this is for entry-level.  A more average price is between $7-$8 per square foot. Engineered wood is more difficult to properly install, thus it has a pricier installation and overall higher total cost.

Other Important Information
Installation, Water & Heat Resistance, Sound, & Health
Installing engineered wood usually requires the expertise of a professional. Unlike most laminates, which have a universal way of installing, engineered wood has a variety of different installation methods. Some are similar to solid hardwood, where the installer will nail them to the subfloor, while others have floating versions.  Your professional installer will also apply a protective coat that makes it difficult for moisture to enter. Engineered wood is thicker and will not flex like laminate may. Still, it is harder under the foot and can pose a fall hazard. Unlike inexpensive laminate, engineered wood has not shown any negative health effects. 
CREATE A MORE BEAUTIFUL HOME TODAY
CONNECTING YOU WITH LOCAL SERVICE PROFESSIONALS YOU CAN TRUST!
PoweredByPros is a leading digital home services marketplace. We match homeowners from across the nation with screened remodel and repair professionals they can trust to successfully complete any type of home improvement or renovation project. For over a decade, homeowners have trusted us with providing them professional and quality services for their property. In order for us to connect you with a home expert in your area, our highly skilled customer service team will contact you to gather all your project information and pay special attention to your design and amenity requests. We make planning, budgeting, and hiring a local flooring contractor easy and free! Save time and money, get started today!