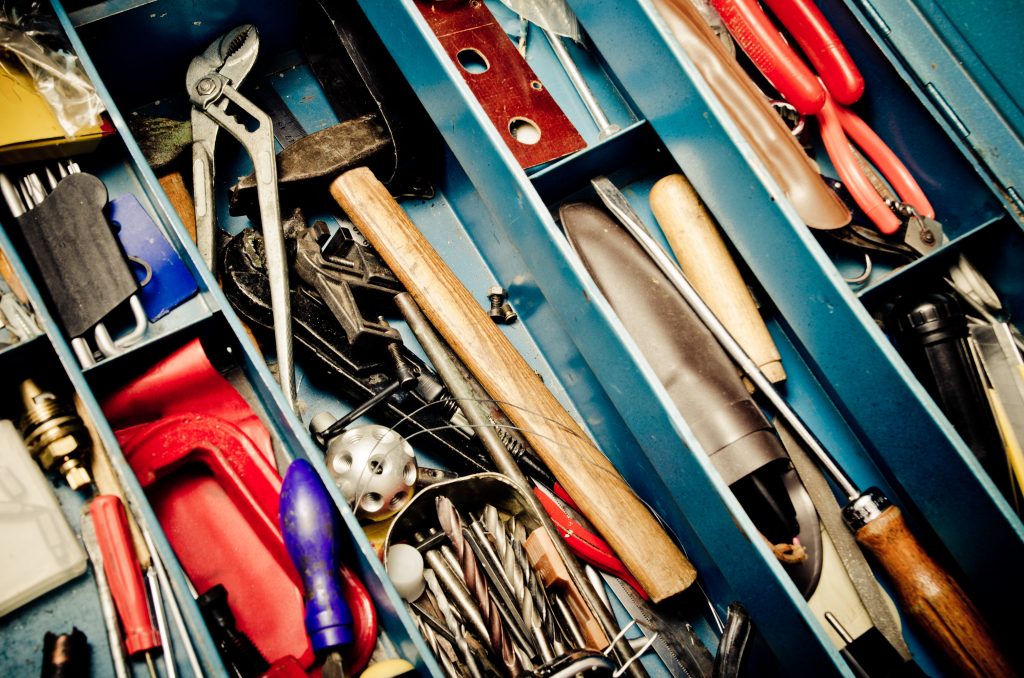 Plumbing plays a crucial part in our everyday life, but it is often an aspect of the home that is overlooked—until a pipe becomes clogged or springs a leak. Plumbing accidents are unfortunate realities of life that become more common as your property ages. These problems can be costly, especially if left unattended. That's why it is important to address plumbing issues and emergencies quickly.  Mitigating damage and stopping flowing water helps prevent further damage to your home and will save you money because you will reduce the amount of work (if any) a professional plumber must do. 

You never know when plumbing problems will occur, that's why it's important to have a proper emergency plumbing kit. We created this brief guide to help you create your own emergency plumbing tool kit.  These must-haves will ensure that you are prepared to handle most plumbing issues. It's easy to find all these supplies (some you already might have laying around) and assemble the tool kit. In addition, many of the tools and items listed below can be used for other repairs or home improvement projects around your property. 


The Basics
Tackle Box, Bucket, Gloves, & old rags
First things, first, you need to have a trusty container to hold all your required tools and supplies. A water-resistant tackle box should do the trick just fine and will last you a lifetime for all your handiwork needs. The second necessary item is a sizable bucket (~5 gallons). It will help you hold water and capture spillage, among other unexpected uses. Next, a set of thick, all-purpose, and waterproof gloves will help you avoid dirty messes. Finally, a few old towels or rags are an invaluable tool to soak up spills.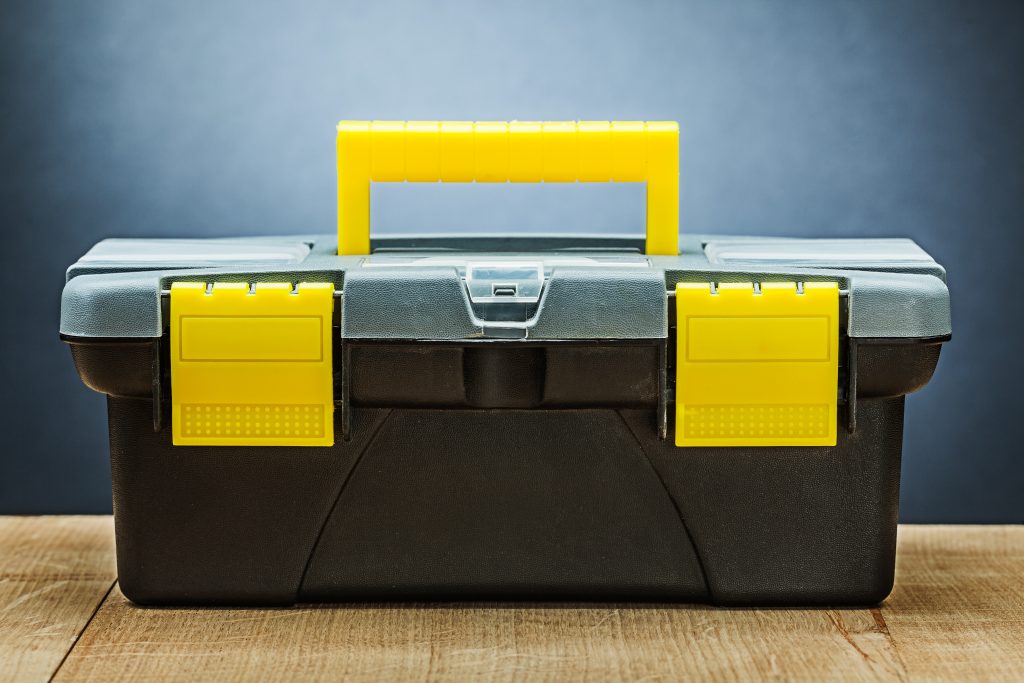 Tools
Wrenches & Allen Keys
Beyond plumbing repair, it is worthwhile to invest in a set of tools. Wrenches are a vital part of any tool kit, helping repair all types of loose appliances and pipes. Simple plumbing issues usually require tightening in some form, so consider an adjustable wrench, it allows you to loosen or tighten almost any valve or pipe. Another important tool, sometimes called hex keys or allen wrenches, allen keys will remove handles on faucets. This handheld tool will always have a hexagonal tip and is used for driving bolts and screws. Allen keys are great for all types of plumbing problems.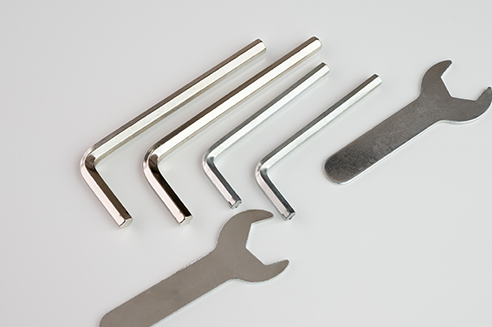 Everyone's Favorite Plumbing Device
Flange or Cupped Plungers
The staple of all plumbing tools, the plunger! Plungers can be used to unclog drains and toilets alike. Cupped plungers are typically meant for shower drains and sinks. While flange plungers are specifically designed for toilets.The flange on the plunger inserts slightly into the drain trap to allow maximum suction with each pull or push on the plunger.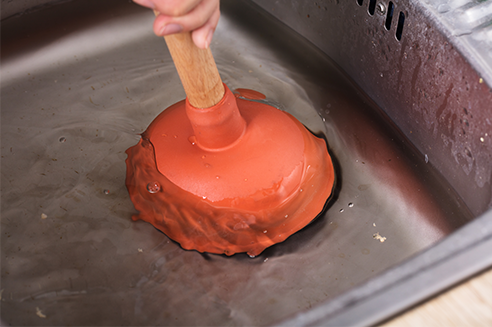 Drain Declogging
Hand or Electric Snake
If your drain is still clogged after your plunging efforts, the next best thing to use is a snake. Also sometimes called an auger, this device is a metal coil with an attached handle that is used to clear drains that have become clogged. Pushing the snake down a drain will hopefully remove any blockage.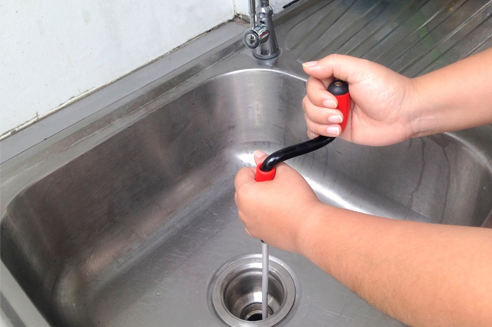 Strong Adhesives
Tape & Putty
There are two types of tape that you should have in your emergency plumbing kit: duct tape and teflon tape. Duct tape will always be a great household item to have to temporarily seal leaks in drain like, stop water from flowing out of connection joints, etc. Teflon tape, also referred to as plumber's tape, is used on metal-to-metal thread connections of water lines. Three wraps around the brass threads (where you tighten connecting pieces ) of plumbing will help stop leakage and can make tightening easier. 

Putty, contact cement, and caulk/epoxy are great sealants for many repairs. From a punctured PVC pipe to leaky joint connections that cannot be fixed with teflon tape, putty is the go to temporary solution for most plumbing concerns.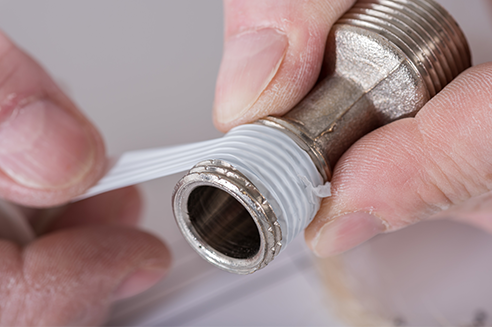 Considerations
Other Important Tools to Add
icon

PVC, PEX, or Brass Connections/Joints

icon

Declogging agents (i.e. baking soda & vinegar)
Our Plumbers can handle any job or emergency repair
CONNECTING YOU WITH LOCAL SERVICE PROFESSIONALS YOU CAN TRUST!
PoweredByPros is a leading digital home services marketplace. We match homeowners from across the nation with screened remodel and repair professionals they can trust to successfully complete any type of home improvement or renovation project. For over a decade, homeowners have trusted us with providing them professional and quality services for their property. In order for us to connect you with a home expert in your area, our highly skilled customer service team will contact you to gather all your project information and pay special attention to your design and amenity requests. We make planning, budgeting, and hiring a local plumbing contractor easy and free! Save time and money, get started today!