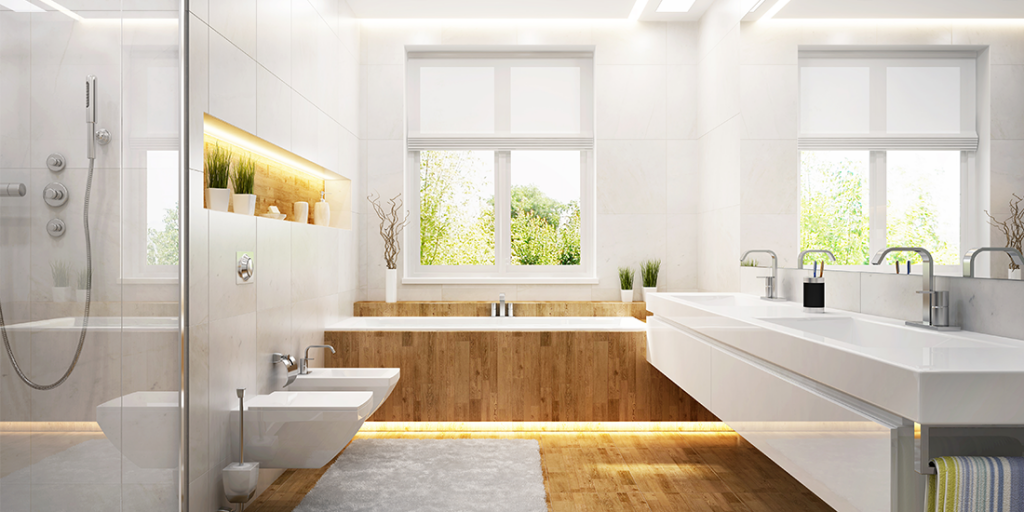 As we all spend more time at home, some of us have begun to notice things in the house that could be improved. A place in the home we all spend a lot of time in is the bathroom. Most people dream of the expansively luxurious spa with his and her sinks, standalone bathtub, and a curbless shower. No matter if you live this dream or not, there are plenty of ways to make any bathroom look (and feel) bigger. From new paint to ingenious optical illusions, you'll be surprised by what you can do to create a feeling of more space in your bathroom. Some of these suggestions are simple enough to do on your own and others will be a breeze for a contractor should you wish to not take on some of the more challenging tips


Return on Investment
Why Updating the Bathroom is worth it?
When you modernize a bathroom and make it look clean and open, you boost your home's value and typically recoup all money invested. Regardless if you are thinking about selling anytime soon, it's nice to know that the bathroom is one of the most profitable areas of any home. Keep in mind contemporary decorating trends and lasting styles, a well designed and attractive bathroom will help achieve a higher selling price. Our bathroom professionals are experts in trendy styles and timeless designs, so no matter which is your preference, we can guide you to make the smartest investment.


Suggestion #1
White on White Paint
White bathrooms have been in demand and continue to be the desired look. White naturally recedes and reflects light which makes any space look bigger. In the bathroom, white gives the feeling of seamlessness and adds an airy feeling. You can add character by using different shades of white in molding, by using pale stone and tile accents, or using wood, black, or greys. A fresh coat of paint can go a long way. It immediately and dramatically changes the appearance of any room and is perhaps the most cost-efficient home improvement.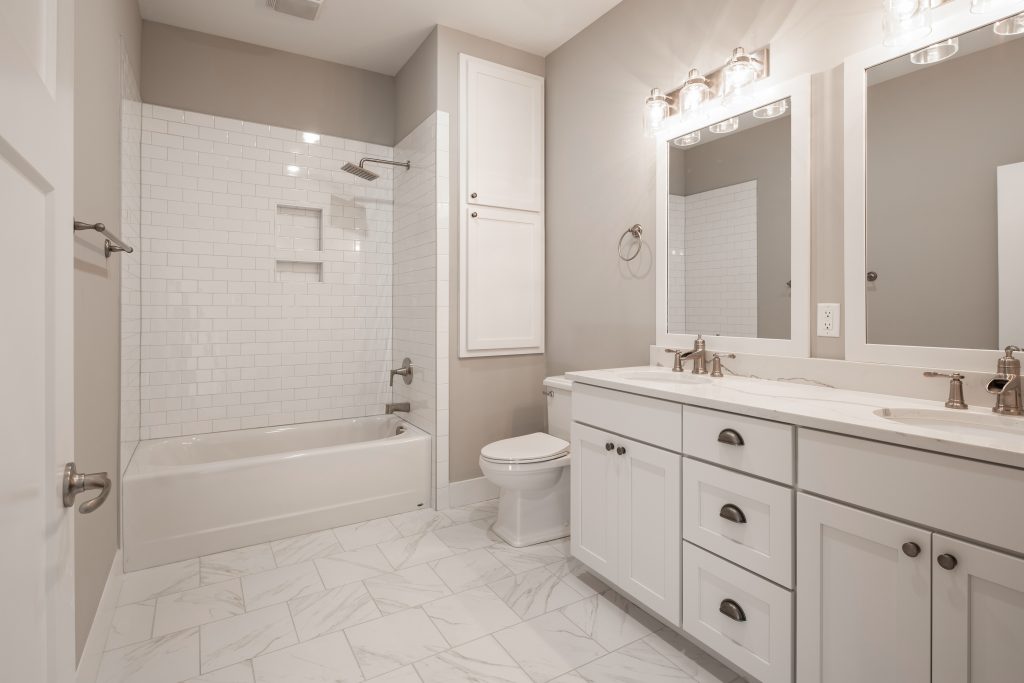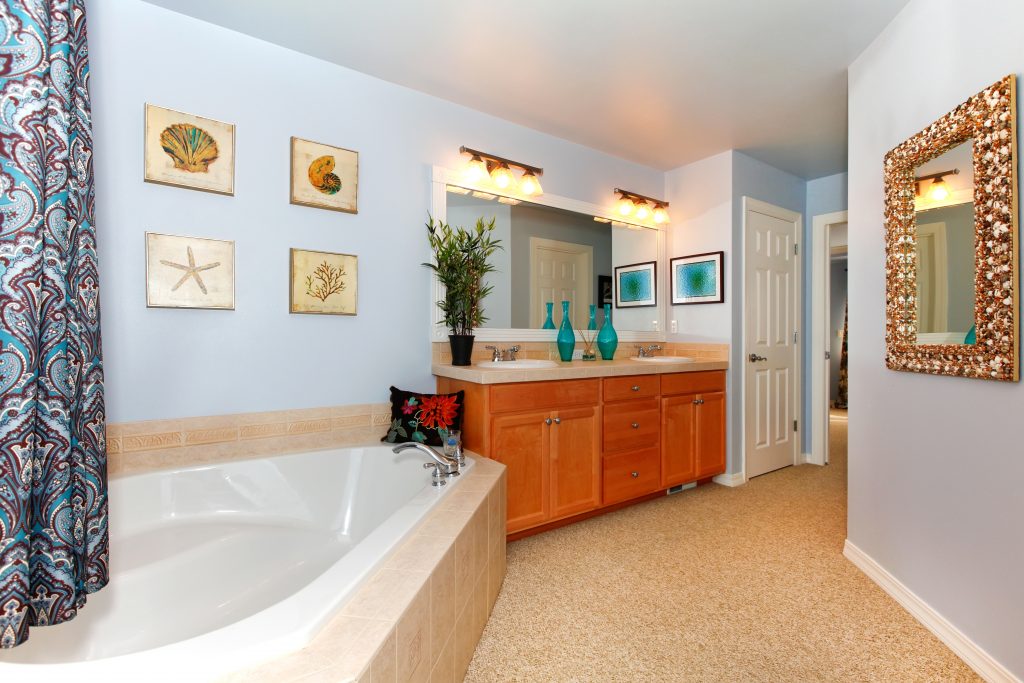 Suggestion #2
If not White, Soft & Warm Tones
If white is not your thing, then don't make it be! A big, open effect can be obtained with a tone-on-tone palette. Warm beige, soft greys, or faint hues like powdery blue do the trick just right. Bold colors highlight lines and can give the feeling of a confined space. If you are including tile, pick the tile and then choose a wall paint that compliments the hues within the tile. Use the same color for your walls and ceilings.
Suggestion #3
Natural & Bright Lighting
Adding a natural source of light can be expensive and may not even be structurally feasible for some homeowners. But if you have a budget to work with and the right architecture, windows and skylights are worth it. Windows tend to add value to your home and allow for fresh air to flow through, which is important for bathrooms to prevent mildew/mold. Skylights add unique ambiance and the sky above adds a sense of openness. The next thing to focus on is artificial, electrical lighting. You want to add at least two sources of light. Ceiling lights and lights above or surrounding the mirror are good ideas. This will limit shadow, leaving your bathroom bright and airy. Opt for energy star bulbs to save money!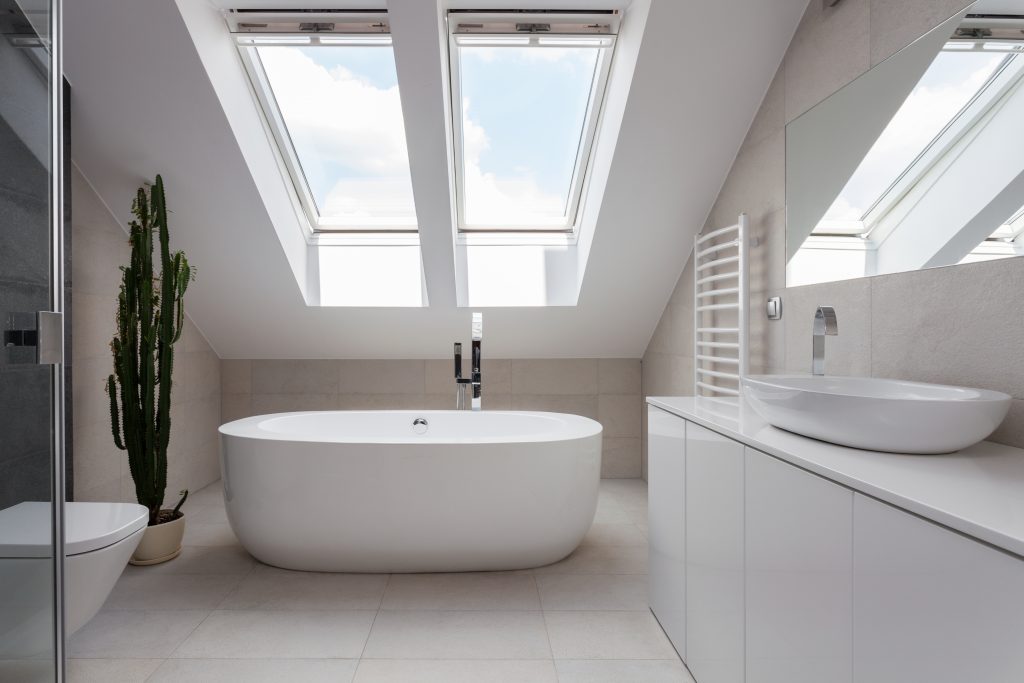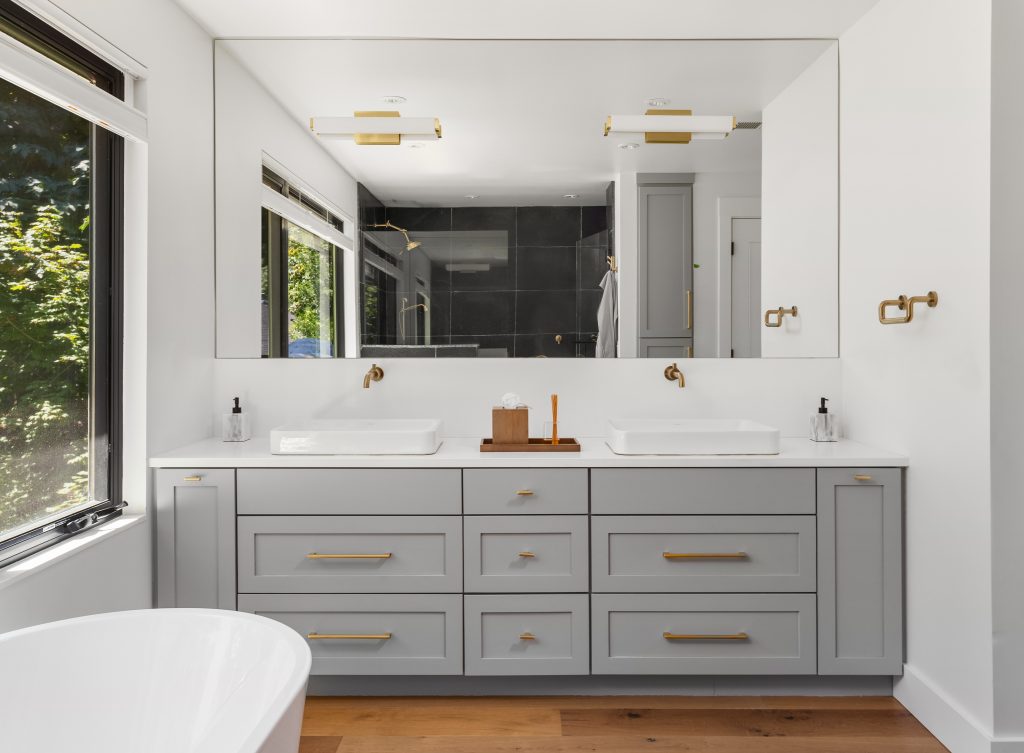 Suggestion #4
(Big) Mirrors
It is common real estate and design knowledge that mirrors give the illusion of a larger space. However, they also reflect more light into the room and are extremely useful for personal care reasons. Go for a large mirror, at least as big as your vanity. Frameless mirrors are simple and the best choice for space. Try and find a tarnish-resistant coat so it will last you.
Suggestion #5
Remove Accessories & Reduce Clutter
Go easy on decorations if you want to maximize space. Although that towel basket may look cute alone, when you add a bunch of accessories in a small area, it gives a busy and crowded feel. Too many shelves and items just take up space. Think about how much you use each thing in your bathroom, and if you really need it out and about. Place it in your vanity drawer if you can! Often times, less is more.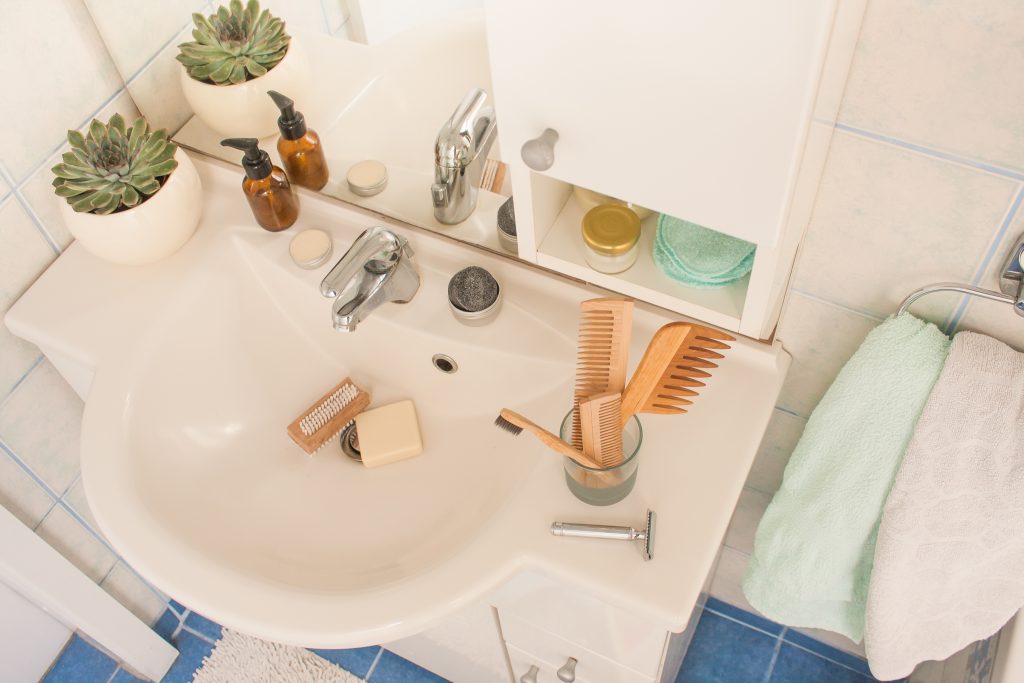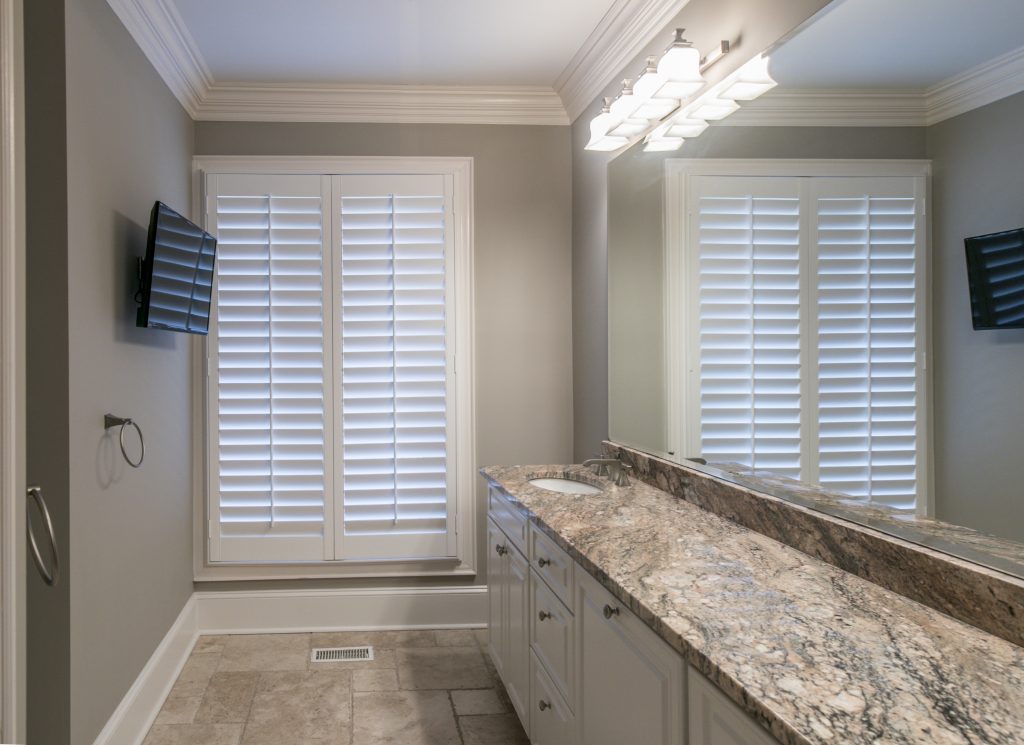 Suggestion #6
Expand the Ceiling
How the heck can you raise your ceiling? Well, you probably can't, but you can give the impression of it!  By installing a crown molding around the ceiling and painting it the same color as the ceiling, you can make your ceiling look raised which makes the bathroom seem bigger. This feature adds depth and illudes space. Look at the top of the image… doesn't it look like the ceiling is high up?
Suggestion #7
Floating Vanity & Wall Hung Toilets
Floating vanities are chic options for small bathrooms. It adds an extra layer of storage if you need it, and if not it will supply breathing room to the bathroom. You will be surprised; in a very small space, having a little bit more room to plant your feet can make a big difference.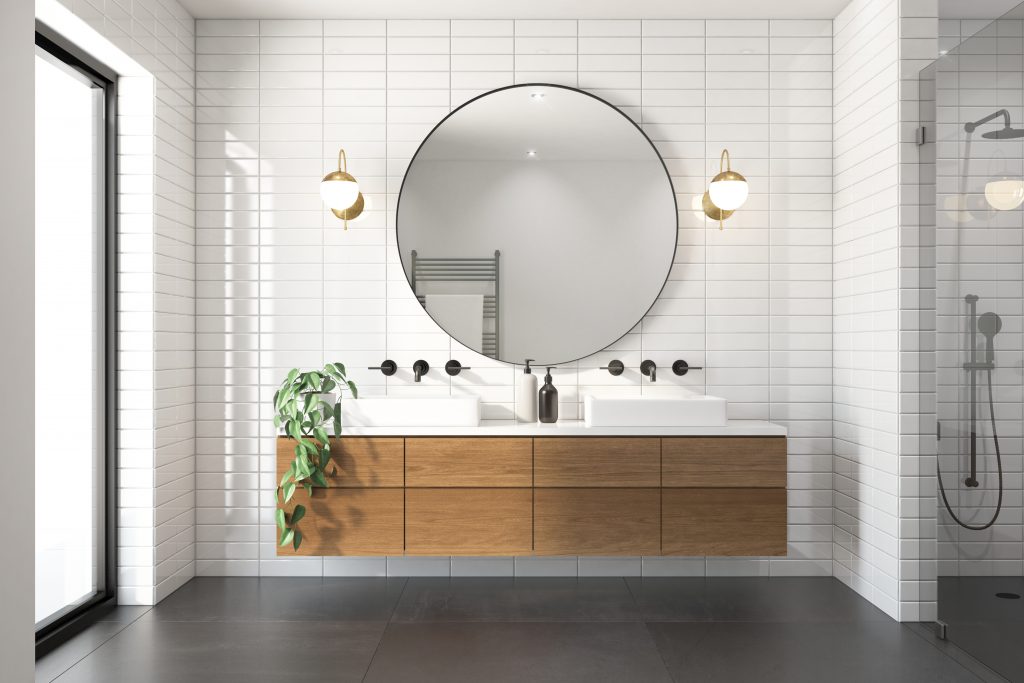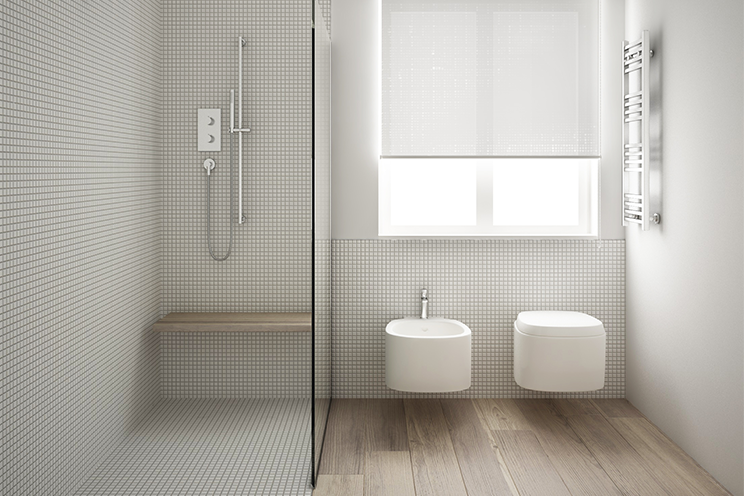 Suggestion #8
Add A Clear, Frameless Shower Enclosure
Our final suggestion, but one of the most dramatic ways to upgrade your bathroom, is by replacing your shower curtain with a glass panel. This creates a visual wall which makes it seem like there is another section of the bathroom, making it seem like there is extra square footage. If you are invested in the bathroom remodel, and have a standard tub, considering getting rid of it and installing a walk-in shower. Walk-in showers are in style and usually have great ROI. By removing your porcelain tub, you free up walking space, reduce obstruction, and improve functionality and safety.


BENEFITS OF USING PROFESSIONALS
Advantages of Powered By Pros Bathroom Experts
When remodeling you want to make sure you get it done right the first time around. At PoweredByPros, you can count on our many years of experience to guide you through every step of your bathroom remodel process. We will guide you on what specifics you should or should not renovate. From planning to material selection to the finished product, PoweredByPros will help you achieve a functional, budget-friendly remodel project. We have spent years refining and perfecting our process to create the best final result. From the initial estimate to the final product, our bathroom pros promise a budget-friendly and personal experience. Call us or click one of the get started links today!
Upgrade Your Bathroom Today
CONNECTING YOU WITH LOCAL SERVICE PROFESSIONALS YOU CAN TRUST!
PoweredByPros is a leading digital home services marketplace. We match homeowners from across the nation with screened remodel and repair professionals they can trust to successfully complete any type of home improvement or renovation project. For over a decade, homeowners have trusted us with providing them professional and quality services for their property. In order for us to connect you with a home expert in your area, our highly skilled customer service team will contact you to gather all your project information and pay special attention to your design and amenity requests. We make planning, budgeting, and hiring a local contractor easy and free! Save time and money, get started today!