The accessory dwelling unit, or ADU, is a popular and affordable housing choice that adds livable space to your property. It's becoming an increasingly common option as cities across the nation become more expensive, populated, and urbanized. They allow for increased room, without the price-tag of purchasing a brand new home. ADUs come in a plethora of options, allowing you to tailor them to your specific needs. ADUs can potentially create you an extra source of rental income, increase property value, or serve as a guesthouse.

By the end of this post you should better understand what an ADU is, the types that are available, and if you should consider adding one to your property.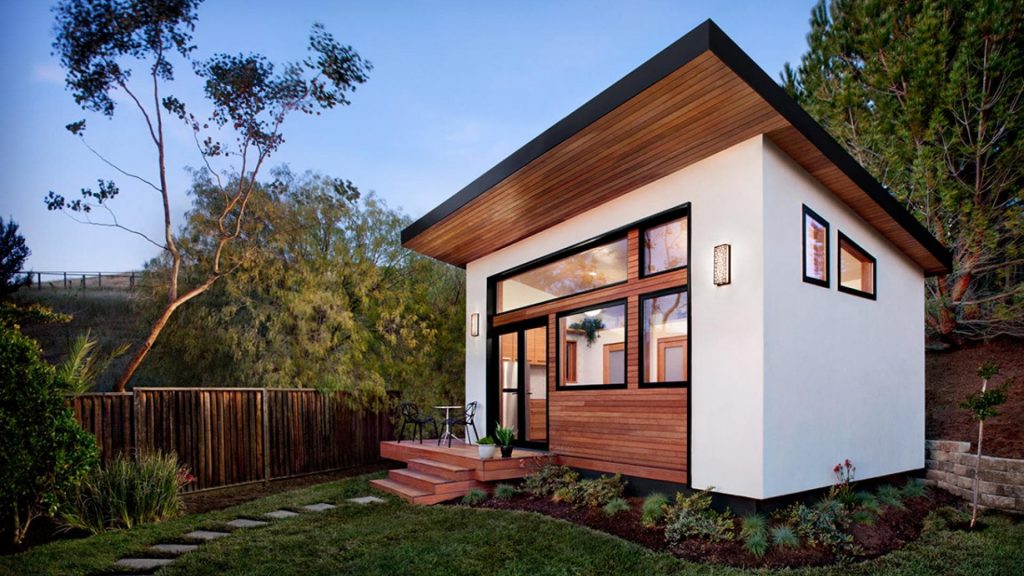 The Basics
Legally, ADUs are secondary houses or apartment spaces that share the property lot of a larger, primary house. Some common names for ADUs include: secondary dwelling unit, granny flats, or in-law units. ADUs can be attached to a house, garage, or built as a separate unit (typically in a backyard).

The idea of an ADU is not new, but in recent years, due to updated zoning and planning laws, there has been an increasing demand for the extra livable space. They are innovative, affordable, and effective housing options. They are especially in demand in states where housing is expensive and limited, such as California. The majority of Americans build ADUs for family members or for rental income.
ADU Types
ADUs go by many names, but they all serve the same function—to provide extra living space. ADU types can be generally broken down into three main categories: internal, attached, or detached additions to a house.
These are existing portions of homes that are transitioned to accommodate an extra person or two. Common internal ADUs are converted garages, basements, or even attics. These ADU conversions are the least costly as they require the least amount of construction. The price starts to increase when you want to add an extra bathroom or closet, however, useful additions can make an ADU a more attractive to potential rentals.
Attached ADUs are typically newly constructed rooms attached to the primary home. Attached ADUs, also known as addition ADUs or 'bump-out ADUs', People add a room (and usually a bathroom) so an extra individual could live inside the house. Attached ADUs sometimes have their own entrance, so people living there have an extra sense of privacy and increased ease of access.
Lastly, the detached ADU is a private and extremely functional stand-alone structure. If you have the yard space, they can be utilized for a variety reasons. Because of their flexibility, the detached additions are the most sought-after type of ADU. This is especially true if you are considering extra rental income. Detached ADUs are extremely attractive to tenants because they are essentially tiny homes, usually boasting a small kitchen, bathroom, and a lounge area.
What are the benefits of ADUs?
All ADU types make housing more affordable, for both property owners and tenants
Multi-generational housing
They broaden the range of housing options in communities
ADUs are very flexible and can be used for a variety of reasons (extra space, privacy)
Accommodation for domestic help. A live-in nanny, or caretaker to be available 24/7
What are the drawbacks of ADUs?
ADUs without proper permits can incur fines from code enforcement officials
Most states will increase your property tax
Potentially less usable outdoor space
Greater maintenance costs
Is building an ADU the right choice?
There are many factors to take into account when building an ADU. It's important to consider all of them prior to pursuing an ADU conversion or addition. Even before personal finances, you must regard your local zoning ordinances and laws.

Is the ADU lawful on your property? Zoning ordinances control the size, location, and use of buildings within your county, city, or state. States like California, which are facing housing demand problems, have become more lenient when it comes to the construction of ADUs. California is actually promoting the construction of ADUs, even allowing older, non–permitted ADUs can be brought into Compliance without the incurrence of any legal difficulties. On the other hand, areas such as New York City have completely outlawed the construction of ADUs. You need to pay special attention to the legal standing of ADUs in your locality, consider hiring a land use attorney to help you determine the legality of an ADU.

Also, don't forget to consider your current economic state. ADUs can incur higher costs due to improper project calculations, additional material cost, and inaccurate or missing permits. Additionally, you may have to pay higher property taxes. This doesn't mean you necessarily have to front all this money immediately (although cash is best); there are a variety of options to fund your ADU endeavors. Check out our guide on how to finance you home improvement projects (hyperlink). Also, if you plan to rent out your ADU, make sure to check around your neighborhood. See what similar ADUs are going for, will you be able to make as much money per month as you would like?
CONNECTING YOU WITH LOCAL ADU CONTRACTORS YOU CAN TRUST
PoweredByPros is a leading digital home services marketplace. We match homeowners with screened addition & remodeling professionals they can trust to successfully complete any type of Accessory Dwelling Unit (ADU) project.

For over a decade, homeowners have trusted us with providing them professional, quality, and affordable ADUs for their property. In order for us to connect you with the best pro, our highly skilled customer service team will contact you to gather all your ADU conversion information and pay special attention to your design and amenity requests.
MAKE PLANNING, BUDGETING AND HIRING A TRUSTED ADU PRO SIMPLE!