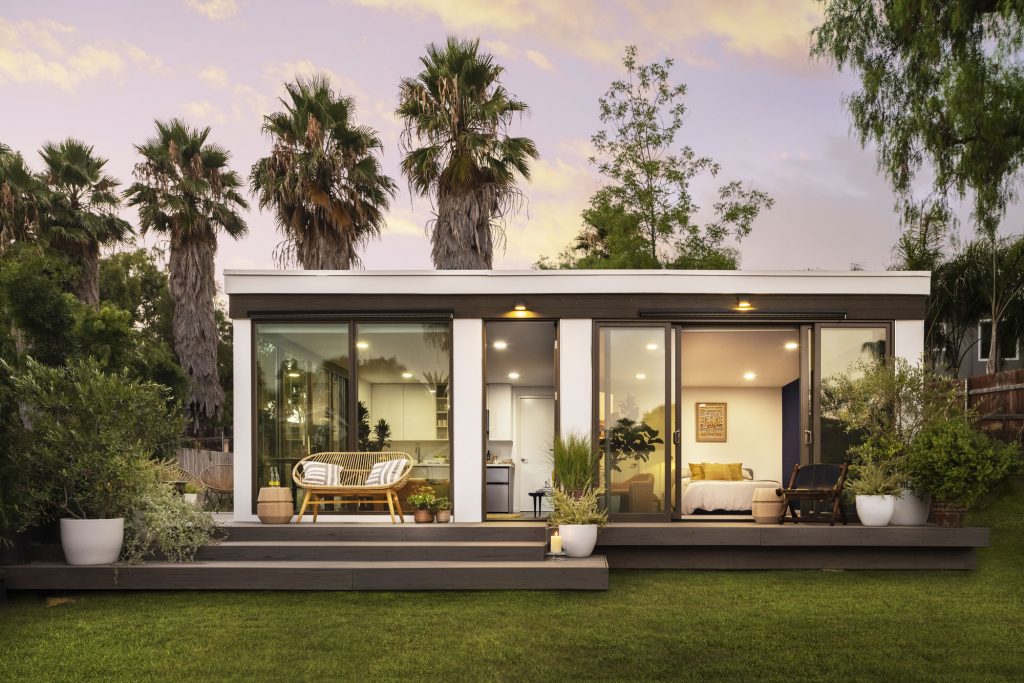 Is your garage just collecting dust, or are you like most homeowners who keep a lot of junk in it? Why waste that precious space when you could convert it into a comfortable apartment? Building your garage into an Accessory Dwelling Unit (also known as granny flat) is a win-win situation. It allows you to turn your underutilized or overcrowded space into long-term equity in your home. Garage to accessory dwelling unit (ADU) conversions are the second most common ADU conversion next to basement ADUs. Join the new wave of housing innovation, helping your community and your bank account simultaneously.

The accessory dwelling unit, or ADU, is a popular and affordable housing choice that adds livable space to your property. It's becoming an increasingly common option as cities across the nation become more expensive, populated, and urbanized. The majority of Americans build ADUs for family members or for rental income. They can be attached, detached, close to the primary home, or further back on the property. ADUs are remodeled from existing sheds and garages. State regulations guide an accessory dwelling unit's dimensions and structural designs.
MAKING A PLAN
THE FIRST STEP IN EVERY PROJECT
You want to find an architect or designer to help you put down your own imaginations with a professionally drawn garage conversion plan. The interior professionals will discuss different garage conversion options with you and advise which options work best. Obviously, it depends on whether you want to convert your garage to include a bedroom and/or bathroom, convert your garage into a rentable unit, or any other type of layout. This step is actually a pretty simple part of the project, which doesn't require an expensive architecture firm. Before your architect/designer can submit the plans to the city building department for plan check, a structural engineer must assess the existing structure and add any structural elements necessary to the plan. Plan approval might take anywhere from two weeks to months, depending on the city's backlog.
During plan check
Finding a contractor
During the time of plan check and approval by the city building department, you can start sharing your plans with several General Contractors. Have each of them provide you with a cost estimate for your garage to ADU conversion. A digital home services marketplace and free service like PoweredByPros can be of big help, if you don't have the patience to call several contractors, don't really know anyone trustworthy, or how to properly research online. If you choose to not use a free contractor screening service, keep the following things in mind.
icon

License and Experience

You never want to use unlicensed and inexperienced contractors or handyman. Only local, licensed general contractors are qualified or equipped to do this sort of construction. Always confirm they have experience with ADUs. You'll want to hire a contractor who has recently built ADUs or garage conversions

Use the Contractors State License Board website (link example, California's CSLB) to check and confirm a valid and active contractor's license. You will also see if the contractor has any past or pending disciplinary actions. Make sure they're insured and get a copy of their insurance certificate. Ask your contractor for at least two references you can call. Lastly, read their reviews online on Google and Social Media. 
A majority of the information regarding your garage to ADU conversion will be on your plans submitted to the city building department. But most cities don't require your plans to include details about electrical, plumbing, HVAC, etc. You need to make sure to provide your contractor with more details of what you want. Here is what you need to keep in mind for major decisions to make: 
icon

DECISION 1 – PLUMBING

Where do you want your water heater to be, and what type of water heater do you want
(tank or tankless; gas or electric)?

Are you willing to pay for a full home HVAC system, or do you want a smaller unit that is cheaper but services a smaller area?

icon

DECISION 3 – ELECTRICAL

Where and how many outlets, lights, and switches do you need/ want?
Don't forget to discuss what kind of electrical panel you'll need for the ADU with your contractor.
Converting your garage into an accessory dwelling unit can be one of the simplest and most economical ways to create an additional dwelling on the property. The more details you share with your contractor, the more accurate their pricing will be. This includes your desired materials (flooring, kitchen cabinets, lights, faucets, doors, windows, etc.) as well as other items included in your garage conversion:

Does the garage need to be re-roofed?
Will you be painting the exterior of the ADU?
How about new fencing or landscape work in the yard?
Is any concrete work needed (footpath, driveway, etc.)?
Is there any termite or water damage?
Do you prefer flat or vaulted ceilings?
Will your garage floor need to be leveled?
Do you want a bathtub or just a shower?
What will your kitchen design look like?
Are your appliances included in the bid?
POWEREDBYPROS ADU EXPERTS
BENEFITS OF USING PROFESSIONAL CONTRACTORS
When converting your garage, you want to make sure you get it done right the first time around. At PoweredByPros, you can count on our many years of experience to guide you through every step of your ADU conversion process. We will guide you on what specifics you should or should not renovate. PoweredByPros will help you achieve a functional, budget-friendly remodel project from planning to material selection to the finished product. We have spent years refining and perfecting our process to create the best result. From the initial estimate to the final product, our ADU remodeling contractors promise a budget-friendly and personal experience. Call us or click one of the get started links today!
PoweredByPros is a leading digital home services marketplace. We match homeowners from across the nation with screened remodel and repair professionals they can trust to successfully complete any type of home improvement or renovation project. For over a decade, homeowners have trusted us with providing them professional and quality services for their property.
 
In order for us to connect you with a home expert in your area, our highly skilled customer service team will contact you to gather all your project information and pay special attention to your design and amenity requests. We make planning, budgeting, and hiring a local ADU contractor easy and free! Save time and money, get started today!