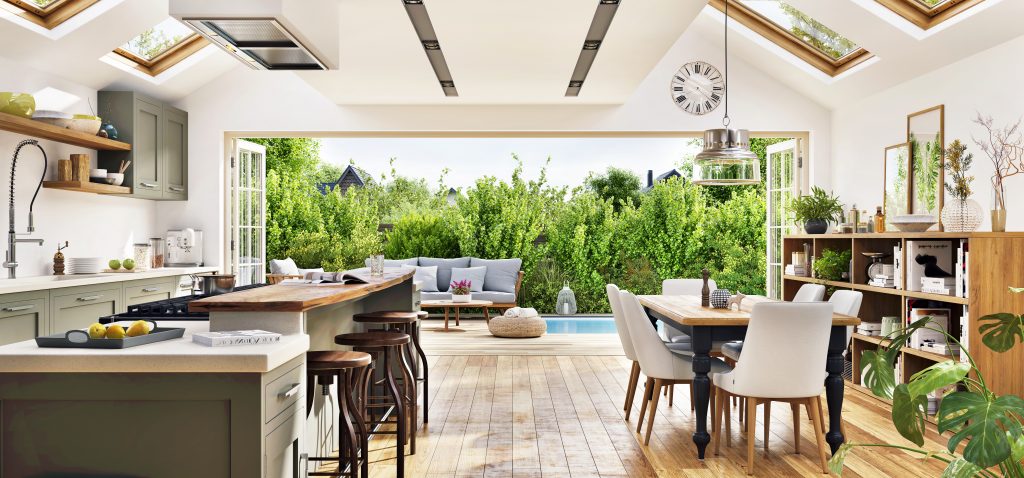 The kitchen is the place where we tend to spend most of our time, so it's important to have an enjoyable kitchen space that is functional, easy-to-use, and encourages newfound satisfaction. There are some obvious signs that provide a clear reason to remodel: poorly running appliances, buckling floors, chipped paint. While some others like poorly-lit corners and lack of storage may not easily come to mind. Is it time to remodel your kitchen? Continue reading to find out all the tell-tale signs that indicate whether or not you should consider a remodel.


7 Signs it is Time for a Kitchen Remodel
icon

Change in Family Dynamics

New members are added to the family, guests move into the home, our loved ones grow old, and people's needs change. This cycle of life impacts the way our house needs to perform. Whether your family is anticipating new children or welcoming back an elderly parent, certain people require specific care and attention. It may be difficult for grandma to reach up to the top shelves to prepare herself a meal in your current setup and the sharp edges of the island can pose a fall hazard. People also leave, like when kids go of to college, so you might want to remodel to make your kitchen more inviting. Minor alterations can make aspects of your kitchen more accessible, safer, and worry-free.

icon

Old Style, Design, & Obvious Wear and Tear

Cracked tiles, worn flooring, faded and discolored finishes, outdated appliances, and leaks: these are are clear indications that you need a remodel. Small problems lead to big ones, that get more costly over time. For example, unattended leaks can lead to mold which can break down the stability of a wall, creating the need for a complete replacement. If it has been over 20 or 30 years since your last remodel, it might just be time. Be proud of your kitchen space, it will make you use it more and maximize the utility of your home.

icon

Inadequate Functionality & Layout

Do you bump into the dishwasher when you open a cabinet? Is it difficult to move around when you are cooking? Just need more space? Well, you'd be surprised at what contractors can do to create an open floorplan. Moving appliances, knocking down a wall to connect the living room, and removing an island provides more square footage that will make your kitchen feel like it's from a different home. It's a worthy investment, an open, highly-functional, and modern kitchen is among the top reasons why new homeowners purchased a home in 2019.

Have you ever been cooking at night and realized that some parts of your kitchen are just hard to see? Old lights aren't bright, are costly to run, and may not provide the lighting you need to have a well-functioning kitchen. A carefully designed lighting plan, with under-cabinet lights, in-ceiling lighting, and hanging lights over the island can make your kitchen so much easier to use and attractive. Using new lighting technologies can reduce lighting energy use in your home by 50% to 75%. Even better, you can add a skylight in your kitchen to reduce the need for electrical lighting all together!

Don't think a limited square-footage kitchen space is the issue. There are so many enhancements to be done to a kitchen that you probably have never considered. Replacing old cabinetry with updated draws add depth and increase storage options. Fresh cabinets add style and functionality, check out our article on how to pick the best cabinets.

icon

Old Appliances/Inefficiency

Kitchen appliances are something that we use every day, therefore deteriorate rather quickly. Stovetops should be replaced every 15 years, refrigerators every 10-13 years, and dishwashers every 9 years. Newer appliances typically require less energy and function better. If it is time for an upgrade, ENERGY STAR is the name of the game. According to the Department of Energy, the kitchen can account for nearly a third of your energy bill. It's best to keep replace all your appliances at once, it helps keep the ambiance similar and the

Noticing some cooking stains that just won't disappear, matter how hard you scrub? Your cleaning skills might not be the problem, more than likely, it is the worn surface found throughout an old kitchen. Some examples of kitchen features that become hard to clean over time: older enamel sinks and countertops, tile with deeply stained grout lines, wood cabinets with years' of smudgy grime around the handles, faded linoleum flooring that keeps deep-set dirt. Cleaning is already a time-consuming hassle. If you are spending hours per week cleaning, you might be able to cut this time down with a remodel. New surfaces, appliances, and cabinets are easier to clean and harbor less grime.
Advantages
Why Remodel a Kitchen?
The main reasons to upgrade your kitchen are to improve user-friendliness, adapt to a change in family dynamics (i.e. children/elderly), boost energy efficiency, provide a fresh change of appearance, and help prepare a home for the market/increase property value.  An attractive, highly functional kitchen is the most desired aspect of any home. Updated draws add depth and increase storage options. Well-designed and updated kitchens offer a high return on investment, if (and when) you decide to sell. Fresh cabinets add style and functionality. New appliances use less energy and save costs.  Lastly, homeowners with recently renovated kitchens tend to live healthier lifestyles and eat more meals at home. Having a living space you love promotes happiness and personal satisfaction.
Increases property value

Improves functionality

Opens up floor plan

Redirects the design flow

Promotes well-being & health

Energy efficiency
Improve Your Kitchen Today – No matter the budget
CONNECTING YOU WITH LOCAL SERVICE PROFESSIONALS YOU CAN TRUST!
PoweredByPros is a leading digital home services marketplace. We match homeowners from across the nation with screened remodel and repair professionals they can trust to successfully complete any type of home improvement or renovation project. For over a decade, homeowners have trusted us with providing them professional and quality services for their property. In order for us to connect you with a home expert in your area, our highly skilled customer service team will contact you to gather all your project information and pay special attention to your design and amenity requests. We make planning, budgeting, and hiring a local contractor easy and free! Save time and money, get started today!